The Invest4 Grant Fund has been created to help new businesses to start-up, and to help growing businesses to grow more quickly. The fund is open to most business owners and start-up founders who are based in the coast-to-capital area and over 90% of those who apply are given a cash award.


The Invest4 Grant Fund has now re-opened for the submission of applications and business grants of between £1,000 and £20,000 will be awarded to trading business owners and sole traders who are based in the coast-to-capital area. You can request an application form from the Grant Fund Manager at invest4@brighton-hove.gov.uk
All applications will be assessed on a first-come-first-served basis. The application process is quick and straightforward, but please note that any application received which is judged to be sub-standard - i.e., all the required information has not been supplied on or with the application - is likely to be immediately declined.
The Grant Fund Manager has some tips to share regarding your application:
Think of your application as an elevator pitch, there is no need to write copiously. If you already have your financial records up to date, then completing the application form shouldn't take you longer than 1 hour.
Tell us about your business and detail your business experience to prove to the Grant Fund Panel that you can deliver your project.
Provide a sound rationale for the project: what is it that you want to buy and how it will help to grow your business?
Make sure that the figures that you state on your application form add up.
Show accounts that are in order and without any gaps i.e., if your formal accounts finish in March 2022, then your management accounts must cover April to November 2022 and the cashflow forecast must cover December 2022 to November 2023.
Book onto one of our free online Invest4 Grant Application workshops that we deliver through WSX Enterprise. The workshop leader will help you to fill out the application form line-by-line and they will also advise you if they believe that your application will be successful.
Invest4 is a match fund meaning that where you agree to pay 70% of the cost of your business project, Invest4 will pay 30% of the balance of that cost. The Invest4 fund now only accepts applications for grants of between £1,000 and £20,000 (capital or revenue).
Examples of what a cash award from Invest4 can be used to purchase:
Equipment and machinery
Consultancy services
Premises improvements
New IT systems or IT system upgrades
Moving all or part of your business online
Developing a new website or upgrading a current website
Leadership & management development training
Examples of what a cash award from Invest4 cannot be used for:
Staff salaries
Backdated expenses, for example to repay loans
Payment of existing sub-contractors
Building or construction costs
Premises rental
Other general running costs, such as purchasing materials or stock
VAT payment
Invest4 Grants have helped so many businesses to grow over the last 18 months – here are examples of just a few of them: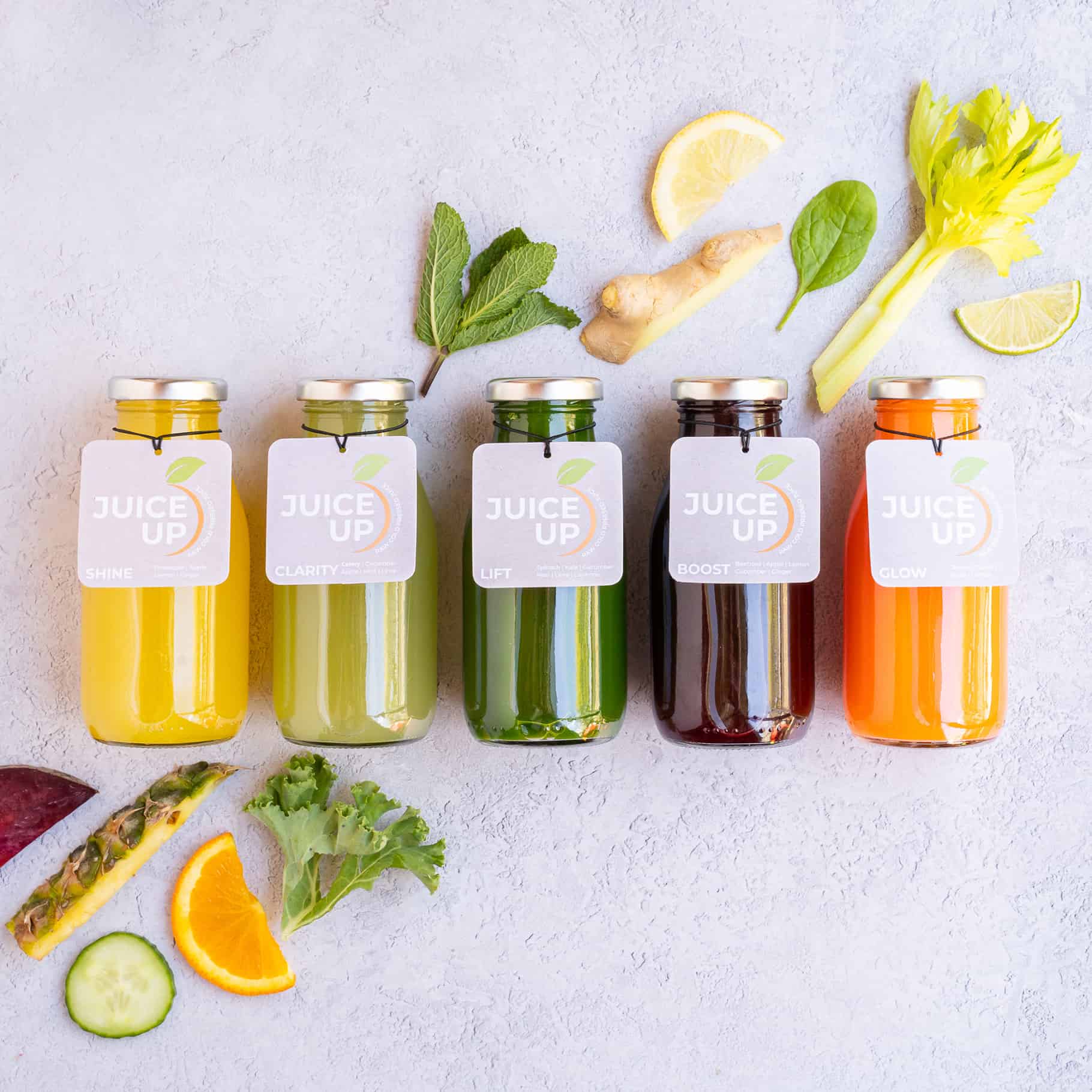 Prior to setting up my company, I had no experience of working for myself, so reaching out to The Business Hothouse for start-up support was a no-brainer for me. The free workshop programmes they run are really engaging and helpful. My main objective for attending the programme was to get the support that I needed to make my application to the Invest4 Grant Fund.
My company, Juice Up, manufactures and distributes eco-friendly healthy drinks. We sell fresh, raw, cold-pressed juices in glass bottles that we deliver in cooler bags complete with an ice-pack. We subsequently collect and re-use these items because our mission is to create a great product whilst leaving minimal waste. Our customers range from local residents to coffee shops, local companies to schools and we also sell our products at local events and markets and via our website, where you can place and pay for your order.
Before and during the lockdowns, business had been growing so fast that I realized that the only way for me to fulfill all of the orders coming in was to find a way to buy a Commercial Cold Press Juicer. The investment was a heavy one and this is what led me to apply for a cash award from the Invest4 Grant Fund.
With the help of The Business Hothouse's Invest4 Grant Application workshops and 1-2-1 mentoring sessions, I completed the application form and the other required documentation and submitted these to the Invest4 Grant Fund Manager. I was delighted when he responded to say that I had been successful in gaining the funding, which would cover 40% of the cost of my new commercial-grade machine, making it a far more affordable prospect.
The new machine has enabled me to produce better quality juice in higher volumes and because it extracts more juice from the fruit and vegetables than my previous machine did, it has reduced my costs. So I now have a better-quality product at a lower cost-per-bottle and less waste; and because I can fulfil so many more orders now, I will soon be at the point where I need to employ someone to help me on a day-to-day basis as well as at the events and festivals that Juice Up will take stalls at this year.
You can find out more about Juice Up via our website is www.juiceup.life and you can connect with us on our Instagram account @juiceup1974.
Read more
My company, 5 Squirrels was originally a management consultancy which I set up to help medical aesthetics professionals to launch and grow their own brands of skincare.
During COVID 19 however, our supply chain began to dry up and I realised that we needed to pivot into manufacturing our own skincare products. We now produce anti-ageing, clinically effective skincare products which treat signs of ageing, acne, pigmentation, skin laxity, lines and wrinkles. Our customers are healthcare professionals who own and run their own private medical aesthetics clinics offering treatments like Botox and Dermal Fillers.
Before we pivoted, I contacted The Business Hothouse because I had absolutely no experience in manufacturing, so I needed advice on how to set-up and run a small-scale manufacturing facility and advice on how I could finance it.
The Business Hothouse was fantastic, not just with their business planning advice but also in helping me - through the Invest4 Grant Fund - to secure 40% of the capital expenditure of refitting a derelict building, purchasing manufacturing vessels and building a Research & Development laboratory.
Business is flourishing now, we survived the pandemic and even saw strong growth which continues to accelerate - sales are up 50% on last year mainly due to in-house manufacturing and broadening our service offering but also due to the lifting of lockdown restrictions.
The Invest4 Grant Fund is an amazing opportunity which I would recommend to any business or entrepreneur. It allowed us to pivot our core product in a very difficult economic environment. So if you're a business owner with growth plans, engage with The Business Hothouse programme, their experts will give you advice and financial support and they'll also help you robustly challenge your plans to ensure that you can deliver them on-budget and on-time.
Find out more about 5 Squirrels and visit their website. 
Read more
I'm a Chemist by training, so when I set up my business, Roisin's Water Kefir, I needed expert business support to help me to plan properly and to develop a strategy that would allow my business to grow. Accessing the free Business Hothouse workshop sessions put me firmly into business owner mode, I booked onto the 1-2-1 support sessions and business planning sessions where I was helped to develop a 3-year cash forecast plan, which was great! The Hothouse experts had so many suggestions and I felt that they genuinely wanted to understand my business and that they wanted to help me to think through every detail of running a business.
Crucially, they also helped me to successfully apply for a start-up cash award from the Invest4 Grant Fund which meant that I could afford to employ a sales & marketing consultant to promote my product and increase my customer base. This consultant has also helped me to develop my branding and messaging, a professional touch that has helped me to compete with larger beverage manufacturers.
I produce and sell Water Kefir and encourage people to live a healthier lifestyle through what they consume. Water Kefir which could be considered to be the original fizzy drink as it naturally carbonates during the fermentation process. It's the vegan cousin of milk kefir and is a caffeine-free cousin of kombucha. I offer free delivery to shops, restaurants, pubs and cafes along the south coast and to the East and West of Brighton & Hove. I sell online and at festivals and events and offer a paid-for delivery service to areas where I'm able to deliver for free.
My customers are people who want a healthy, non- alcoholic, alternative drink and my future business plans include setting up a community of like-minded businesses whose mission it is to offer the best Sussex-produced food and drink. I aim to bring these businesses physically together in one setting, so that we become a destination for people who want to buy healthy products and to know their provenance.
Business is doing well, I've recently moved into my new brewery, which I've named 'The Potion Shed', located at the heart of the South Downs National Park. This new premises has allowed me to order my first larger fermenting vessel, which will quadruple the production of my Water Kefir and allow me launch a new flavour this summer.
You can find me on on Instagram @roisinslivelarder and you can find out all about my product at www.roisins.co.uk.
Read more
I'm an engineer by training with a specialism in sustainability and industrial manufacturing. I ran a specialist consultancy for ten years before launching My Room Outside, but because that was such a massive change in direction for me, I decided that it would be a good idea to seek out some business support.
My Room Outside designs, manufactures and installs affordable outdoor rooms to specifications that don't need planning permission. We only use responsibly, locally sourced and recyclable materials and our buildings are created for use throughout the full twelve months of the year. Our main customer base is professional people who want a workspace designed around their needs that isn't located within their home.
Before I could even consider launching My Room Outside, I needed to find business grant funding. I joined a boot camp run by The Business Hothouse, which across three sessions helped me to define my product and my customer, write a business plan with a financial forecast and apply for cash to the Invest4 Grant Fund.
My grant funding application was approved and I was awarded cash for my marketing expenses which meant that I could afford to have a logo, a website and a sales brochure designed and produced.
Business is doing well, I've now moved into a light industrial unit and set up a workshop within it. My website has launched and is attracting more customers, who see what we produce through Social Media campaigns and then click-thru onto our website to find out more about us.
I'd like to stress that without guidance from The Business Hothouse, I would have struggled to launch my business. Before contacting them I knew the "what' and the "why' but I was stuck in terms of the "how". Their expert advice helped me to define exactly how I could move my idea to a launch-ready entity and for that I will be forever grateful.
You can find out more about my business at www.myroomoutside.com and you can connect with me on Facebook and Instagram @myroomoutside.
Read more