for student satisfaction in art and design.
Complete University Guide League Tables 2021
in the UK for Art courses.
The Guardian University Guide Subject Table 2022
for Art, Education, and Psychology courses.
The Guardian League Tables 2021
Join us at one of our upcoming Open Days!
Saturday 1 July  |  Sunday 8 October  |  Saturday 28 October  |  Saturday 18 November
Overview
Develop your technical skills and artistic direction while growing your passion for art
Our BA (Hons) Fine Art degree will introduce you to new ways of working, help you to develop new ideas and discover new processes so that you can grow as an artist. You will have complete artistic freedom and develop skills and knowledge in a wide range of disciplines before choosing your specialism.
This extensive programme is built around the key areas of drawing, painting, printmaking, sculpture and textiles. It is supported by technical workshop provision to enable you to achieve the highest quality art production. This variety of options allows you to commit to one of these discipline areas or to work across these areas in a hybrid manner. We will encourage you to develop intellectual curiosity and a sense of adventure, with an ability to deal with the unpredictable.
Studying at the University of Chichester, you will immerse yourself in your work by making use of our specialist studio and workshop facilities as well as having access to your very own dedicated studio space. You will study in a supportive and student focused environment enabling you to become a versatile, creative and confident artist.
A key element to provision of the Fine Art programmes is our commitment to outward-facing application and exhibition of your artwork at the degree show. You will spend your final year consolidating your work to an expert standard which will then be exhibited in public spaces. There are several hundred visitors and much of the work is sold which will provide you with a professional showcase for your work.
Read more
Main studio, workshop skills and activities include: 
Painting: oil, acrylic, construction, mixed media, collage.

Printmaking: etching, screen-printing, relief printing, mono-print and combined media, block print and photo based processes

Drawing: drawing is seen as an important element in the development and realization of ideas and is the basis of the initial studio work.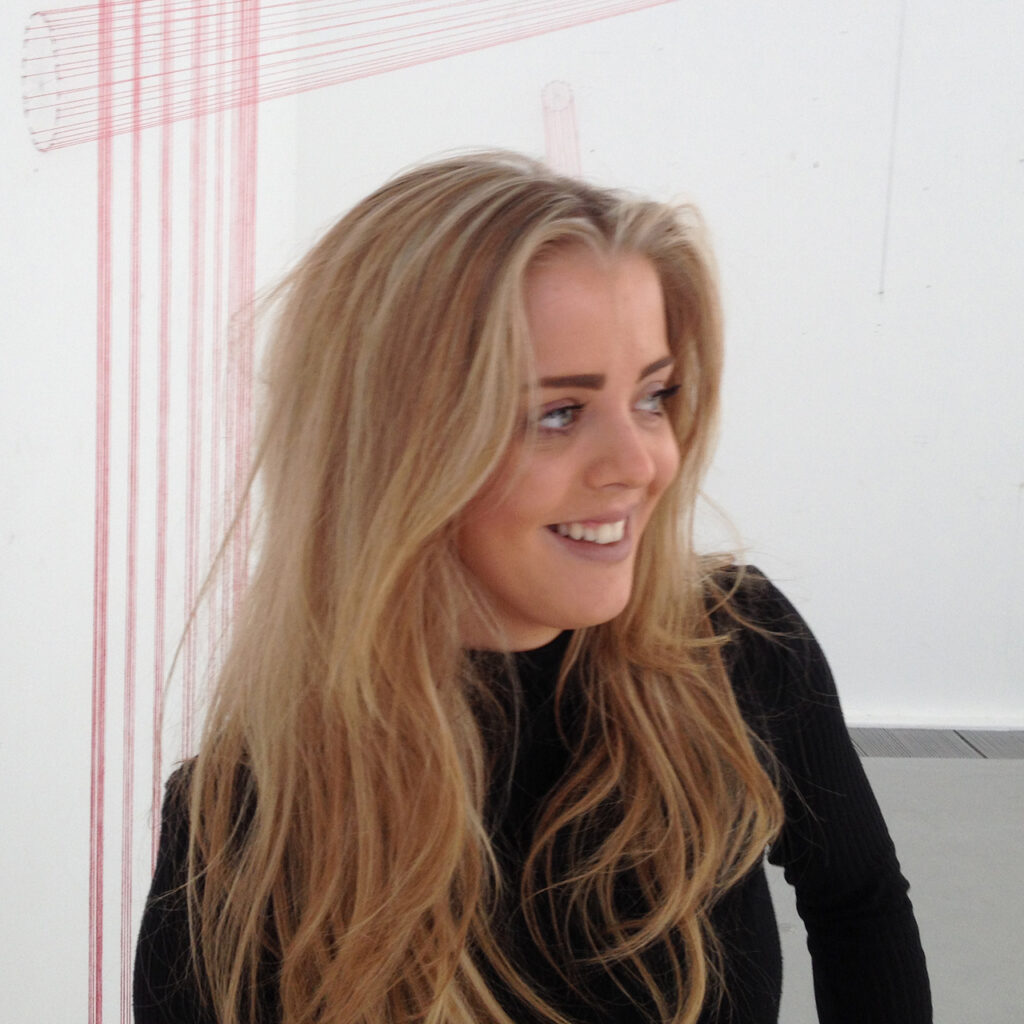 Charlotte
BA (Hons) Fine Art
"I would be lying if I said the course is easy; It is the most challenging and mind-boggling thing I have done to date, yet the most rewarding and memorable time of my life. The nurturing and encouragement in the first two years of my degree have enabled me to become the confident and skilled artist I am today. At the beginning my skills were basic and limited, but the well-structured workshops, lectures, life drawing, studio practice and tutorials enabled me to acquire the knowledge I need to carry on my practice after my degree. The one to one time with the tutors is brilliant; they have a genius way of getting you to try things that you never thought you would!"
Why Study Fine Art?
Undertake a degree at the forefront of creativity and artistic vision
7 Reasons to choose the University of Chichester:
1. Chichester and Bognor Regis
A city full of Art & Culture, a busy Student Union, the dramatic landscape of the South Downs, with the seaside at Bognor Regis and West Wittering. A free inter-campus bus is available to take you back and forth between each campus.
2. The course
The structure allows you to choose which skills to develop, which aspects of Critical and Cultural Theory to focus on, and to self-determine the direction of your own practice. You will learn to create your own negotiated pattern of work as you move towards an exhibition for the degree show in your final year. The result is that you will become knowing, versatile and highly creative. Work placements and final year career advice leads to jobs.
3. Your studio space
As a full-time Fine Art student you will have personal studio space throughout the year.
4. There's no house style
Abstract, Landscape, Figure or Conceptual – Traditional, Contemporary or Avant Garde – Painting, Textiles, Printmaking, Sculpture, Video, Photography, Installation, Performance Art etc – you decide what to do and we support you in working out how to do it with panache.
5. The facilities
Home for the Fine Art Department is the St. Michael's building comprising studio and workshop facilities, to enable you to make the best use of your talents and potential and high-tech 3D workshops in the Tech Park, giving us access to digital technologies like 3D scanning, 3D printing, laser cutting, and a variety of creative software for still and moving image. It is open from 8.00am to 8.30pm, Monday to Saturday, with First year students having sessions programmed on 4 days out of 5.
6. Our staff
As well as supporting student development, our Fine Art staff are active practicing professional artists and researchers who regularly exhibit or publish their work; their research leads the BA programmes. On most weeks there's a visiting professional artist. Each student has an Academic Advisor and we have an excellent Disability and Dyslexia Team to ensure that ALL students are able to pass their degrees at the appropriate level.
7. Your interview
We are inclusive and welcoming; we judge you on your folder, not your background. If you are invited for interview you will have a choice of it being face-to-face with physical folio OR online with digital folio, always friendly and non-intimidating.
Read more
The Course
This list is indicative and subject to change.
Select a year
Critical and Cultural Theory 1: Theory-Lite
The aim of this module is to introduce students to a variety of theoretical, cultural and critical ideas used in the practice and evaluation of the arts. It aims to explore ways of describing, analysing and interpreting theoretical concepts that are vital to an understanding of the arts.
Vocabularies and models such as intersectionality that describe the cultures in which the arts are seen and made are drawn upon and developed in order to explore the methods by which meanings are created and understood in the arts.
Critical and Cultural Theory 2: Modernism
This module interrogates the changing theoretical models and perspectives of the period that is often categorised as 'Modernist'. You will explore, examine and debate the historical, social, cultural and theoretical influence of Modernism(s) challenge to traditional structures, forms and styles and investigate the impact this has upon contemporary arts practice.
Studio Practice 1 (Double)
This module encourages critical observation through the use of drawing/ sketchbooks/ other media; an understanding of the importance of research and the development of ideas. You will consider contemporary and historical examples of visual artwork, related to studio practice and compile your own research journal – a self reflective diary of learning and research. As part of this process, you will undertake experimentation when producing work as you develop your individual decision-making and interpretation skills.
Studio Practice 2 (Double)
This module extends the development of work into broad areas of studio practice, as you deepen your understanding of the context of your practical work.
In this module, you will be encouraged to experiment and develop practical work based on the qualities and properties of different media and will undertake research and development. This means that you are 'free' to develop your own ideas, directions and material practices.
You will normally complete a studio proposal that sets out the projected work under three headings –
'Material practice'
'Contextualisation'
'Outcomes'.
Workshop 1
This module introduces you to the 4 workshop areas
Textiles
Sculpture
Print
Paint
Allowing you to experience four areas of practice and introducing materials, processes and facilities relevant to each area at a basic level.
You will elect to do one of the following workshops: Sculpture or Textiles or Print or Paint for the 2nd part of the semester. The emphasis will be on active research and the development of making skills with a corresponding emphasis on formal/ structural concerns.
Workshop 2
Workshop options within this module typically cover painting, sculpture, printmaking and textiles, and your choice should align with what you would like to continue to study in future years of the course.
Critical and Cultural Theory 3: Romanticism
This module explores the importance of revolution, the sublime, the gothic, landscape, and imagination as motive forces in the making of art and culture.
By examining the notion that Classicism and Romanticism are opposites, as the reaction of many 19th century artists to 18th century Enlightenment would appear to demonstrate, the module aims to investigate notions such as wilderness, fantasy, heroism and nationalism and to initiate a discourse between the art of the present day and that of 19th century romanticism.
Critical and Cultural Theory 4: Postmodernism
This module relates theories of postmodernism to contemporary arts practice.
It begins by considering postmodernism's relationships to both romanticism and modernism, exploring 'definitions' of postmodernism and illustrating postmodern features in a range of arts practices. A selection of postmodern term and practices such as Pastiche, Hyperreality, Event, a crisis in subjectivity, Intertextuality, the merging of 'high' and 'low' art, Deconstruction and recognition of the 'Other' are explored in more detail in relation to specific arts practices and texts.
The module also allows you to debate the cultural, social and philosophical implications and validity of postmodernism for arts practice today.
Studio Practice 3 (Double)
This module encourages you to establish successful development of a personal artistic vocabulary as being inseparable from critical research into contemporary art practice and the contexts in which it operates. You will be encouraged to experiment with materials, techniques and ideas, and develop a personal and inventive approach to making art that displays a technical competence, and increased intellectual activity and an awareness of context and content. An increasingly engaged understanding of the context of practical work is facilitated through close scrutiny of relevant examples of contemporary and historical visual art work, in relation to studio practice. the module will be given a theme in order to focus student intellectual activity against clear parameters and help them position their work in relation to some of the key factors that circulate through contemporary cultural production.
Studio Practice 4 (Double)
In this module, you will experiment with insight and depth and to develop an individual approach to making art that displays an increased technical competence, intellectual activity and awareness of context and content. Understanding of the critical context of practical work is expressed by the coherence of the relationship between ideas and the work of other artists and studio practice.
Workshop 3
In this module, you will focus on the development of skills in painting, printmaking, sculpture and/or textiles, the continued development of the use of materials and processes, and a deepening focus in researching the work of other artists.
Workshop 4
In semester two your learning will become vocational; you will develop skills in professional practice in an external setting (of your choosing i.e. school, gallery/museum, healthcare environment or 'public art') in order to expand your understanding of how fine art practice can lead towards future employability.
Dissertation
The Dissertation acts as a culmination of your research over the course of your course.
You will explore and research artefacts and concepts in order to produce a critical text displaying coherent personal argument, analysis and expression developed through cumulative and considered individual research.
Emphasis is placed on the depth rather than breadth of research, as you develop an appropriate awareness of historical and contemporary critical and theoretical debate germane to their chosen subject.
Essay or Vocational
In this optional 3,500 word project, you will explore and research a topic of your own choosing (academic or vocational), researching artists, artefacts and concepts in order to produce a self-directed critical text displaying coherent personal argument, analysis and expression developed through cumulative and considered individual research. Emphasis is placed on the depth rather than breadth of research, as you build on your learning from Levels 4 & 5 'Critical & Cultural Theory' modules. You will be given tutorial support in the selection, evaluation, development and presentation of critical thought from a range of research resources.
Exhibition A
This module is for full-time students and it focuses on the development of practical work leading towards the final Degree Show (public exhibition), and the planning, selection and production processes involved in the Degree Show itself.
You will build on your discoveries from Year Two studio and workshop and a growing understanding of your 'artistic territory'. You will continue with an experimental and materially based approach to making art work in a self-directed manner, displaying intellectual curiosity, a sense of adventure, an ability to deal with the unpredictable and significant independence.
'Material practice seminars' continue to offer a specialist focus.
Professional Practice
This is an optional module for full-time students only.
You will give a short illustrated seminar presentation (artists' talk) to selected Level 4 & 5 students, mapping the development of the critical context underpinning your own work and the development of your own material practice, relating it to relevant theory and artists who've inspired the work, and presenting your plans for when you graduate.
You then produce a 1,000 word Self-Reflective Commentary that formalises the content of the seminar into a coherent text which articulates your own cumulative individual research and its resolution into the body of art practice presented for exhibition.
You will also produce a 'professional pack' including CV & business card, photo documentation and a short exhibition statement.
Teaching and Assessment
Learn in a student-centred environment and thrive as an artist
You will be taught through small lectures and seminars along with peer group critiques in the studio which will support your independent, self-directed work. You will learn to create your own negotiated pattern of work as you move towards an exhibition for your degree show in your final year.
You will experience a wide variety of approaches to learning through core and optional modules that build to form an incremental approach to fine art practice. The development of knowledge and skills is encompassed through the use of a wide range of materials, media and processes in studio and workshop activity to develop your practical skills and subject knowledge. The integration of the cultural, critical and theoretical debate and inquiry provides you with the ability to contextualise your work within academic frameworks.
You will experience a combination of practical assessment (including a public degree show at the end of year three), report writing, essays and presentations, using clear assessment criteria that reflect achievement.
Facilities
Dynamic learning spaces enabling you to develop your skills, talent and potential
St Michaels' House
Based on the Bognor Regis campus, the Fine Art department is situated in the beautiful St. Michaels' House, a building comprising specialist studio and workshop facilities. It is an exciting place to study, providing a dynamic and supportive learning environment for the production of original new art work. Here you'll be dedicated your own personal studio space so you have the freedom to explore a range of contemporary media whilst developing your personal style.
Tech Park
You will also have access to the £35 million Tech Park which houses new specialist & digital equipment and incredible open-plan workshop spaces which will provide you with environments where you can create experimental, inventive and ambitious work. The workshops reflect the range of options across the key disciplines of the Fine Art programmes, as a BA (Hons) Fine Art student, you will have access to all workshops where you can create experimental, inventive and ambitious work.
Workshops
You will have access to all workshop areas:
Sculpture: you will have access to specialist wood and metal/casting workshops, a dedicated ceramic space with electric kilns and glaze area. If you would like to develop large scale installations there is a large teaching space for video, light and sound projections.
Textiles: you will have access to a specialist textiles workshop with machines for embroidery, hot press as well as a printing table, weaving and tapestry, constructed textiles, felt-making and Batik.
Painting and drawing: you will have access to the life room which doubles as a large painting workshop space and to the wood workshop for making stretchers for canvas.
Printmaking: you will have access to a specialist print workshop with silk screens and etching tables, a flat press bed for relief prints, and light box for photo etching and screen print.
Learning Resource Centre (LRC)
In addition, you can access the LRC, which is the hub of the learning environment. It provides a wealth of resources that you can take advantage of:
A modern library service with areas for quiet and silent study on both floors
A range of study areas for group study
Over 80 open access PC and Mac stations
Wi-Fi areas for laptop use
Substantial collection of books, journals and other materials to help you further your research
Online library resources you can access from anywhere at any time
Costa Coffee
Also situated in the Learning Resource Centre is the Support and Information Zone (SIZ) to help with any enquiries while at university
At SIZ, there's an equipment loans centre offerings laptops, tablets and other electronic devices for short and long-term loans.
Read more
Placements
We are committed to ensuring our students are prepared for entering the art industry with confidence once graduating. In your second and third year, you will be enrolled on a specialist programme that focuses on aspects of professional practice and vocational experience. This experience is invaluable in terms of working to time and budgetary constraints, and in working with the public.
Our experienced team will arrange placements tailored to your long term aims. Previous placement projects include:
Teaching

Community arts projects

Site-specific commissions

Working in local galleries and museums (admin, marketing and gallery education)
Residencies in schools

Creating their own virtual gallery

Art sales

Exhibition and event development

Business plans for self-employment
Interviews and Portfolio Advice
Everything you need to know
You will have a choice of having a face-to-face interview with a physical folio or an online interview with a digital folio. We try to make your interview experience as pleasant as possible. We want you to be relaxed since this is when we are most likely to see the 'real you'.
We want to find out about your art practice, your artistic preferences and your opinions about art but we will not be trying to catch you out with obscure questions. Be prepared, but don't panic!
Read our Fine Art Interview and Portfolio guide for more information.
In preparing your portfolio you should try to reflect your potential as a visual maker and thinker suitable for a Fine Art Honours Degree. Here's a list of what you may want to include:
Drawing, painting, printmaking, sculpture and installation, art textiles, digital media, video art, and/or photography
An exciting and varied range of work that shows your potential and individual interests
Evidence of your creativity; this is the key to your success
Evidence of an experimental attitude; a willingness to test ideas and to find unexpected solutions – to think 'out of the box'
Evidence of your artistic skills
Evidence of a knowledge of key artists
Sketchbooks
For more information about your interview, please visit our Interviews and Auditions page.
Read more
Degree Shows
Degree shows are organised each year and provide all Fine Art students with the opportunity to professionally exhibit their work to the public. With over several hundred visitors and much of the work sold, the overall atmosphere is second to none!
Visit our Fine Art Degree Shows and Events page for more information on previous and upcoming events.
Study Abroad
Explore the opportunity to study part of your course abroad
As a student at the University of Chichester, you can explore opportunities to study abroad during your studies as you enrich and broaden your educational experiences.
Students who have undertaken this in the past have found it to be an amazing experience to broaden their horizons, a great opportunity to meet new people, undertake further travelling and to immerse themselves within a new culture.
You will be fully supported throughout the process to help find the right destination institution for you and your course. We can take you through everything that you will need to consider, from visas to financial support, to help ensure that you can get the best out of your time studying abroad.
Careers
Turn your passion for art into a career
As a Fine Art student, you will undertake external projects and receive careers advice so you are prepared to pursue your desired career or to undertake postgraduate study. This course prides itself in embedding creativity (in all it's components) and communication skills centrally within the degree programme. The course offers students further key skills that are both useful for artists but, more importantly, are life-skills that will help them in varied employment situations.
This course will provide you with the opportunity to develop skills across a broad range of areas and become resourceful, reflective learners, finding creative solutions to new problems with the ability to be self-disciplined and able to work independently. Creativity, thinking 'out of the box' and good communication skills (visual, verbal, and written) are all key skills that employers are seeking, and these are fundamental skills developed.
Illustrator

Painter

Art therapist

Arts administrator

Animator

Commercial art gallery manager

Museum/gallery exhibitions officer

Art teacher or art technician

Artist

Design, photography, marketing and communications

Community based artist

Graphic designer
You may decide to continue your study at the University of Chichester and undertake a postgraduate degree. Our postgraduate courses offer you the opportunity to deepen your knowledge and greatly improve your career prospects. Postgraduate study options available at Chichester include PGCE and PhD:
PGCE Primary
Postgraduate Research (PhD)
Partnerships
The University of Chichester is surrounded by an abundance of local partners including galleries, charities and schools. These partners help to support initiatives such as work placements, guest speakers, and providing students with excellent industry contacts and networking opportunities.
Course Costs
Additional Costs
UK gallery trips and additional materials vary by individual but can be in the region of £1,200 in total across the whole degree programme.
To find out about any additional costs on this course, please see our Additional Costs page.
Entry Requirements
Typical Offer (individual offers may vary)
A Levels*
with Fine Art or Photography or Textiles at B
IB
to include a 5 in Visual Arts at Higher level.
BTEC / Cambridge Technical
Access to HE Diploma (Fine Art)
with 15 level 3 Merits.
IELTS
with no element lower than 5.5
*or combination with AS / EPQ / BTEC / Cambridge Technical
Interviews
You will be required to bring your portfolio and to discuss the development of your work and your interests and inspirations in Fine Art.
Want to find out more about our Fine Art courses?
Our Chichester on Demand website is filled with content, videos and downloadable documents that will provide you with more information on studying Fine Art at the University of Chichester.