Tim's research has been divided between sculpture and artist professional development.
Between 2009 – 2014 he set up Unity Arts Trust CIC & 'Unity Studios' in Chichester.
Developing a successful Community Interest Company with an effective governance and administration gave him a strong interest in artists' professional development.
Since 2014 Tim has focussed on the production of sculpture, using metal and mixed media to explore his interest in materiality, slowness and 'the hand'; seeing these processes as the antithesis of the immaterial digital world which preferences screen-browsing and 'the gaze'.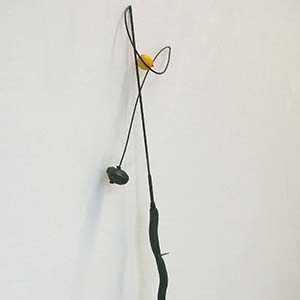 His works are usually 'combines', constructed spontaneously out of pre-made and found elements, bringing together figurative and abstract elements into arrangements which actively engage with the gallery space and the viewer.
Works represent the self, others, and the knowing body, where their hollowness and fragmentation reinforce their artifice, reminding us of sculptural monuments and totems, and of the way that, throughout history, iconoclasm and beheadings have been used to reinforce political power and ideology.
Welded steel is at once traditional and modern, aggressive and pliant; where elements become expressionistic and characterful, in opposition to steel's more typical industrial look.
Upside-down-ness reminds us of the dynamic pull of gravity; being propped against the wall suggests a function while remaining a 'useless object'.
Minimal linear shapes seem designed and drawn, minimal colour offsets the deep black of waxed steel.
Tim is a member of Royal Society of British Sculptors.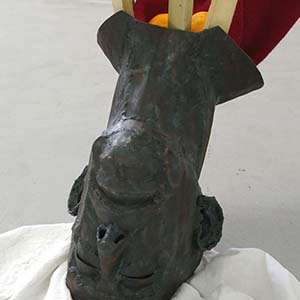 Small scale works create a heightened intensity and intimacy, indexical marks showing how each unique element has been carefully manipulated and modelled at high temperatures using Oxy-Acetylene welding.