Optimising Practice in PE
Reasearch into Physical Education Practice
Children, teachers and practice in PE, sport and physical activity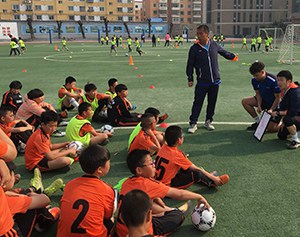 Researchers in this theme explore the experiences of children/young people and the attitudes and behaviours of teachers and coaches working with them in sport and physical education contexts. Consideration is given to the gendered nature of participation, safeguarding and developing confidence and competence to access opportunities. Specific attention is afforded to creative methodologies that serve best to understand children/young people's subjective experiences. Teacher and coach epistemologies and behaviours form a focus of work that aims to understand practice and the impact that this has in professional environments.
Further work seeks to create methodologies able to capture teacher behaviours; aimed at enhancing the quality of feedback, used in teacher training, development and inspections.
Recent projects have been funded by the FA and NSPCC's Child Protection in Sport Unit.
For enquiries concerned with themes of Children, Teachers and Practice in Sport and PE please contact Dr Suzanne Everley on s.everley@chi.ac.uk or Dr Julia Potter on j.potter@chi.ac.uk .
Ben Francombe
Head of Department of Theatre
Michael Holley
Head of the Department of Creative & Digital Technology
Victoria Scarborough
Programme Co-Ordinator & Senior Lecturer in Screen Acting & Creative Technologies
Jason Pitt
Senior Lecturer in Acting for Film
Roberto Gómez Martín
Senior Lecturer
Sam Lovegrove
Lecturer in Film Production
Martin Hobbs
Associate Lecturer
Andy Roberts
Showroom Administrator - Theatre (Performing Arts)/Dance
Aisha Taylor-Samson
Apprentice Department Administrator
Cliff Harden
Senior Lecturer in Digital Film Production
Neil Bryant
Senior Technical Demonstrator in Multimedia
Evi Stamatiou
Senior Lecturer in Theatre, Programme Coordinator: BA (Hons) Acting
Darren Black
Associate Lecturer - Acting for Film
Christopher Blatch-Gainey
Associate Lecturer for Acting for Film
Alison Bell
Assistant Administrator
Suzi Bushby
Acting for Film Administrator
Dr Adam Locks
Programme Coordinator of Media Studies
Rosey Whorlow
Senior Lecturer
Vernon Francis
Senior Technician
Thomas H Green
Senior Lecturer
Professor Dave Cooper
Head of Business School
David Goodman
Senior Lecturer in Leadership and Management
Tara Lovejoy
Senior Lecturer, Enterprise Education
Roger Holden
Senior Lecturer in Software Development
Paul Kooner-Evans
Senior Lecturer in IT Management
Dr Mohammad Ali Javaheri Javid
Lecturer in Computer Science
Emma Matthews
Project Officer
Louisa Bourne
Department Administrator
Gareth Sear
Business Start Up Manager
Professor Rob Warwick
Professor in Management and Organisational Learning
Sue Lavender
Head of International English: Coordinator: Level 6 International Route 'Top-ups', International Academic & Language support (IALs)
Dr Wendy Sealy
Reader in Graduate Employability
Jenny White
Associate Lecturer in Marketing
Andrew Appiah
Senior Lecturer in Accounting and Finance
Dr Jorge Gutic
Senior Lecturer/Exchange Coordinator
Paula Jenkins
Business in a box PAULA JENKINS Senior Lecturer in Human Resource Management
Dr Dawn Robins
Senior Lecturer & Research Coordinator
Joanne Blackwell
Senior Lecturer
Stephanie Tucknott
Senior Lecturer in Accounting and Finance
Marina Biancardi
Associate Lecturer in International English
Dr Simon Mouatt
Associate Professor Emeritus
Mary Z Li
Full-time PhD Student
Marina Osman-Salleh
Department Administrator – Engineering
Jenny Press
Associate Lecturer in Business School
Eleanor Hayes
Lecturer in International English
Dermot Feenan
Associate Lecturer
Israr Jan-Parker
Senior Lecturer in Marketing and Digital Marketing
Paul Ridoutt
Associate Lecturer
Explore our research projects
Browse our research projects below.
Children's Experiences of Health and Wellbeing
Promoting health and wellbeing through sport and physical education
Sport and physical activity has long been considered to be a powerful factor in promoting childhood health and well-being. Our researchers are interested in how and when physical activity, sport and physical education experiences can promote such well-being changes and how we can better promote health and well-being through physical activity.
Two key strands can be seen in our research activity. First, we examine the factors that influence a child's experience of physical activity (whether through formal coaching, teaching or play). In particular we examine how sociocultural factors (class, power dynamics, culture) shape the experience and impact of being physical active. In this line of research, we are particularly keen on exploring research methods (e.g., drawing, photography) that allow us to more fully access the child's voice and subjective experiences. Second, our research examines the potential short and long-term health benefits of physical activity in children. In this strand, we have explored the efficacy of schemes such as the daily mile on physical activity participation, attitudes to physical activity and physical fitness. We have also evaluated exercise schemes designed to promote activity within obese populations.
Are you interested in finding out more about this research area or getting involved in our research projects? Please email Suzanne Everley on s.everley@chi.ac.uk.
Dr Suzanne Everley
Head of Sport Social Science, Reader in the Sociology of Physical Education, Activity and Health, Chair of the Anita White Foundation
Dr Julia Potter
Programme Coordinator PE and Sports Coaching Senior Lecturer in Physical Education
Dr Mandy Gault
Head of Sport and Exercise Physiology
Jamie Sims
Senior Lecturer
Tanya Goosen
Senior Lecturer
Optimising Practice in PE
Enhancing the outcomes of physical education
Physical Education is a key curriculum subject with a broad role, including; teaching values of fairness and respect; experiencing competition; developing physical confidence and competence; providing opportunities for and learning around a healthy and active lifestyle. There is a growing body of evidence of an increase in sedentary lifestyles across populations and the resultant declines in mental and physical health. Yet there is a 'squeeze' on PE quantity and quality, with pressure on schools to maximise outcomes in core subjects and the increased use of external coaching companies; some with little training or experience. These factors mean there is a pressure to optimise the outcomes of Physical Education lessons. Our researchers are interested in identifying where the opportunities for improvements exist in sessions delivered by both teachers and coaches and to recognise successful strategies to optimise practice in physical education.
There are three strands in our research activity focussed on the delivery of high-quality Physical education. The first strand focuses on teacher behaviours; in particular we are interested in questioning and feedback strategies. Specific work being done in this area is to identify and validate tools that can be used to 'measure' the outcomes of teacher behaviours. We are also exploring other areas such as non-traditional approaches (such as; novel sports, differing environments; daily mile) by practitioners to improve pupil outcomes.
The second strand explores teacher and coach education; focussing on the use of reflection in the development of pedagogical understanding and practice. Research undertaken with trainee teachers completing a PGCE route has led to the development of reflective learning strategies that are effective when completing a higher education based initial teacher training course. The impact and effectiveness of such strategies can also be applied to the professional development of qualified teachers.
The third strand currently being developed by staff is to consider issues around inclusion; principally the issues for transgender students in a sport and PE setting within schools, alongside SEND considerations.
Dr Melissa Mantle
Deputy Director of the Institute of Sport, Nursing and Allied Health
Rachel Mackinney
Programme Coordinator Physical Education in the Primary Years
Craig Pulling
Senior Lecturer in Physical Education
Kirsty Lawie
Senior Lecturer in PE and International Coordinator roles
Jon Mills
PGCE PE Secondary Subject Leader / Senior Lecturer in Physical Education
Dr Julia Potter
Programme Coordinator PE and Sports Coaching Senior Lecturer in Physical Education
Rebecca Warke
Senior Lecturer
David Eldridge
Senior Lecturer
Ed Christian
Senior Lecturer in Physical Education and Sports Coaching
Ian Perkins
Senior Lecturer
Dr Suzanne Everley
Head of Sport Social Science, Reader in the Sociology of Physical Education, Activity and Health, Chair of the Anita White Foundation