Overview
Explore the relationship between coaching, leadership and participation in the development of sport
Our highly-practical BA (Hons) Sport Development course allows you to explore the connection between the development of sport and how it is coached and delivered to those who participate.
You will develop the knowledge and skills required to design and implement projects that support participation in, and development of, sport across different groups of people.
The course will also develop your practical coaching, delivery, leadership, and management skills.
Our students are involved in community engagement projects working with local children, colleges and outreach groups, including those with disabilities.
On this course you will:
Explore the connection between sport development principles and how they are delivered to those who participate in sport and physical activity.
Support your understanding of sports development by improving your coaching skills.
Experience coaching across a variety of sports, and include many of them within your learning and assessments.
Be prepared for a career within the professional fields of sport development and coaching.
The Course
Study areas across sports development, sports coaching, sport in schools and professional skills
Our BA (Hons) Sport Development offers modules that split your focus equally across sport development, sport coaching and delivery, school sport and physical education, and academic, research, and professional skills.
You will consider the place of sport within the socio-economic geographies of local, regional, national and international communities, as well as developing your practical coaching and leadership skills.
This list is indicative and subject to change.
Select a year
The Enquiring Practitioner
While learning the technical components involved in the teaching and coaching of specific skills, you will also be introduced to fundamental biomechanical principles which impact performance. The module will apply research and enquiry to real-life lived experiences that are associated with your potential future career paths.
Developing Professional and Academic Skills
This module aims to help you make the transition between UK qualifications levels three and four (Year One at university) by improving intellectual and academic skills, which will support you throughout your programme. As part of the developing professional skills you will focus on issues surrounding employability and developing graduate employability skills.
Principles and Practice in Sport and Coaching
This module facilitates an understanding of the principles and processes associated with planning, delivering, and evaluating a coaching session. You will learn about the coaching process and the role of coaching in supporting participation and performance. The module will also outline the key factors associated with the delivery of an effective coaching session.
Introduction to Coaching Contexts in Sport
The module will discuss the role of different providers for coaching, coach education, and development and identify the impact of political and financial climates as drivers behind the developing opportunities to work within a diverse range of contexts. The implications of these on the skill set required to be an effective coach within different contexts will be examined along with potential employment opportunities.
Introduction to Sport, Health and Physical Activity
An introduction to the key debates and issues related definitions, concepts and components of health and physical fitness in the UK. It aims to provide an understanding of how lifestyle factors, social and environmental structures influence decisions to engage in sport and physical activity.
Introduction to Sport Policy and Development
The module aims to cover the fundamental political ideologies that inform the foundations, objectives, and development processes for sport policy. You will engage with the most significant policies and strategies to have shaped sport development in the UK before applying this knowledge to localised or organisational sport policies.
Active Schools
Explore the issues surrounding Physical Education and its role in the health and activity agenda. Consideration of personal and social barriers and facilitators within and outside the school environment will also be given.
Coaching Practice and Delivery (Placement)
The module introduces various evidence-based and interdisciplinary practices and requires you to apply these practices in real-world coaching. This is achieved via peer coaching in taught practical sessions, and during the coaching placement hours (normally 50) required across the duration of the module.
The Enquiring Practitioner 2
This module seeks to develop your knowledge and understanding from The Enquiring Practitioner 1 and help prepare you for your final year dissertation. You will conceive of, plan and execute small-scale research. The aim of this "dress rehearsal" is to develop your appreciation of the project management aspect of the research process.
Project Management (Sport)
This module is an introduction to the essential tools and methodologies for managing an effective sports project. The methodology used will be PRINCE2 to develop your own sports project. The content will include: Introduction to Project Management, Planning a Project, and Managing Successful Projects.
Critical issues in Sport Development, Management and Physical Activity
This module introduces you to the key debates and issues related to sport, health and physical activity in the UK. You will explore key definitions, concepts and components of health and physical fitness and their relationship to sport, physical activity and sedentary behaviour.
Understanding and Managing Individual Differences
Build on your understanding of effective teaching and coaching by understanding and applying principles of equality and inclusive practice.
Children and Youth Sport
This module aims to give you an overview of a number of issues related to coaching children in sport and/or providing sports opportunities for them. The module examines the development of the young performer from a multidisciplinary perspective and aims to provide you with the opportunity to demonstrate your knowledge through appropriate assignments.
Critical Issues in Health Promotion Lifestyle and Exercise
The module aims to provide you with a critical appreciation of the principles, theory and practice of health promotion in the UK. This will involve the application of the knowledge of sport, health and physical activity in the context of the wider social, cultural and environmental issues facing agents of health promotion.
Critical Issues in Sport Business and Commercialisation
This module allows you to examine the opportunities and constraints for sport as it develops according to business and commercial principles in the UK and globally. Concepts and terms from sport business and sport management are viewed through social science perspectives to challenge issues of control, exploitation and dominance.
Pedagogy for Activity
This module aims to further your understanding as to the 'why' surrounding physical activity through Physical Education. You will develop your knowledge and personal philosophy as to what you believe you want to deliver, how, and why, in accordance with school and Governmental policies.
Sport Injury and Prevention
This module aims to develop an awareness of potential injury situations and predisposing factors to injury in sport. Familiarity with types of sports injury and treatment procedures should aid in the prevention and effective treatment of injury in the workplace.
Performance Psychology
This module will introduce you to the key theories and concepts in performance psychology, examining theory and research into a range of factors (e.g. confidence, motivation, emotional regulation) that have been proposed to contribute to performance in sport and other achievement domains.
Dissertation
You are encouraged to identify a research question appropriate to your degree pathway that is of interest and relevance to your studies. An appropriate approach to addressing the question is then determined through discussion with tutors who have relevant theoretical and practical expertise in your chosen area.
Sport Development: International Contexts
The module explores the nature of politics and considers the full scope of how sport and politics connect from the distribution of resources at a local level to decision making at major world events. The module will include analyses of 'sport for development' and 'sport for development and peace' programmes. Connections between the state, nationalism, identity and sport are also explored.
Consuming Fitness And Lifestyle
You will examine the ways in which physical activity, health and fitness are consumed in contemporary society. Discussions will take place within the context of Chris Shilling's work on 'body projects' and the notion that, in post-modern eras in particular, there is an increasing propensity for individuals to view the body as an entity which is to be worked upon, particularly in relation to the construction of a particular individual identity.
Sporting Subcultures
In considering the diversity of ways that sport relates to the study of subcultures, this module will analyse the relationship between sporting subcultures and the wider society in terms of the social and cultural context. The module will draw upon a wide variety of theoretical and conceptual tools taken from the disciplines of sociology and cultural studies.
Developing Effective Coaching
The module introduces key theoretical issues regarding the development and education of coaches towards effective delivery. You will gain knowledge of, and experience in, the role and process of mentoring and observing others towards the development of effective coaching. 
Coaching Alternative Sports
The focus of the module will be on allowing you to gain an understanding of culturally specific sports, minority sports, and sports adapted for those with disabilities. The content of the module will reflect these theoretical components, but there will also be a section allocated to the development of practical coaching and the development of the technical and coaching skills necessary for at least three alternative sports.
Coaching At The Interface Of Sport Development
The module begins by tracing the historical relationship between coaching and sport development. A more detailed conceptual analysis of sports development is then undertaken before linking the sport development process to the role and function of coaching within this context. Finally the module engages with current developments whereby the relationship between coaching and sport development are becoming increasingly fluid and dissolvable.
Community Engagement In Sport
this module explores the nature of planning, managing and delivering a community sport event or project in the context of modern sport development. The role of the coach is also discussed and critiqued in the context of planning and delivering a community sport event or project. Further connections between sport, charity and politics will also be made to demonstrate the role which sport can play in community engagement.
Analysis Of Systems And Performance In Football
This module develops your critical, analytical and performance-based analysis of trends and patterns in the development of playing strategies related to Association Football. This module will aim to equip you with an advanced understanding of the practices, philosophies, and methods of working with players in performance football.
Advanced Coaching Psychology
This module aims to introduce you to psychological theories and concepts that are relevant to effective coaching of groups. The module will also explore key issues in: the coach-athlete relationship; group dynamics and leadership; self-belief and mental toughness; motivation; and, athlete-environment interaction. 
Experience
Discover world-class sporting facilities to support your learning
Tudor Hale Centre for Sport
Specialist outdoor sports pitches
FA Women's High-Performance Football Centre
Subject specific librarians
Teaching and Assessment
Innovative teaching methods that focus on practice
Teaching
Our team of principal lecturers ensure innovation, enthusiasm and expertise combine to deliver the excellent standards that give our institution its high reputation.
When you come to Chichester, you will join a community of students and lecturers working in partnership to ensure that your learning experience reflects best practice and embraces the opportunities presented by new, interactive technologies.
Each module is delivered differently depending on its content and focus of study.
In most modules you can expect lead lectures to introduce core content, but the majority of your time will be spent working in small groups with tutor support in seminars, workshops or laboratory sessions.
Many sessions will require you to have completed some preparatory work and you will also be given structured follow-up work after a session to further progress your learning, often reading or an individual/group task. As you progress through your degree you will be expected to take more and more ownership over your learning and development, directing your study into areas of most interest to you.
Read more
Assessment
You will be assessed by a variety of methods, including essays, examinations, portfolios, practical assessments, lab reports, and oral presentations.
Our course includes a mix of assessments, so that you may develop a wide range of transferable skills. Modules are assessed at every stage of the course, offering cumulative assessment of your progress.
You can monitor your own progress, allowing you the opportunity to discuss and plan your development with your lecturers throughout the course. Where appropriate special arrangements can be made for students with an identified need.
Placement Opportunities
Utilise our extensive professional networks to support your learning
In the second year, the 'Coaching Practice and Delivery' module reinforces and extends professional practice.
It gives you the opportunity to actively broaden your range of coaching experience through various sporting domains and contexts.
Examples of these include operating within the fields of disability sport, primary, secondary, and further education, university sport, and the community programmes that the University runs.
Our Sport courses have a dedicated placement coordinator who is available to assist students and has a network of contacts in local clubs and schools.
Our students are from all over the UK, with the majority from the South and South East of England, with a few students from overseas. Many students find work placements in their home towns, as well as local opportunities in Sussex.
You will need to ensure you have all the necessary documentation in place before you start your placement. Some courses will insist that you complete a DBS check on entry to the course and others will require you to complete a check once you have started. Please check that you have completed all necessary documentation before commencing your placement.
Read more
Careers
Acquire the skills and knowledge required to gain employment with the sports industry
Our BA (Hons) Sport Development is ideal for those who are not sure of a specific career path within sport, but know that they are interested in working within areas including coaching, management, physical education or sports media.
Typical careers include:
Sport coaching

Sport leadership

Leisure management

Charity sector

Sport development

Sports administration in national and local governing bodies

Sport media

Community coaching and development
Further study
You can also progress to other postgraduate level study to continue the development of your knowledge and skills and increase your employability.
Alumni receive a 15% discount on postgraduate courses at Chichester.
Student View
"Studying at Chichester has made me a better person and I have grown as a person as well as a coach"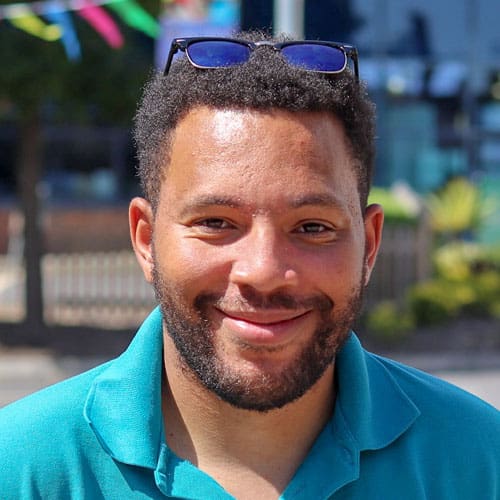 Jamel
BA (Hons) Sport Development and MSc Sports Coaching Science graduate and now the Vice-President of the Students' Union
"Studying at Chichester has made me a better person and I have grown as a person as well as a coach. There are multiple skills that were easily transferable, which has helped me settle into my role. For example, in my job it is essential to understand policies and procedures and being able to critically analyse them, their purpose and how they affect students. This reminds me of the critical thinking which was taught to us and how to apply it."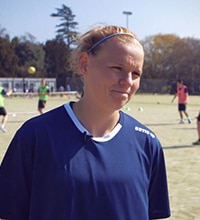 Shannon
BA (Hons) Sport Development graduate and now Southampton Football Club Women's Player and Head Coach for a university's women's football first team
"My degree gave me an understanding of the landscape of sport and how to plan and deliver projects that engage the local community. I gained practical coaching experience that developed my confidence. Studying a degree developed key skills such as time management, communication and presentation skills, and the ability to work within a team. These skills I have translated into my job role."
Course Costs
For further details about fees, please see our Tuition Fees page.
For further details about international scholarships, please see our Scholarships page.
Entry Requirements
GCSEs
or better in both English Language and Maths.
IELTS
with no element lower than 5.5
FAQs
Frequently asked questions
Click the 'Apply now' button to go to relevant UCAS page.
What are UCAS tariff points?
Many qualifications have a UCAS Tariff value. The score depends on the qualification, and the grade you achieved.
How do I know what my UCAS tariff points are?
Head to the UCAS Tariff Points web page where you can find a tariff points calculator that can tell you how much your qualification and grades are worth.
When does this course start?
This course starts in September 2022.