University Vice-Chancellor appointed as a new Deputy Lieutenant of West Sussex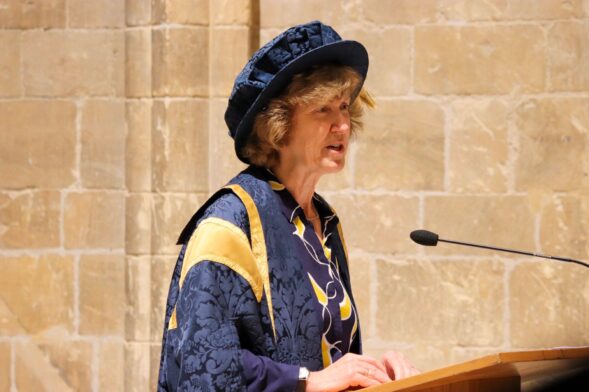 The Vice-Chancellor of the University of Chichester has been named as a new Deputy Lieutenant of West Sussex.
Professor Jane Longmore, who has led the higher education institution since 2017, was appointed for her commitment to public service and dedication to creating opportunities for people of all backgrounds to access high-quality learning.
Under Prof Longmore's guidance, the University of Chichester has climbed the national league tables to become the 21st-best in the UK, according to the Guardian.
Appointment to the office of Deputy Lieutenant, which dates back to 1569, is widely regarded as one of the country's most distinguished positions. Prof Longmore joins an eminent list of 28 other influential figures in West Sussex who assist the Lord-Lieutenant in representing the Queen.
Speaking of her delight at the appointment, the Vice-Chancellor said: "I am extremely honoured to accept the office of Deputy Lieutenant and am excited to help support the many people and organisations of West Sussex with which the Lieutenancy works."
The University of Chichester, which is the only higher education institution based in West Sussex, has supported its community by providing teachers for schools across the county for 183 years.
Since her appointment in 2017, Prof Longmore has overseen continual growth of the University's student numbers and new teaching facilities, including a School of Nursing and Allied Health which intends to provide hundreds of skilled healthcare workers for the county by 2025.
Also a board member for the Coast to Capital LEP, she led the completion of the multimillion Tech Park at the Bognor Regis campus, which – unusually in UK higher education – co-locates degrees in Creative and Digital Technologies, Engineering, Arts and Mathematics.
As a Professor of Urban History and a Fellow of the Royal Historical Society, Prof Longmore's contribution to the promotion and knowledge of history led to the award of an Honorary Fellowship of the Historical Association in 2013.
Chichester's Vice-Chancellor also served as Chair of the University Vocational Awards Council: a national consortium of around 90 institutions working on the development and delivery of degree apprenticeships and technical education.
Read more about Professor Jane Longmore and her dedication to widening educational opportunities at the University of Chichester.