Ranked 21st out of 121 universities in the UK
The Guardian University Guide 2022
for teaching quality and student experience
Times and Sunday Times Good University Guide 2022
Ranked 25th in the UK for student satisfaction
National Student Survey 2021
Overview
Prepare for rapid career progression in a variety of rewarding adult nursing opportunities
This Masters/Postgraduate Diploma route will enable graduates from any undergraduate subject to build on their experience in a caring role in becoming a registered adult health nurse and a achieve a postgraduate qualification. This is an accelerated course which means that you will be prepared for rapid career progression, especially when combined with the high-level attributes that you will acquire as a University of Chichester graduate.
You will study both at the University and within clinical placement learning developing your theory and practice.  This will be supported by an integrated adult health professional practice module to enable you to prepare for and consolidate your learning.  As a postgraduate student at the University of Chichester you will develop an elevated level of compassionate leadership and enhance your already established digital literacy skills and resilience.
Throughout the course you will work closely with others in gaining the necessary experience, competencies and skills needed to become a registered adult health nurse with the Nursing and Midwifery Council (NMC). You will be supported by identified leaders in nursing and healthcare who will provide you with objective coaching opportunities.  On completion you will have access to a varied and fulfilling career with opportunities to work in practice, education, research, and leadership.
You will be taught by nurse academics who are all registered and experienced nurses, in addition to other allied health professionals, a range of nurse specialists, public health experts, researchers, academics and leaders in the field.  Your teaching will occur in a purpose-built nursing facility which is modern and spacious with excellent connectivity.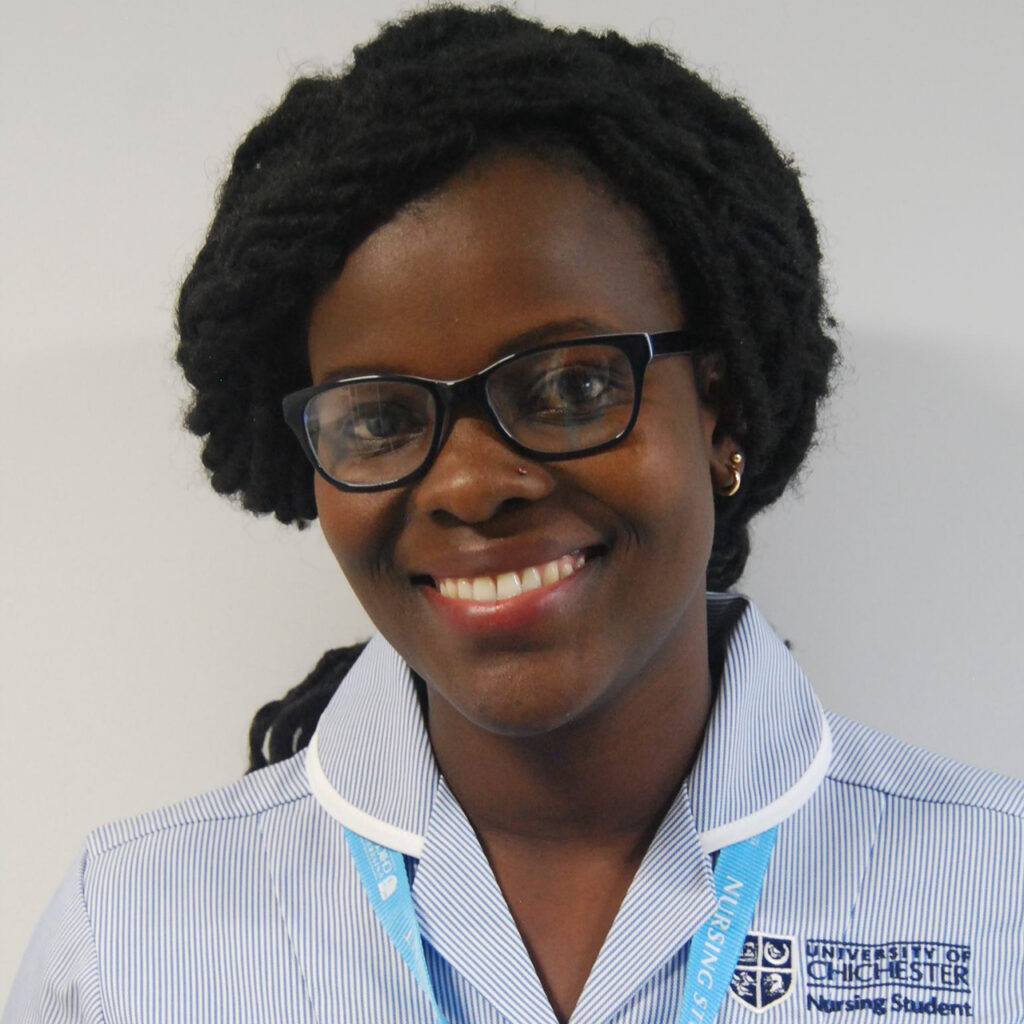 Molly Ntange
Nursing student
"As a nursing student, I don't think there is a better university out there. We feel cared for and strongly supported by our lecturers. They know us by names which makes our relationship with them even better therefore we can approach them anytime. The lectures are top notch with the highest possible standard. They have provided all the necessary resources. We go into lecture rooms almost everyday which other universities don't do which is a very important aspect when studying a professional course like nursing. I am very privileged to be part of the pioneer nursing cohort 2021 Chichester University. For anyone out there interested in studying at this university especially, be sure that your money will be put to proper use. Studying nursing at this university is the best decision I have made for myself and my children."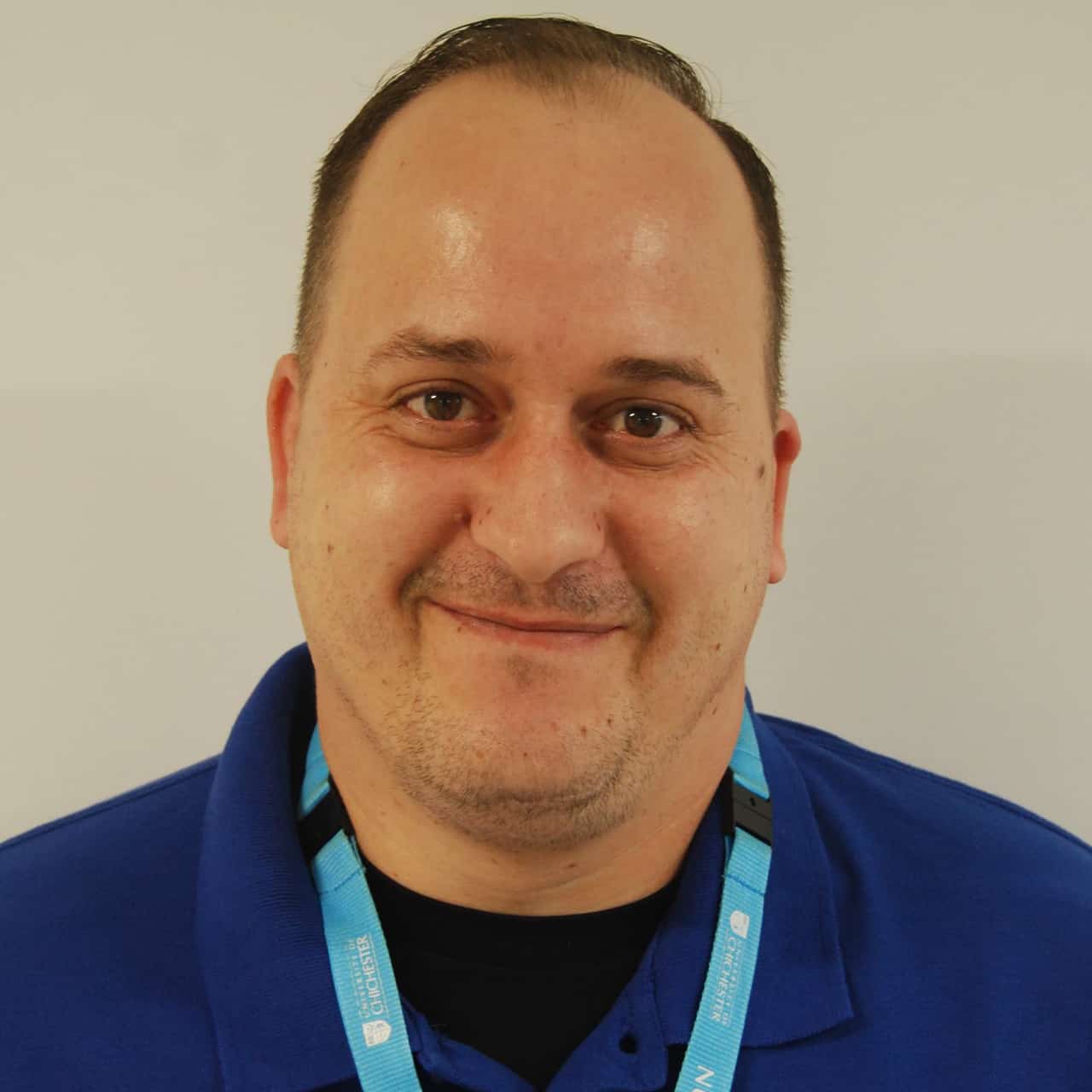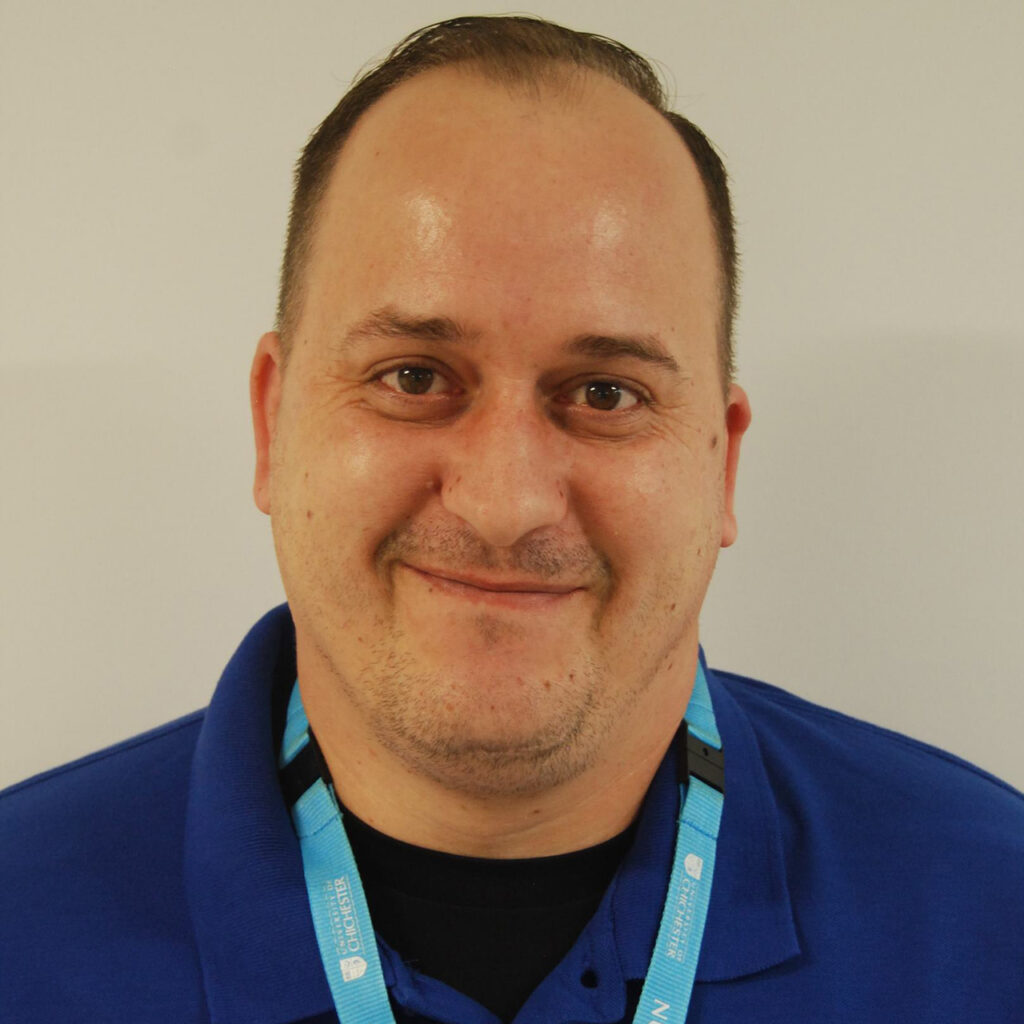 Daniel Grigorita
Nursing student
"I'm very excited to start my nursing journey at the University of Chichester. The cohort is small, and the lecturers are very knowledgeable, enthusiastic and supportive, so I feel we have every opportunity to thrive as nursing students. Learning in a small cohort is a very good experience, as everyone feels comfortable to ask questions, and have open discussions during lectures and seminars. I feel that my aspirations are seen and valued here, and that I'll learn a lot more than just the required skillset by the time I qualify."
The Course
Learn through a combination of theory, stimulation and practical sessions
Year One
Introductory Module – Foundations of Nursing

Understanding Illness and Pharmacological interventions in Nursing

Developing Person-Centred Care

Managing and Enhancing the Promotion and Prevention of Illness

Preparation for Practice Year One
Year Two
Preparation for Practice Year Two

Caring Science – Advancing Nursing Practice

Delivering Person - Centred Nursing Practice
This list is indicative and subject to change.
Facilities
Brand new, on-campus facilities to help you thrive
School of Nursing and Allied Health
The School of Nursing and Allied Health is based on the Bishop Otter campus, you will learn both on campus and in a variety of practice and simulation settings. All learning will be supported by our lecturers in a safe and controlled setting and by your practice assessors and supervisors in health and social care environments.
Learning and social hub spaces
Clinical skills and Simulation Environments
Bright and dedicated

flexible teaching space

for Nursing students

Learning and social hub spaces

where you have the opportunity to discuss and debrief either following some simulated learning experience or just from your classroom experiences.

Clinical skills and Simulation Environments

:
– Six bedded ward environment to recreate a hospital environment
– Separate Community flat to recreate community nursing/social care environment
– Consultation room to recreate primary care environment
Lecturers will support your learning through a connected system of live cameras and also through a range virtual learning technology. We are using the latest healthcare technology so you can learn how to increase safety, improve outcomes for patients and develop your own professional skills here.
Virtual Learning Environment
A virtual learning environment that provides a range of virtual learning opportunities via embedded software such as ClinicalSkills.net.
These facilities will provide you with an outstanding study experience. We use the latest healthcare technology, so you can learn how to increase safety, improve outcomes for patients and develop your own professional skills within the safe space of the clinical simulation labs.
Entry Requirements
Typical Offer (individual offers may vary)
General education
Certificated evidence of completion
GCSE
or higher in English language, mathematics and science (Functional Skills English and Maths, 0level 2 Pass)
Undergraduate Honours Degree
Applicants with a 2:2 will be considered if the undergraduate degree is in a health-related subject
Capability for digital and technological literacy or demonstrate potential to meet programme outcomes

Evidence of study within the last five years

Attend a values-based interview

Complete satisfactory occupational health assessment and criminal records check (disclosure and barring service [DBS] is required on entering the programme

Minimum of 500 hours evidenced work experience in a professional caring role within previous three years and a Recognition of Prior Learning (RPL) claim
Record of Prior Learning (RPL)
To support entry to the MSc Adult Nursing programme you will be required to develop and evidence through a portfolio achievement of the relevant module outcomes. The RPL process must be able to demonstrate the equivalent of 548 hours of theoretical learning and 500 hours of practice learning.   Practice learning hours will be assessed through evidence that you have completed 500 hours of professional caring work within the past within three years of the RPL claim. Professional caring work is work that has been undertaken as paid employment working in a caring role. The caring role can include working in the health and social care sector, either in voluntary, independent or NHS services.
Evidence to support the claim can include contracts of employment, timesheets, references and testimonials from line managers.
All RPL Portfolios will be assessed by the Admissions Tutor. Those identified as potentially meeting the criteria will be ratified by the exam board. A selection will be reviewed by the programme external examiner to ensure academic consistency.
We encourage you to achieve the care certificate prior to application.
As an accelerated MSc Adult Nursing programme, you must be able to demonstrate prior learning for the equivalent of BSc (Hons) Level 4 nursing programme. Recognition will be considered on an individual basis in line with the University's admissions policy and the Nursing and Midwifery Council standards and requirements:
5 permit recognition of prior learning that is capable of being mapped to the standards of proficiency for registered nurses and programme outcomes, up to a maximum of 50 percent of the programme and comply with Article 31(3) of Directive 2005/36/EC

6 for NMC registered nurses permit recognition of prior learning that is capable of being mapped to the standards of proficiency for registered nurses and programme outcomes that may be more than 50 percent of the programme.
Course Costs
Course Fees 2022/23
UK fee
£9250 per year for the whole course if completed within 2 years (either PgDip or MSc)
For further details about fees, please see our Tuition Fee page.
For further details about international scholarships, please see our Scholarships page.
Course specific costs
You will be required to have a satisfactory enhanced Disclosure Barring Service (DBS) check costing £40 which needs to be paid for before the start of the course.