Why come to a University of Chichester Open Day?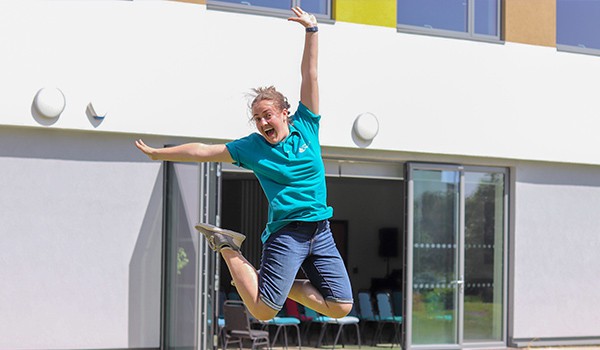 The entire University is so friendly, it felt like a home as soon as I stepped foot onto campus and I just really enjoy being here, everyone is so nice and welcoming, it's such an inclusive environment to be in.
When I came to an Open Day, I registered and straight away went on a campus tour, so I could see everything and then go back to any places after the tour in my own time. It's a good way to see every department, not just your own, and to see the Students' Union, the library and everything else the University has to offer. The campus tours are also run by students, which means you can hear their perspective and ask them any questions during the tour! I definitely recommend going on a campus tour as you get to know the University so quickly.
After I went on the campus tour, I went off to my department to the subject talk, I had quite a lot of questions written down on a notebook, and it was quite nice to do it at the end of the talk so that other visitors could listen to the answers as I'm sure they had similar questions. Don't be afraid to ask questions, that's what you're here for! Don't worry if you don't get a chance to ask in the talks, the lecturers are around all day outside of talks and are happy to answer any questions you may have or clarify the different types of courses that are on offer.
There are specific talks about accommodation, student finance and info about the University that are open to everyone, which you are more than welcome to go to, it's up to you! There will also be subject talks for your department, which is a chance to hear an overview of your course and what topics you would cover. Alongside the talks we also have staff and students around campus who are happy to talk to you if you have any questions about the University, the process of applying or hear from students about how they're finding it at Chichester!
For some subjects, there are taster sessions which are a fantastic way to see how we do things at this University from how it's taught by our lecturers to the type of content that would be in a University practical, it's also a great way to interact with some of the other visitors that you may end up being on the same course with!
There are free buses going between both campuses and also shuttle buses to our off-campus accommodation from the Chichester campus.
My advice for prospective students is to plan as much as you can in advance, work out what you want to do with your day, see when the talks are, see when your department talks are and fit everything in around that. Ask as many questions as you can, even if you think it's a silly question – it's not a silly question! It's completely up to you how long you stay at the Open Day, it's a very relaxed environment which means you can come for a morning or afternoon or stay for the whole day, it's completely up to you.
Jess Saunders, Music Performance