Why Outdoor and Adventure Education is the best degree
"We were supported towards our interpretation of what the course meant and for me, it was less about instructing and more about adventure in what I thought was its purest form."

Cameron Southey, BA (Hons) Outdoor and Adventure Education
I've always had an interest in the outdoors and I'd been in the sea cadets, climbing and kayaking for a long time, but I had no intention of going to university whatsoever.
After failing the medical for the Royal Marines, I booked a holiday with a friend to ride around France on our motorbikes and he dropped out so I ended up going on my own around Europe for two months.
When I was in Germany and it was absolutely hammering it down one night as I was setting up my tent. A caravan drove past with British number plates on and a lady leaned out the caravan and said 'once you've set up your tent, come to our caravan for dinner' because it was raining so hard.
When I entered the caravan, it turned out to be Vin and Margaret Heaney – Outdoor and Adventure Education Senior Lecturer Chris Heaney's parents! Chris was on Skype, I explained I was riding around Europe and he said 'once you get back to the UK, you might be interested in this university course we run at Chichester.'
I finished my bike trip in early August and started university in September.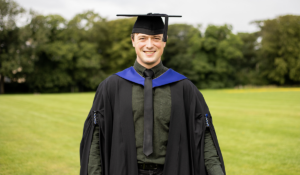 The degree was brilliant. All of the physical aspects of the course really aligned with what I did anyway and I really enjoyed the climbing, kayaking, outdoor activities in general. I also enjoyed the theory side for its variety!
For my placement year I was really lucky with my course and my lecturers as they gave the instruction that the placement had to relate to the degree and left it open ended for us to choose what we wanted to do. A lot of people became outdoor instructors for the year but I thought I'd test the boundaries and attempted to break the world record of being the youngest person to motorcycle around the world.
The lecturers were incredible at supporting me through it. Once it passed the University checks for student placement years, the University viewed it as a the same as someone doing an outdoor instructing position.
The brilliant thing about the placement year, and one of the biggest benefits that I found from it, was it brought us altogether as we were fairly dissimilar at the start apart from having interest in the outdoors. We were supported towards our interpretation of what the course meant and for me, it was less about instructing and more about adventure in what I thought was its purest form.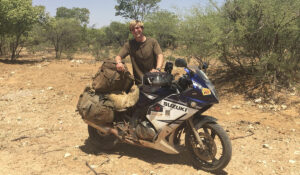 I've written a book on my placement year that I'm in the process of editing and hopefully going to publish next year. I'm hoping to continue the theme of professional adventure by going on cool trips and create adventure content out of it! My girlfriend and I have bought a 10m long sailing boat that we are going to try and live on and travel on for the next year or two.
If the outdoors is your passion and you're looking to make a career in the future or even just for fun then it's worth doing this degree. Even if you're not sold on university or thrilled about the educational side of it, the people you'll meet and the experiences you'll have will be invaluable.
The course opened up doors for me that I didn't think were possible.