Print and imaging services at the University of Chichester.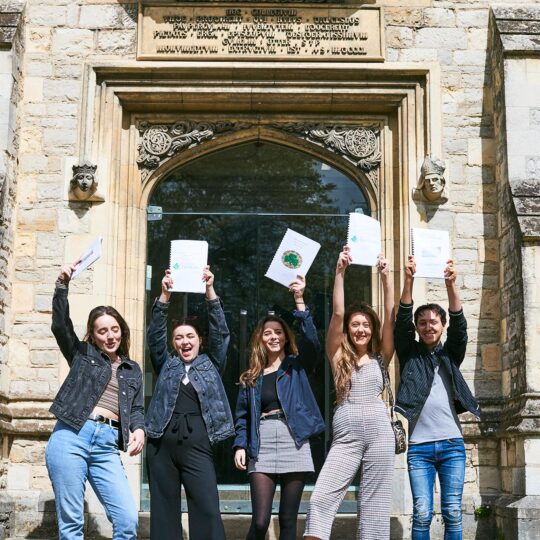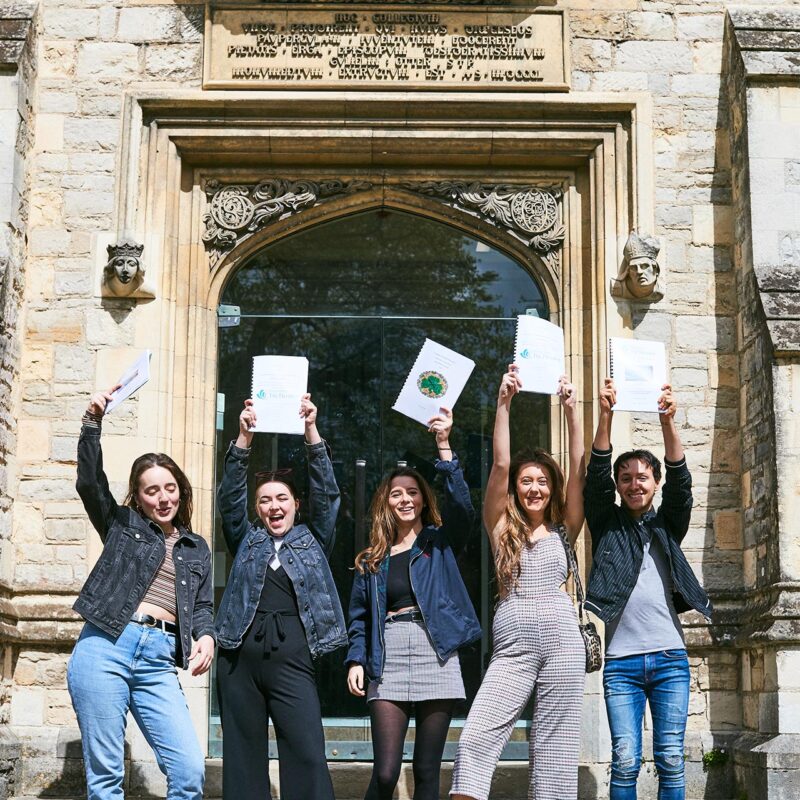 We carry out work for staff, provide a service to students, and offer a commercial print service to businesses and the general public.
Our responsibilities include producing materials for high-profile, public University events such as open days, graduation ceremonies and more. We offer a fast and cost-effective print service using only high-quality materials and the latest print technology.
Visit our orders page to place your order and learn more about our processes.

Explore the services and facilities we offer
Browse our printing options and facilities below.
Digital Printing Services
Our digital printing presses allow us to provide a wide range of high-quality printed goods. Cut-sheet production machines are flexible, quick and far more cost efficient than a normal printer or photocopier. We pass these advantages on to our customers through our fast turn-around times, and great value for money.
We can print up to SRA3 size (450x320mm) on our digital presses.
We can print paper/card and other materials up to 400GSM in weight.
We have 3 presses, 2 at our Bognor Regis Campus and 1 at Chichester.
We can offer papers, envelopes and specialist stocks that you may not find elsewhere.
We offer a range of different paper stocks and finishes on our digital presses including satin, gloss, metallic and uncoated (matt) papers. Additionally, we also have a large selection of coloured and textured papers as well as stickers.
We can print in colour and black and white onto envelopes up to C4 size (229x324mm). Options include simple addresses and postmarks as well as any logos, designs or artwork which you supply. We also offer variable data printing for a variety of jobs including mail outs.
We can print clear and white lacquer onto your documents to really set them apart. These options can enhance your work and make it stand out from the crowd. Pop in to see examples of this unique technology.
Stationery and Scanning/Archiving
Business and personal stationery to meet your needs.
Letterheads, Compliments Slips and Business Cards
We can print stationery for you or your organisation. The Print and Imaging Service offers a high-quality and cost effective solution on short and long runs.
We can produce professional looking folders with your logo and/or artwork. These are usually supplied with internal plastic pockets to keep documents secure. A range of different sizes, styles and layouts are available.
NCR printing is where documents have multiple sheets. The top can be written on and the text is copied onto the sheets below. We can supply NCR in various sizes/colours and with different numbers of sheets. These products can either be glued into pads or supplied as individual forms..
We can scan documents as a PDF or another file type as required. Documents can then be printed, copied to storage or sent to an email address. Please note: the University adheres to the Copyright Act. If you believe this will be an issue then contact us to discuss your request.
Add to perfect finish to your prints.
We can laminate up to 850mm wide and up to 30m long using our roll laminators. We also offer standard pouch laminates at A4 (297x210mm) and A3 (420x297mm) as well as smaller sizes. Laminates can be provided in gloss, matt or sticky-back finishes.
Our booklet makers can produce booklets up to A4 size (A3 folded over). These can be trimmed to look neat and can also be supplied with a professional looking square-edge. We can also manually saddle-stitch booklets in almost any size as required.
​We can machine collate documents into sets. These can be items we've printed or hard copies you've supplied to us. Using our collating services can save you time!
​We can crease products like greeting cards or name cards so that they fold correctly and so that they do not crack at the spine.
We can produce perforated strips on documents so they can be torn cleanly. For example, we can print perforated tickets and tear-out forms.
​We have the machinery to fold leaflets and other documents in a variety of ways including z-folds, gate-folds, half-folds, tri-folds and more.
Large and Wide Format Printing
Share your ideas with large format printing
Our ink-jet and latex printers can print high-quality images at large sizes to suit a wide variety of needs. We produce posters, banners, outdoor exhibition graphics and more for our customers. See below for examples of some of the large format materials/products which we offer.
Binding and Dissertations
Add the finishing touch to your project
Binding a document is a great final touch that can make your work stand out.
Binding can add a professional look and makes documents more durable. Binding is also an excellent solution for documents which are too thick for stapling. Whatever the need, we have binding options to suit.
Binding Covers
We have a range of binding covers that we can use to make your work look even more professional. These include clear or translucent plastic; mock leather-grain and windowed covers. All of our binding comes with covers included in the price.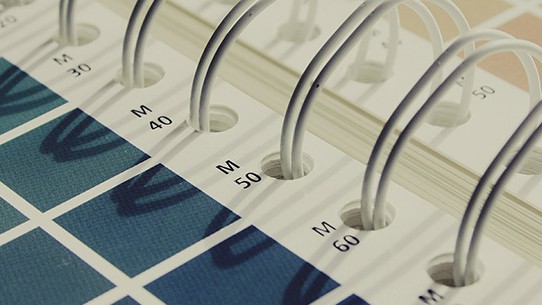 Wire binds are great for easy reading because they can be opened out fully (i.e. laid flat on a surface). These are ideal for workbooks, handbooks, music books, calendars and more.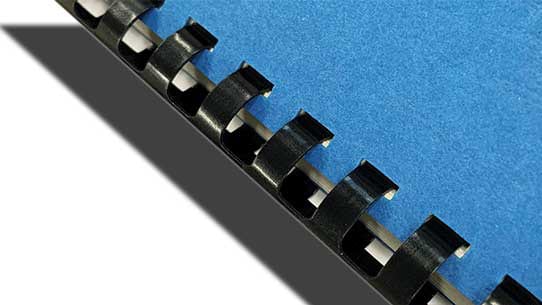 Very similar to wire binding but with a plastic comb down the spine. These are also great for reading as they can be easily opened out fully. Ideal for workbooks, handbooks, music-books and more.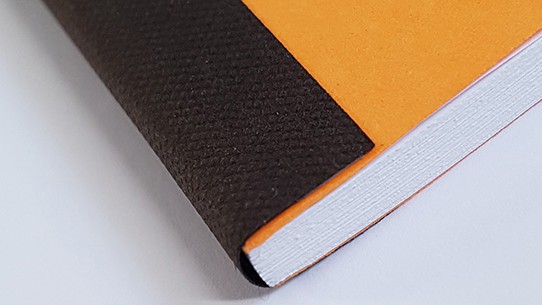 Sometimes called tape binding, thermal binding is more durable than comb binding and uses glue to hold pages together. These read as a book and can't be opened as fully as a comb bind. Thermal binds are ideal for formal documents or items you want to last.
Dissertation and Thesis Binding
We bind dissertations for students at the University of Chichester and other institutions.
We have several different soft-bound binding options available at both of our campuses and will be happy to help you in the final stage of your academic journey.
The Print and Imaging Service can either print and bind your work or can simply bind ready-printed copies which you bring to us. (Please note: our printing and binding service could take up to 2 working days at busy times).
Before bringing your work to us be sure of the exact specifications to which your project needs to be bound as there are many different ways and some courses/institutions can be very specific in their requirements. We will need to know details such as whether it's single or double-sided; colour or black and white; and what colour covers or style of binding you'll need.
Please note: we do not offer hard-back binding at this time.
Invitations, save the dates and banners for your celebration
We can supply all of your printing for events such as weddings, funerals, birthdays and more.
From save the date cards and invitations to large outdoor banners, table-cloths and flags we can help you make your event a big success.
We also offer a full design service should you require assistance and have some templates in various different styles already available.
Artwork and Design Services
Branding, creative, advertising and communication services
The Print and Imaging Service offer a comprehensive design option to customers who need help or assistance in bringing their printed goods to life. We can create high-impact and attractive designs to enhance your work.
Our Team is experienced in designing publications for print and would be happy to help. We design using industry standard software to ensure you get the best results and will meet with you throughout the process to ensure that you get what you require.
We also offer a pre-press service where we will fix or alter existing designs and artwork to ensure they print in the correct way.
Sustainability Commitment
Protecting the environment
The University of Chichester is committed to minimising our environmental impact and the Print and Imaging Department is no exception.
We understand the need to be environmentally friendly and actively try to reduce our effect on the planet in several different ways.
We take environmental concerns seriously by:
Reducing waste by only printing what's necessary.
Sample printing proofs before producing a full print run where appropriate.
Reusing packaging wherever possible.
Recycling machine consumables through manufacturer schemes.
Recycling waste paper.
When dealing with suppliers, we always try to ensure that we:
Use suppliers with credible environmental policies.
Use local suppliers/companies.
Purchase FSC accredited papers and encourage the use of sustainable materials.
The University of Chichester is part of a carbon capture scheme for the paper used in our mfd photocopiers on both campuses.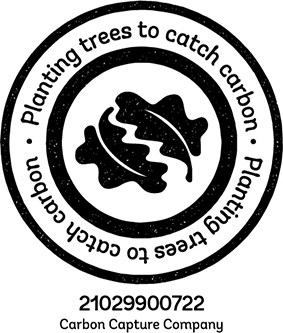 External printing and particular facilities
If you have a print job which we are unable to fulfil we are happy to source the job for you from another supplier.
Jobs which are in very large volumes or those which require particular pieces of specialised finishing equipment can be sent out to a third party. The benefit of this to you is that not only will you receive our same high-standard of customer service, but we will facilitate the entire process and obtain the best price for you.
Some of items we can procure for you include:
Litho print runs
Di-bond Boards
Rounded corner business cards
Promotional items (e.g. t-shirts)
Wrapping paper
Perfect-bound booklets
Double-width pop up banners
There may be minimum order quantities on some procured items so please contact us for further details.