Award-winning Ukrainian author joins Guardian correspondent and poet to reflect on recent events at upcoming talk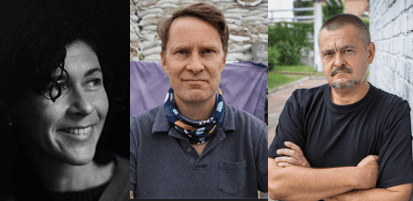 In a one-off event at the University of Chichester, award-winning author Volodymyr Rafeienko will join the Guardian's Luke Harding and poet Sasha Dugdale in discussing writing, wartime and human connection against the backdrop of the Russian invasion of Ukraine. 
Rafeienko, who was recently awarded a digital writing residency by the University of Chichester, will be joining remotely from Poland where he is currently based. He said: "In times of peace and hours of war, literature retains its constant purpose. It is the means of recreating and preserving the human in humanity. It's harder to write in war, but that's because living through war is also much harder." 
Recognised in Ukraine as one of its leading writers, Rafeienko wrote in Russian until fleeing the Donetsk region to Kyiv, following attacks by Russian-backed separatists in 2014. 
Joining him will be Guardian foreign correspondent and author Luke Harding. He has reported from Delhi, Berlin and Moscow and has also covered wars in Afghanistan and Iraq, Libya and Syria. Between 2007 and 2011 he was the Guardian's Moscow bureau chief; the Kremlin expelled him from the country in the first case of its kind since the cold war. 
Sasha Dugdale, poet and translator famed for her translations of contemporary female Russian poets, will also be joining the conversation. Sasha is the former editor of Modern Poetry in Translation and poet-in-residence at St John's College, Cambridge (2018-2020).
The event is a collaboration between the University, the Rathbones Folio Prize and the Stephen Spender Trust, and is supported through the UK/Ukraine Season of Culture by the British Council and the Ukrainian Institute. It is open to all with an interest in literature and the current political climate and promises to provide a thought-provoking evening of discussion and connection. 
The event will be held at The Showroom, University of Chichester on Monday the 24th of April 2023 18:30 – 20:00. Tickets can be booked here.