How a new initiative is helping students tackle imposter syndrome
When Karen Rodham, Senior Lecturer in Health Psychology at the University of Chichester, noticed her students were experiencing imposter syndrome and were unsure of how to cope with it, she designed a session aimed at explaining, accepting and tackling the feelings they were experiencing.
What was supposed to be a one-off session however, soon started to gain interest from other lecturers whose students were experiencing the same thing.
"Colleagues here at Chichester, and from my previous university, heard about the session and asked if I would offer it to students on their programmes. I decided to include a more creative exercise and asked the participants to draw themselves when they experienced impostor syndrome and again when they were imagining themselves feeling confident" describes Karen.
"I turned the drawings into felt creations – I enjoy creating felt sewings that I call 'Rodderstries' – and sewed them to a "cape" (really an adapted curtain). The confident images were sewn on the outside and the impostory creations on the inside. This Impostor Syndrome cape is a work in progress and will only be complete once there is no space left for further felt creations."
The Cape, pictured below, it's currently in its early stages and so far, features illustrations such as: a unicorn on roller skates, a phoenix, and an owl; as well as a tightly curled up pangolin, a butterfly with one wing and a snake hiding in the grass.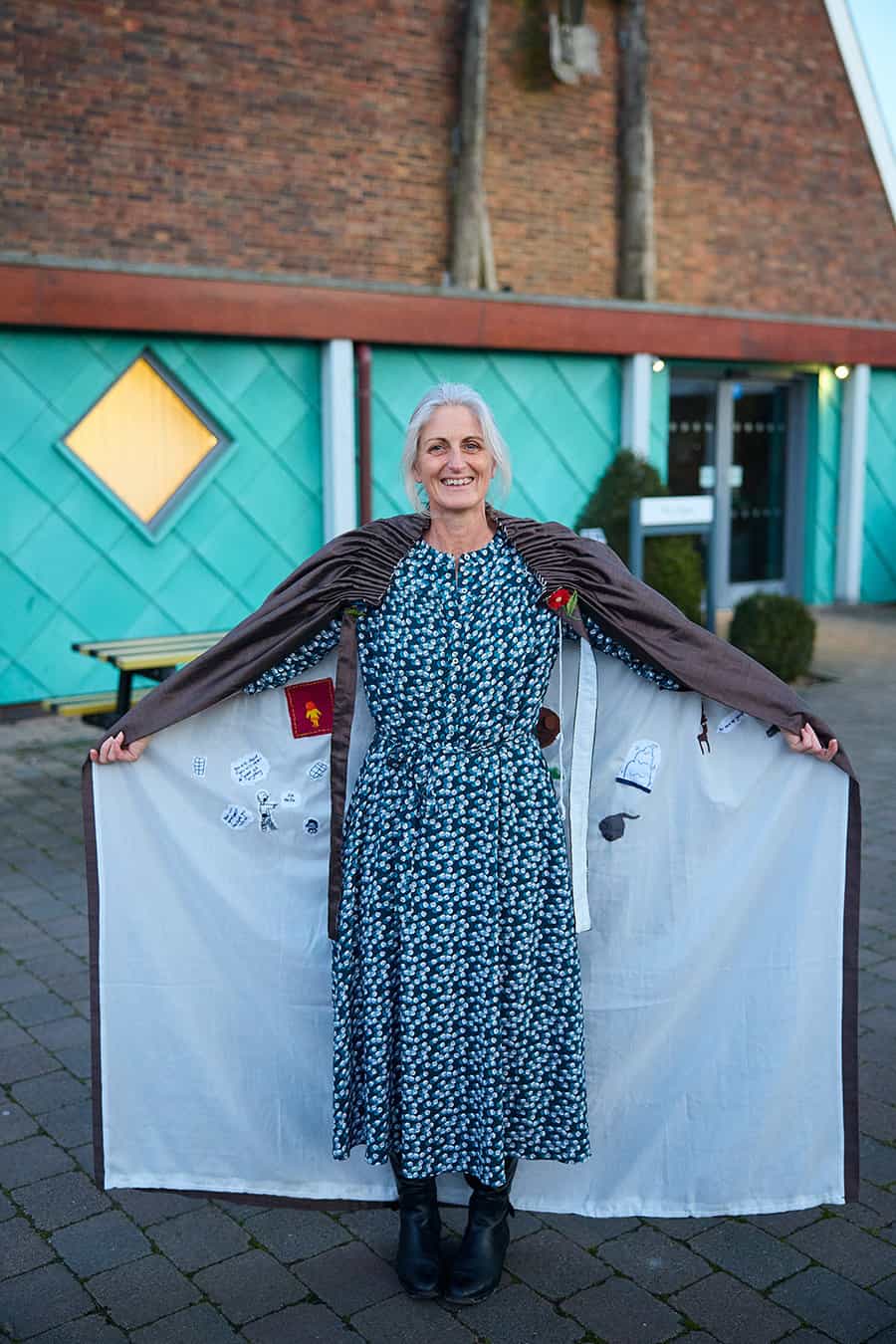 Karen's creative and novel approaches to education have contributed to her successes as an academic, researcher and practicing professional.
In her prior role as Professor of Health Psychology at Staffordshire University, she set up and ran Stoke Psychology in the Pub for six years. This community monthly event brought the two local universities together (Staffordshire and Keele) to share their research with, and answer questions from, the local community.
She also served as Chair of her professional body, the British Psychological Society Division of Health Psychology (2015-2017). She currently runs the MSc in Health Psychology here at the University of Chichester.
You can follow the progress of Karen's cape and other university projects on her website and twitter.