LGBTQ+ Officer announced as National Student Pride Role Model of the Year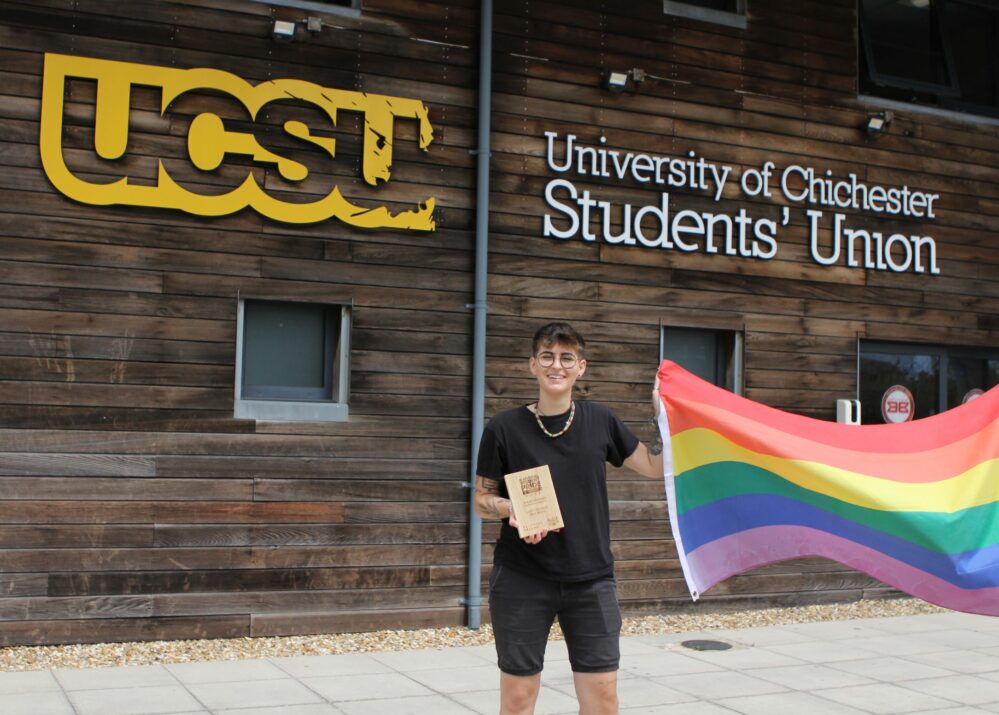 University's LGBTQ+ Officer, Rylee Spooner, announced as National Student Pride's Role model of the Year 2022, rounding off Pride Month in celebration.
Psychology student and SU's LGBTQ+ Officer, Rylee Spooner, has been announced as this year's student role model by National Student Pride.
Rylee commented: "I'm incredibly honoured to be given this award. It's great to see the hard work recognised, especially alongside my studies."
Their commitment to equality and inclusion has led to fundamental changes at the University including an updated trans policy for staff and students, the ability for students to register their pronouns on ChiView and sanitary bins in the men's toilets.
They've also been crucial in increasing trans awareness in the community.
"I'm most proud of the trans day of remembrance. The turn out was way beyond what I expected and it was the first time I had, personally, seen the community together on campus. We came together in solidarity to support something meaningful which I hope is an annual event at the University."
The support to make these changes was found throughout the University from Vice-Chancellor Group members to key parts of the Student's Union (SU).
SU President Gemma Hopwood, who was integral to supporting these movements, nominated Rylee when contacted by National Student Pride.
She said: "It was a virtual nomination where I outlined the key changes Rylee was involved with at the University. These included but were certainly not limited to: LGBTQ+ History Month, a Transgender day of remembrance candlelit vigil, creating the SU's allyship charter and many more. We're so proud and see this as only the beginning."
After celebrating Chichester's first annual pride, this award shows what can be done to increase inclusivity and equality for the LGBTQ+ community of Chichester.