Sexual Health in over 45s research wins best poster prize
The SHIFT research team at the University of Chichester has won best poster at the British Psychological Society's Division of Health Psychology conference in Bristol.
Changes in the sexual behaviour of over-45s is leading to an increase in the number of STIs, according to a scientific study. The Sexual Health In the over ForTy-fives (SHIFT) research project aims to improve the sexual health and wellbeing of people over 45.
This multi-million-pound research project is an international collaboration across Europe including Belgium, Netherlands and the UK.
Research Assistants Victoria Giacomelli and Izzy Ball represented the University of Chichester SHIFT research team at the annual British Psychological Society's Division of Health Psychology conference in Bristol. The team introduced SHIFT's COM-B model representing the capability's, opportunity's, motivations behind the secrecy of sexual health in over 45s.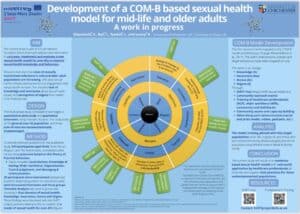 Researcher Izzy Ball, commented: "It's great to share the hard work going on at the University and see the enthusiasm in the community for the project."
Out of 105 posters, the team won best poster giving great exposure and awareness, part of the team's main aims. The other aims for the project are to improve access to information, increase support to those groups, improve knowledge of this area and reduce the stigma towards over 45's getting sexual health checks.
Dr Lisa Jane Cowap who judged the session tweeted: "A very excellent poster". Whilst another SHIFT colleague tweeted: "Talking about sex does have its rewards!! Well done!!"
Izzy continued: "Our hope is the project will tackle the stigma in the over 45's community against sexual health. The inability to confront the issue is only reinforcing the taboo however a lot of these participants are parents that will or have given their children the birds and bees. We need to become more comfortable with sexual health and wellbeing."
To see updates on the SHIFT project please click here.