University hosts free Christmas concert for Ukrainian families in Sussex
A celebratory Christmas concert for Ukrainian families who have found sanctuary in West Sussex is being hosted by the University of Chichester in December.
Christmas Comes but Twice a Year is presented by musicians from the University's Sleepy Lagoon orchestra alongside a cast of 20 British and Ukrainian actors and singers. The theatrical production opens at the University from 4pm on Sunday 11 December – with free tickets available here.
The performance tells the story of Sofia, who found sanctuary in West Sussex having left her home in Ukraine. She now faces two Christmases: that of the UK on 25 December, and that of the Eastern Orthodoxy on 7 January.
Little does she know that she is about to swept away on an extraordinary journey, to a wondrous place called the 'in-between', where East meets West, hope counters hopelessness, and Christmas seems to go on forever, said writer and director Scott Ramsay.
He added: "When the government's Homes for Ukraine scheme was launched earlier this year, communities across West Sussex proved to be among the most welcoming in the UK, and the region provides homes to hundreds of families who have found sanctuary from the conflict in Ukraine.
"The response [to our production] from our growing Ukrainian community has been astonishing. We're working with 40 talented artists, including choirmaster Olena Ivanchuck from the Buchansky region of Ukraine, and the University's own Sleepy Lagoon Orchestra."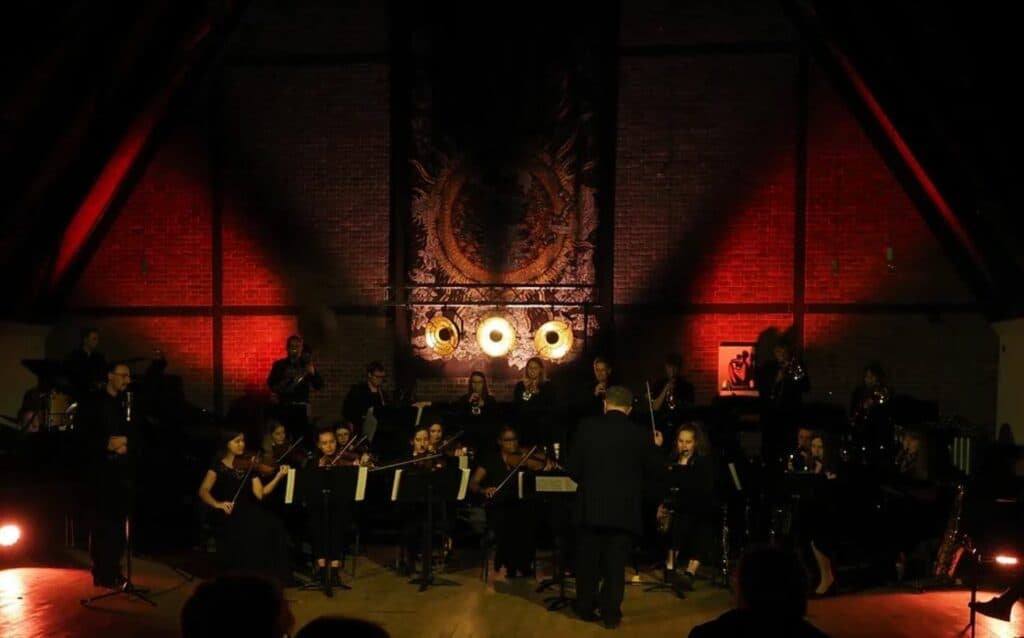 The Christmas Comes but Twice a Year production, funded by Arts Council UK, features Christmas hits from the West and the Ukraine, the show will provide a magical coming together of Ukrainian and Host families, and the communities of Chichester and Bognor Regis. All performances include Ukrainian captioning.
Music is from students at the University of Chichester, which has one of the liveliest Conservatoires in the UK, performing regionally, nationally, and internationally. Its programmes explore music and performance, across two specialist facilities in Chichester and Bognor Regis.
Conservatoire director Ben Hall said: "This event will celebrate the best of Ukrainian and UK cultures, and support our friends who have found sanctuary across our West Sussex. We are thrilled to be hosting hundreds of Ukrainian and host families across the festive period, and are proud to play a part in bringing people together this Christmas."
The production is being streamed online for those who are separated this Christmas – and funds raised in relation to the live performances will be donated to Sanctuary in Chichester.
Tickets are available for free from here – and read more about the University of Chichester Conservatoire at www.chi.ac.uk/music.