University of Chichester Students' Union Awards 2022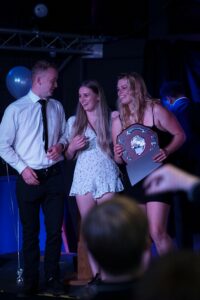 Women's Basketball picked up the University of Chichester Students' Union Sports Club of the Year award, as the annual awards event returned after a two-year hiatus during the COVID pandemic.
The event, which has been hosted at Butlins in previous years, was relocated to Zee Bar on the Chichester campus, with hundreds of students in attendance representing their teams and societies, hoping to pick up one of the prestigious awards.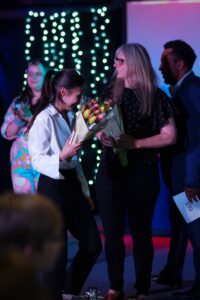 Women's Basketball managed to beat Cheerleading to win Club of the Year, after thrashing Winchester University in Varsity, and finishing the season on a high.
Creative Writing and Composing won Society of the Year, whilst British Sign Language (BSL) picked up New Club of the Year, with close competition from Heels, among others.
Individual accolades were also given for those who had made positive impacts among the University community.
Rylee Spooner picked up the Champions of Difference award for work advocating the LGBTQ+ community, and Freddie Rainbow won the Influential Impact award for contributions as an ambassador during Movember and leading University hockey teams.
Elite Sportsperson of the year went to Ella Blair for a high level of sporting performance and commitment which has seen her selected for Scotland U21's netball team and Saracens Mavericks.
Society Personality of the Year was awarded to Harry Rowe, with the Sports Personality award going to Maisy Murray.
Full colours were also awarded to various students for their contribution to the university's sporting community. Winners included, Men's Rugby captain Paddy Burnett, Cheerleading president Charlotte Yardley, Women's Hockey captain Maddie Goldhawk and Basketball President Katie Little.
Biggest Leap award went to Adventure Sports with their high level of growth in membership and participation.
LGBTQ+ and Anime, Manga and Cosplay won the award for most Impactful collaboration after running a successful event exploring diverse media and LGBTQ+ experiences.
SU President Gemma Hopwood said, "The night was a great success. The support between peers was amazing to see and having so many sports and societies all in one room was so nice after years of inactivity due to the pandemic. I can only hope we go up and up after this year and secure a bigger and better awards event in the future."
By Liam Gallagher