Discover our self-catered with ensuite accommodation options nestled in the heart of our Bishop Otter campus. Adapted rooms are available.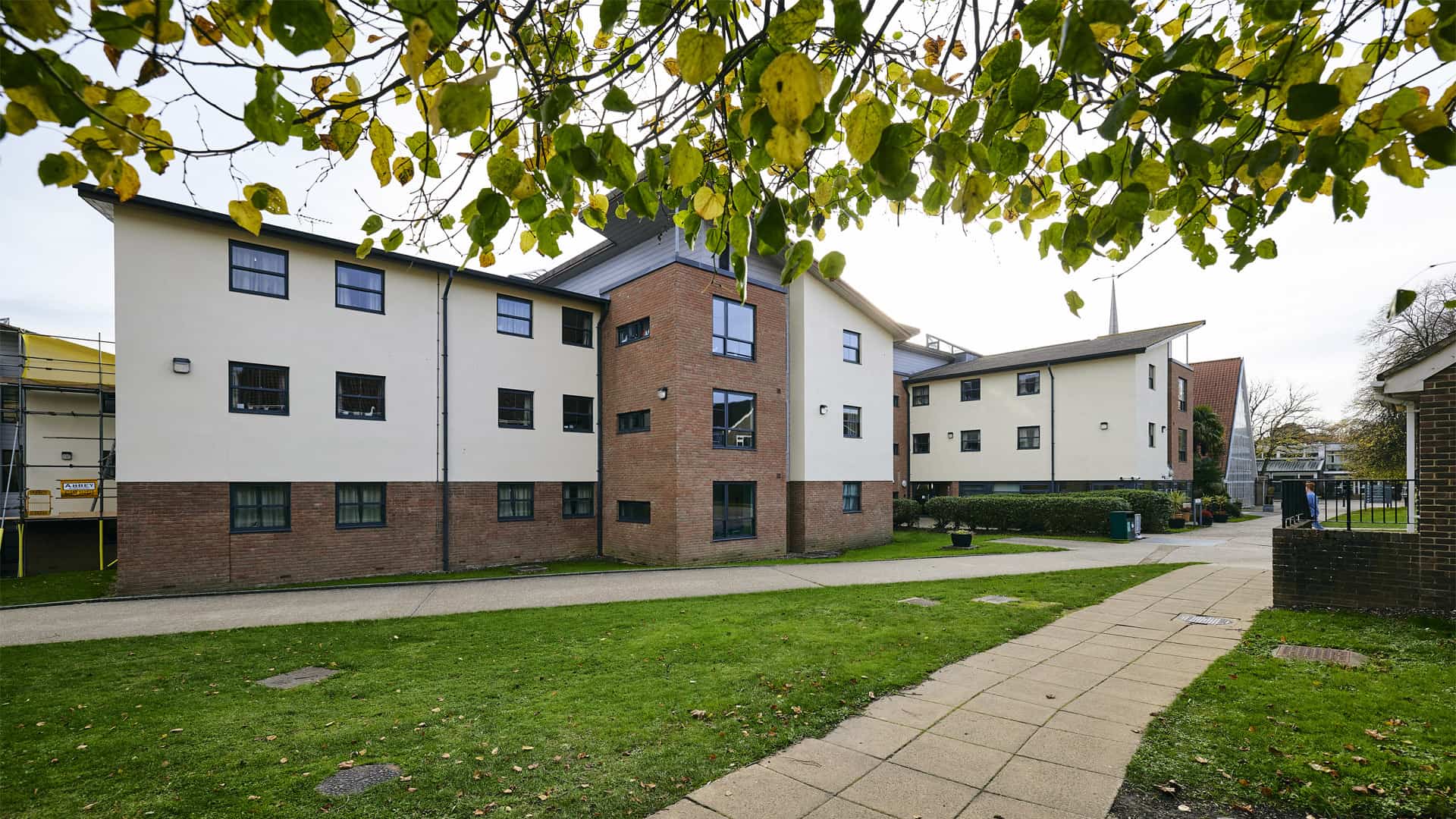 Self-catered, safe, and secure accommodation on our
Bishop Otter campus
Bishop Otter campus: Amberley Hall, Chilgrove Hall, Harting Hall
You will need a TV licence if you plan to watch TV.
Self-catered
Ensuite
39-week contract (including Christmas and Easter holidays)
Facilities shared between 4 students
Wifi and Endsleigh personal contents insurance included in rent
Regular U7/U8 bus services between campuses
2022/23 Price: £163.80 per week
Adapted rooms
We have rooms available that feature standard adaptations for wheelchair users.
Each room is fitted with a panic alarm and has a either a large wet-room with shower seat or shower cubical area with seat, handrails and an additional panic alarm.
Amberley Hall, Chilgrove Hall and Harting Hall offer the best degree of comfort and convenience to wheelchair users.
These halls comes with wide corridors and lobbies, automatic doors, dual power lifts and swipe-card entrance.
You would share a standard kitchen with three other students, and modifications have been made to the kitchen to suit individual needs.
Each wheelchair user will have individual requirements depending on their level of mobility, so it's essential to talk to the Disability Coordinator (disability@chi.ac.uk) by 31 March to make sure we allocate the most appropriate room, and implement any necessary adaptations before your arrival.
Other minor modifications to rooms and residences can be made according to your requirements - talk to the Disability Coordinator Steve O'Melia to discuss your needs on disability@chi.ac.uk.
Read more