Armed Forces Reserves saluted by University of Chichester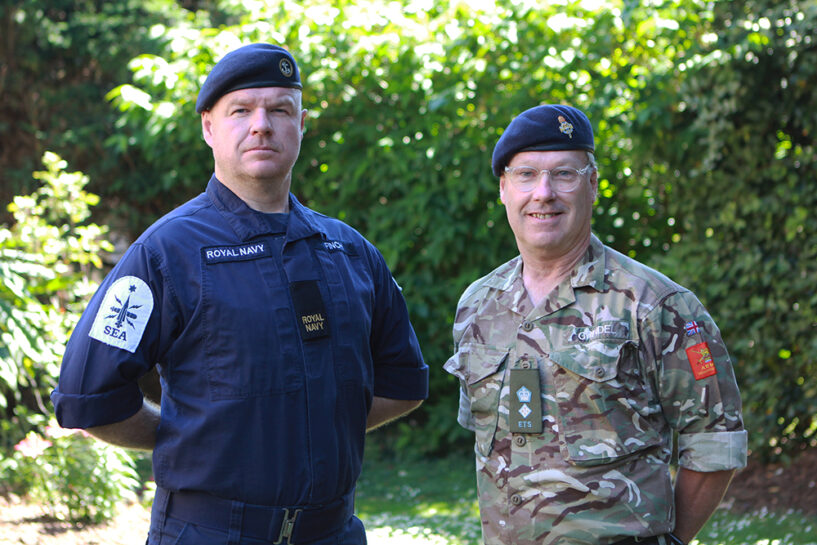 The University of Chichester is saluting the Reservists among its ranks to honour their contributions to the British Armed Forces.
Flags are being flown for the serving women and men among its staff and students who pledged their duty to the country while still working and studying. The celebrations are part of Armed Forces week, which honours the often-overlooked personnel operating across the world.
Former Royal Navy Captain Alec Parry, who is now the University's Chief Human Resources Officer, spent 34-years in the Logistics branch serving in Afghanistan, the Gulf, Sierra Leone and Mozambique.
He said: "The experience that Reservists and Veterans bring to our institution, through leadership, team ethos, loyalty and initiative, is very significant and highly valued. We are always open to Armed Forces personnel who want to partner or study with us and fully appreciate the skills and expertise they bring to the University's workforce."
University has heritage of supporting the Forces – hosting RAF during WWII
The University of Chichester gave its support to the Armed Forces by signing its official Covenant, which guarantees its commitment to those who are serving their country – and, as part of the pledge, was awarded the Employer Recognition Scheme Silver Award.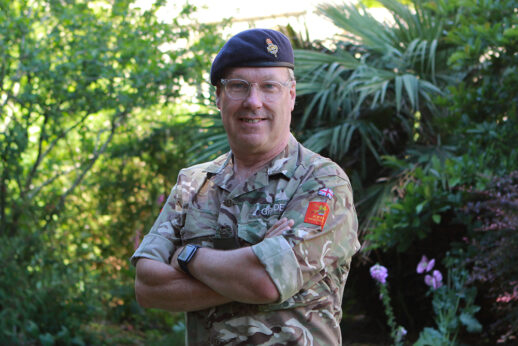 Army Reservist Lt Col David Grindel (pictured left), from the University's Business School, is the Continuous Improvement Lead for the Army's 16 Brigade based in Colchester.
Also a former Navy Officer of 30 years, before moving to the Army Reserve, David worked in training, education and continuous improvement and was deployed to Afghanistan as the senior media advisor for the UK's involvement with NATO.
The Lecturer in Operations and Business Management said: "The military is very good at helping its personnel develop authentic leadership skills, and it's also great fun.
"The great benefit of the Reserves is that it's a two-way street – you bring the knowledge learned in your civilian life into the Forces, and take new leadership skills and experience from the military back into normal life – and, in my case, helping to teach. I'd recommend it to anyone."
British Reserves make up approximately one sixth of its Armed Forces personnel
The University has a long heritage of supporting the Forces, hosting the RAF during the Second World War. Its D-Day operation was launched from Bishop Otter campus where it gave orders to fifty-six squadrons to provide low-fighter cover across Normandy's beaches.
Among its staff ranks is Able Seamen Scott Finch (pictured below), who recently returned from a year away on active duty in the Caribbean, onboard the Royal Navy's new offshore patrol vessel HMS Medway.
Now back on campus, and working to keep students safe, the Accommodation Officer said: "There's a lot of history in the Navy and you feel a sense of pride every day you wake up and put your uniform on.
"Since I became a Reservist, I've learnt a lot about team ethics and leadership, and these are transferable skills that you'd not learn elsewhere. After being back for just a year, I'm now keen to mobilise again – hopefully in UK waters."
The British Reserves are represented across all three Services and make up approximately one sixth of its Armed Forces personnel – protecting the nation's security at home and overseas across operations worldwide.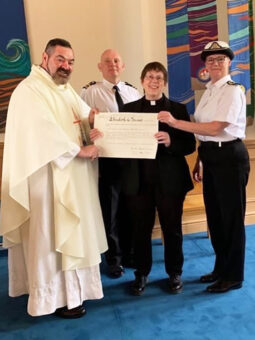 Dr Alison Green is Chaplain to the Bognor Regis Sea Cadet Unit, working in a voluntary role alongside her pastoral role at the University of Chichester. She also has a similar role as Chaplain to the town's Branch of the Royal Naval Association.
She said: "My role as Chaplain follows the Naval tradition that the Chaplain is a friend to all onboard. It is a great joy to encourage young people take up opportunities which would otherwise be out of their reach, such as sailing in the Tall Ships Races.
"They come back full of confidence in themselves and others."
Read more about how the University of Chichester supports its employees as volunteers, veterans, ex-Armed Forces personnel.