Senior Lecturer in Social Work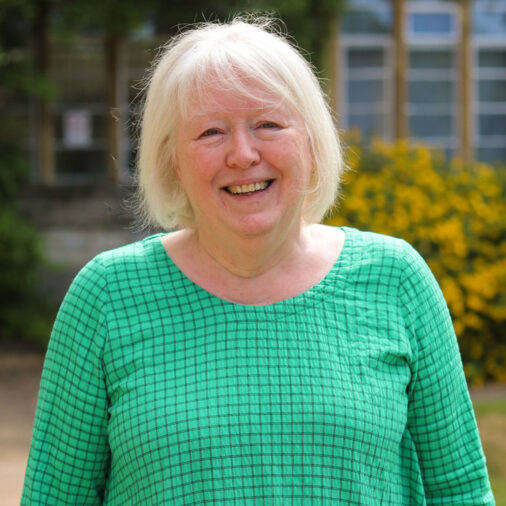 Throughout my career I have always been interested in considering the impact of loss and change on individuals, families, organisations, and systems. Culminating in working with the ultimate loss that death brings, at any age, through my work in and with hospices since 1989.
Qualified in social work, counselling, couples counselling, group work and supervision I work half time at the university and the other half of my week I provide supervision to a variety of individuals and groups, such as hospices, work on end of life, palliative care and bereavement projects alongside talking to local and national groups. I also have a small private therapeutic practice where again these issues are often a thread through the work we do together.
My PhD research is focused on clinical supervision for staff working in end of life and palliative care to ensure the best outcomes for individuals and their families as well as looking at support for people working in this area who are discussing/thinking about mortality on a daily basis.
Alongside these endeavours I am also involved with the West Sussex Children's Bereavement forum, organising Dying Matters Events and have recently, although before covid, delivered the third conference on Facing Death and Bereavement for specific groups of people.
Recently I have become co – representative for the London and South East region of the Association of Palliative Care Social Workers (APCSW).
Conferences and Presentations
Online Presentation (2022) Improving Adult Bereavement Care, Support & Services HC-UK Conferences
Presentation Community Care Live (2021) Dealing with Loss and Grief (Face to face)
Oral presentation (Vienna) International Federation of Social Work (2019) What bereavement support is there for student social workers during training?
Poster presentation (Madrid) European Association for Palliative Care (2017) Supervision in Palliative Care
Oral presentation (London) EOLC (2016) conference Supervision in palliative care
Oral presentation (Milton Keynes) JSWEC (2015) Group work
Oral presentation (London) JSWEC (2014) Supervision in Palliative Care
Series of three conferences on Facing Death and Bereavement (Organiser)
Working with people with dementia (2019)
Working with people with a learning disability (2018)
Working with Children (2017)
Research and Projects
Bereavement Loss and Change During Covid (For Schools) In conjunction with St Wilfrids Hospice Chichester (2021)
Supporting the wellbeing of social work students experiencing bereavement with Denise Turner (2018)
Feasibility study on the provision of counselling services for children and young people Chichester Counselling Services (2003)
Publications
Books
Crawford, K, Price, M and Price B. (2015) Groupwork Practice for Social Workers Sage
Book Sections/Chapters
Turner, D. ed (2021) Social Work and Covid 19 Critical Publishing Ltd

Chapter – Supervision in End of Life Care: The importance of supervision in a Covid – 19 World

Mantell, A. ed (2013) Skills for Social Work Practice  Learning Matters Exeter

Chapter with Debbie Smallbones – Communication Skills

Mantell, A. ed (2009) Social Work Skills. Learning Matters Exeter

Chapter – Communication Skills

Buckley, J. (2008) Palliative Care An Integrated Approach. Wiley and Sons Ltd Chichester

Contribution on hidden grief
Articles
Covington, Lori, Banerjee, Moitree, Price, Marie and Pereira, Antonina (2022) Mindfulness-Based Interventions for Professionals Working in End-of-Life Care: A Systematic Review of the Literature. Journal of Palliative Care. pp. 1-14. ISSN 0825-8597
Turner, Denise and Price, Marie (2020) 'Resilient when it comes to death': Exploring the significance of bereavement for the well – being of social work students. Qualitative Social Work 0(0) 1–17
Turner, Denise and Price, Marie (2020) How social workers can support people facing inconceivable grief in the pandemic. Community Care Online 1st May 2020 www.communitycare.co.uk/2020/05/01/social-workers-can-support-people-facing-inconceivable-grief-pandemic/
Guardian online (30th May 2014) Reflective Supervision in Palliative Care www.theguardian.com/social-care-network/2014/sep/30/reflective-supervision-palliative-social-work
McCray, Janet, Turner, Hazel, Price, Marie, Hall, Barbara and Constable, Gill (2014) Social care mentorship and employee engagement in the transformation of the social care workforce. Journal of Workplace Learning, 26 (3/4). pp. 267-280. ISSN 1366-5626
Read more