Head of Psychology and Criminology/ Reader in Clinical Psychology.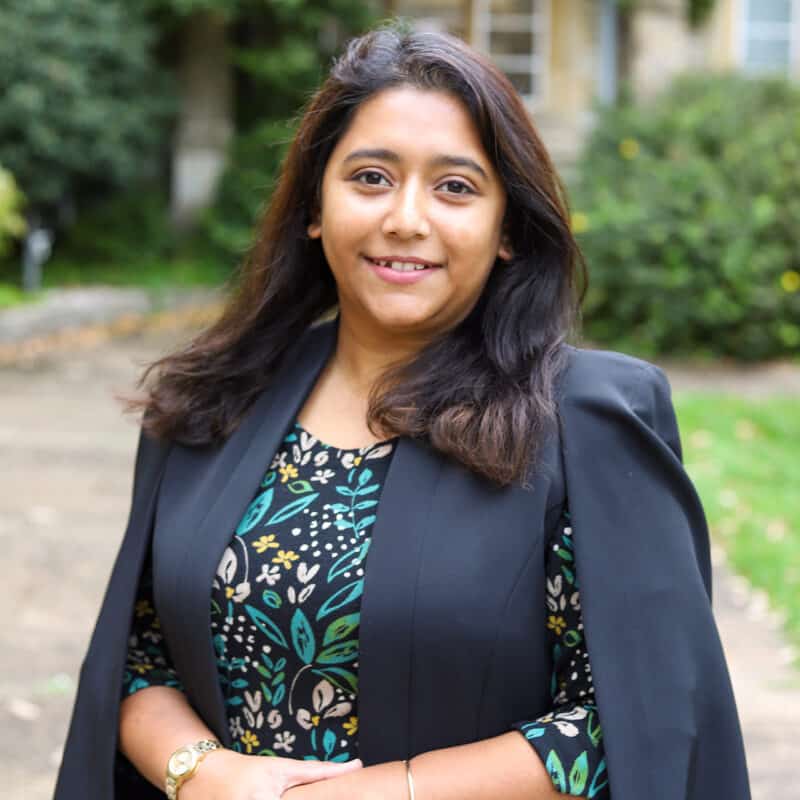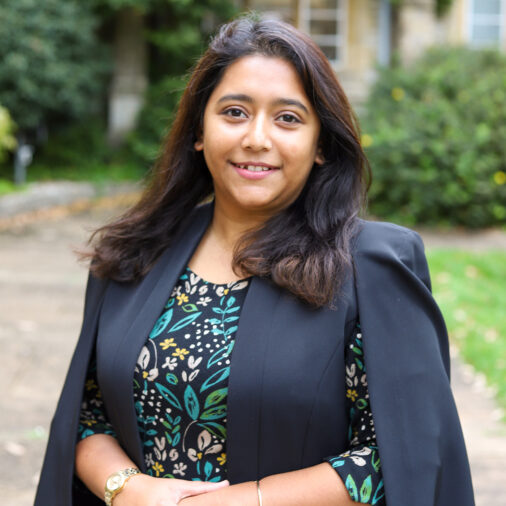 Moitree is the Head of Psychology and Criminology Programme in the Institute of Psychology, Business and Human Sciences. She is a Reader in Clinical Psychology.
Moitree plays a crucial role in guiding and advancing the Psychology and Criminology programmes in the Institute. This involves leading on the management, growth and success of the multiple academic programmes within the portfolio. She has overarching responsibility student experience, research and teaching.
Moitree has a PhD in Psychology and a MSc in Foundations of Clinical Psychology and Mental Health from the University of Sussex.
The primary focus of her research revolves around developing and evaluating mental health interventions that improve mental health symptoms. This is achieved through developing short interventions that are accessible to a wide range of individuals and tailored to their specific living conditions.
In this research domain, she has published several high impact articles on social prescription, mental health inequalities, mental health stigma and increasing access to mental health interventions. Moitree has conducted several impactful projects on 3rd wave interventions such as mindfulness-based interventions.
Moitree is the principal investigator for a number of mental health risk and needs assessment projects across several settings such as secondary schools, colleges and university. She has also developed and evaluated tailored mental health interventions for NHS staff members and staff working in end-of-life care settings.
Moitree has been invited as a speaker in several esteemed international conferences and is currently serving as an editorial reviewer for Mindfulness.
Read more
Key Publications
Publication:
Covington, L., Banerjee, M., Pereira, A., & Price, M. (2023). Mindfulness-Based Interventions for Professionals Working in End-of-Life Care: A Systematic Review of the Literature. Journal of Palliative Care, 38(2), 225-238.
Hazell, C. M., Berry, C., Bogen-Johnston, L., & Banerjee, M. (2022). Creating a hierarchy of mental health stigma: testing the effect of psychiatric diagnosis on stigma. BJPsych open, 8(5), e174.
Lee, J., Waldeck, D., Holliman, A. J., Banerjee, M., & Tyndall, I. (2022). Feeling Socially Anxious at University: An Interpretative Phenomenological Analysis. Qualitative Report, 27(4), 897-919.
Tyndall, I., Hartland, T., Banerjee, M., Giacomelli, V., Ball, I., Churchill, S., … & Lowry, R. (2022). Tailoring sexual health interventions for middle-aged and older adults, including vulnerable populations: A scoping review. International Journal of Sexual Health, 34(4), 593-613.
Waldeck, D., Banerjee, M., Jenks, R., & Tyndall, I. (2020). Cognitive arousal mediates the relationship between perceived ostracism and sleep quality but it is not moderated by experiential avoidance. Stress and Health, 36(4), 487-495.
Banerjee, M., Cavanagh, K., & Strauss, C. (2018). Barriers to mindfulness: A path analytic model exploring the role of rumination and worry in predicting psychological and physical engagement in an online mindfulness-based intervention. Mindfulness, 9, 980-992.
Banerjee, M., Cavanagh, K., & Strauss, C. (2017). A qualitative study with healthcare staff exploring the facilitators and barriers to engaging in a self-help mindfulness-based intervention. Mindfulness, 8, 1653-1664.
PhD Supervision
PhD Supervision areas:
Mindfulness, Mental Health, Social Prescription, Third-wave Interventions, Low-intensity Interventions, Stigma and Discrimination, Wellbeing and Illbeing.