UK higher education institution
Guardian University Guide 2021
for courses and lecturers
WhatUni Student Choice Awards 2020
rating for inclusiveness, teaching and facilities
QS Stars university rating (2019)
Overview
Develop your screen acting skills as you learn contemporary film production practices
Our BA (Hons) Screen Acting and Film Production course allows you to build an exceptional understanding of film production practices and industry technologies as you develop your screen acting skills.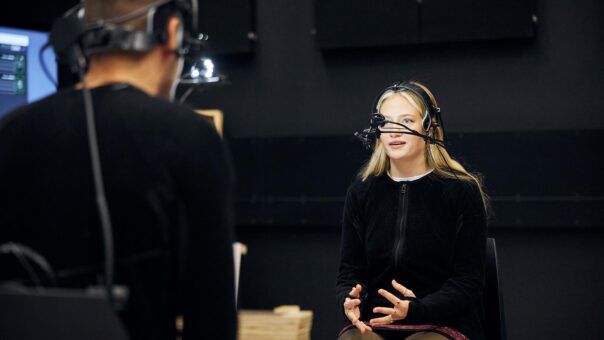 Develop the skills you need to thrive as a screen actor
You will undertake traditional acting training and study a range of techniques including Stanislavski, Adler, Meisner, and Strasberg, as you explore topics including classical and contemporary performance texts, acting methods, physicality, character psychology, and improvisation.
Expand your acting skillset
In addition, you will have the opportunity to explore the history, theory, and cultural relevance of screen-based content, and investigate a range of topics with optional modules.
Study areas include:
Motion capture

Horse riding

Action driving

Climbing

Weaponry and combat acting

Screenwriting

Factual acting

Audio acting, voice over, and ADR
Gain an in-depth insight into the world of film production
You will develop contemporary tradecraft skills offered by the advances in digital technologies, as you deepen your specialist theoretical knowledge and skills in areas that are vital to successful digital filmmaking.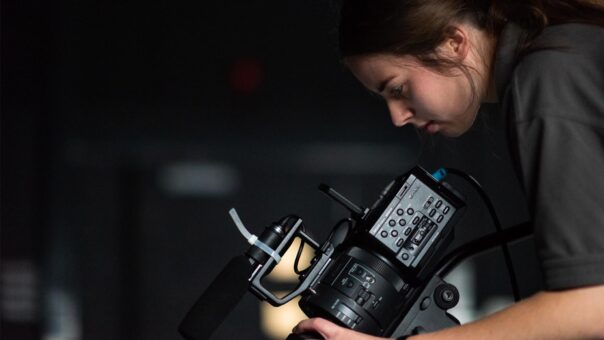 Explore topics including:
Digital equipment operation

Directing

Cinematography

Production management

Freelancing and resilience

The inner workings of the film industry
Perform throughout your studies
You will have exclusive access to a wide range of additional acting and performing opportunities within the department, with numerous drama, performance and voice related projects completed every year by fellow students, staff, and professional associates.
Learn from award-winning and experienced staff
You will feel the support of our team of highly-qualified professional practitioners and industry figures, including award winning directors, producers, actors, writers, editors, and composers from the fields of film, TV, and games.
Join our collaborative community
You will collaborate with dedicated crafts people and makers from across the industry to gain real world experience and work with aspiring filmmakers, writers, and animators from across the Department of Creative Industries.
Feel prepared for your career
You will develop the creative and employability skills you need to thrive needed in your acting career after you graduate with the help of industry focused modules that explore the role of agents, auditions, film festivals, and freelancing.
The department runs regular field trips to international film festivals, professional film shoots and industry conventions, and you will be able to develop an early career profile on IMDB (Internet Movie Database) by working with professional associates and on staff projects.
On this course you will:
Gain a comprehensive screen acting training, with options to expand your skillset as a performer.

Explore a wide range of digital film production practices, techniques, and technologies.

Learn from award-winning and experienced staff from across the creative industries.

Develop your employability and networking skills ahead of your career.

Have opportunities to perform throughout your studies.

Become part of a collaborative community and work with students from other courses.
Partnerships
As a part of the Department of Creative Industries you will benefit from our industry partnerships with companies including HyperX, DXRacer, Twitch, ARRI, and AVID, and be able to access to industry standard software such as Nuke, Maya and Houdini.







The Course
Learn the craft of screen acting and digital filmmaking practices
Year One
In your first year, you will begin to develop your key acting skills around movement, voice, and speech, as well as study the wider history and context of the discipline.
In addition, you will explore the fundamentals of digital film operations, screenwriting structures, and project planning.
Year Two
In your second year, you will continue to develop your core acting skills as well as look to develop wider elements of your performance skillset, including specialist focus on action acting, motion capture, and character psychology.
You will also begin to build your degree around your own interests, as you select from optional modules that explore screenwriting, production management, and additional focus on dramatic productions.
Year Three
In your third year, you will work towards your final project, which allows you to work across a range of areas to demonstrate your acquired performance and/or technical knowledge through the production of a creative portfolio.
You will also explore more advanced elements of action performance techniques and develop your employability options with modules in freelancing and building your own online portfolio of creative work.
This list is indicative and subject to change.
Select a year
Developing the Art of Acting
This module builds on the "Introduction to the Art of Acting" module and continues to develop your actor movement, voice, and speech.
You will explore character study and acting methods and develop more in-depth scene work and camera work as you gain a sense of company through rehearsal.
This will act as preparation for a live studio performance as part of your summative assessment.
Digital Film Operations
This module is designed to provide a foundation 'toolkit' of practical skills to aid understanding of current creative media industries.
You will be introduced to a range of technical and procedural skills including audio, video, photography, web, and digital design.
These skills will develop your understanding of the processes involved in the manufacture and delivery of audio-visual presentations within the creative industries.
Introduction to the Art of Acting
This module will focus on developing a sense of 'company'. You will take part in movement work, vocal work, concentration and trust games to develop an open and creative work environment. This will allow you to engage with specific acting methods and a range of classical and contemporary play text and introduce some simple devising methods and practice. You will be introduced to working with cameras and the basic acting techniques needed for screen acting.
Poetry Film
This module expands upon the work studied in Digital Film Operations, by introducing students to non-mainstream approaches to film production. It aims to provide you with a wide-ranging knowledge of the different ways in which artists and filmmakers have challenged the narrative and stylistic conventions of mainstream cinema. the module encompasses pre-production & planning, location filming, post production and exhibition. It aims to develop transferable skills in team work, collaboration and professional practice as students explore creative forms of expression through digital film production.
Screen Acting Introduction: History & Practice
This module serves as foundation training for developing a range of screen acting craft skills and an understanding of key screen acting theories and professional practices.
Screenwriting Structure
This module explores the importance of dramatic structure during the screenwriting process. You will be guided through the multitude of choices when considering how to identify, control and utilise structure during the planning and execution of film narrative.
Action Performance 01
This module will enhance professional practice by providing you with a range of specialist industry training in unarmed combat, sword fighting and firearms.
You will gain an assortment of practical skills and knowledge, essential for pursuing careers as professional action performers, or as actors wishing to deliver safe and convincing onscreen performances.
Directing Actors: Single Camera
This module is an opportunity to explore the craft of directing actors, as you focus on the relationship and communication established between director and actor.
You will consider the distinctive styles and approaches used in the forms of cinema and TV drama, as you learn to apply this to your own work.
Drama Craft
This module builds on the "Script to Screen" module and explores the drama techniques that apply primarily to drama production.
You will investigate topics including teamwork, cinematography, art direction and set construction, directing and sound design.
This module will develop your awareness in audio visual technology and production health and safety.
Production Management
This module addresses operational areas in filmmaking, as embodied in the role of the production manager.  You will deepen your specialist theoretical knowledge and skills in areas that are vital to successful drama filmmaking through thorough analysis, planning and application.  It introduces you to the knowledge and skills required primarily for the pre-production phase of filmmaking, whilst touching upon filming and post-production. 
Short Drama
This module builds on your knowledge from the Drama Craft module and explores recent technical developments in the fast-changing landscape of the media and creative industries. You will be introduced to advanced filmmaking techniques as you adapt scripts from Writing the Short Film. You will be assessed through a journal and a 15 minute group presentation.
The Devising Actor
This module embraces the idea of devising character for 'screen-play story'. You will build on acting methods developed in your first year, embracing deeper research into character psychology, improvisation and creative writing.
The Virtual Actor 1: Motion Capture
The module will develop a technical overview and performance knowledge of a typical film and multimedia motion/performance capture process for actors. You will have the opportunity to develop a range of professional and procedural skill sets and expectations. the module draws from a broad range of motion capture performance practice and aims to introduce and develop knowledge of the processes involved in the manufacture of a body motion capture artefact and the physical demands required for authenticity in a virtual environment.
Writing the TV Bible
This module introduces you to the process of development when creating a long form TV Drama series. Throughout the module, you will contribute to the creation of a Drama TV "Bible", a package of materials that is used to inform writers, producers and directors of a show's particular production criteria. The module will give you the opportunity to explore the industrial context of such documents and how to generate story ideas for such shows. It aims to develop transferable skills in packaging and selling creative work. Included in the Bible there will be individual episode outline documents. These will be exclusively developed by individuals within the group and will form a percentage of the overall personal final grade.
Writing the TV Script
This module aims to introduce you to the process of development when creating a long form drama script. Taking an original idea from concept to final draft, sessions will explore structure, style, theme and character, with attention to format. Emphasis on strong dialogue will be a key element to script development, whilst the difference between story and plot will be explored. The importance of a 'pilot' episode will be recognised and what elements must be included when establishing a show's selling point. You will also discover key pitching ideas on how to promote their script.
Action Performance 02
This module builds upon the knowledge gained in 'Action Performance 01', providing you with a good understanding of specialist skills in driving, climbing and horse riding.
The module will introduce you to advanced training and knowledge, essential for delivering convincing onscreen performances, as you learn how to effectively develop your acting craft skills.
Directing Actors: Multicamera
This module will introduce you to the hands-on production methods of TV production. With a focus on how to create and deliver a multi-camera, studio-based TV show, this module is designed to prepare you for professional, working life in the broadcast industry.
Final Project
This dissertation level project allows students to build on the practical skills and subject knowledge developed at Level Four and Five. It gives you the opportunity to work across a range of areas to demonstrate your acquired performance and/or technical knowledge through the production of a creative portfolio. You are expected to undertake sustained practice/s, developing understanding, application, and critical processes of practice within the discipline through an extended range of experience. Crucially, you are expected to work professionally to produce a range of visual and audio performance artefacts with high standards of content, presentation, and development. the module aims to develop transferable skills in identifying commercial opportunities for creative practitioners.
Motion Capture Face / Feature Tracking Technologies
The aim of this module is to develop a range of professional, technical and procedural knowledge and an understanding of the core concepts of optical motion capture in the context of the Film, TV and gaming industry. It explores both software and hardware solutions and will explore rig setup, image capture, 2D/3D data processing.
Online Porfolio
In this module, you will be expected to enhance your career prospects by producing an online portfolio that aligns your skills with your commercial and professional objectives. It aims to develop transferable skills in balancing creative and strategic career objectives.
Resilience and the Freelancer
This module serves as an introduction to the wide range of skills required for survival in the modern creative and media industries. Self-employment is increasingly considered the norm and this module will prepare the student for a freelance career.
The Audio Actor
You will explore the more creative and performance related aspects of voice acting: characterisation in animation and video games, replacing dialogue in film and TV contexts, and ensemble or solo work for performance in radio.
Teaching and Assessment
Feel the support of our expert and experienced staff
Teaching
You will be taught by a range of experts in screen acting and digital film production including professional filmmakers and experienced practitioners, with extensive and successful careers in the industry.
You will build your subject knowledge and practical experience through small seminars, lectures, workshops, practical classes and tutorials, which help encourage theoretical and critical debate and develop your practical skills.
Smaller class sizes to help your development
Our commitment to smaller class sizes allows you to feel more confident to discuss your ideas in a supportive environment and allows your tutors get to know you and how best to aid your development.
Assessment
You will be assessed through a range of creative and practical assignments including:
Short films

Audio tracks and podcasts

Video essays

Creative portfolios

Presentations

Reflective writing
Experience
Discover industry standard software and equipment
Discover our £35 million Tech Park
Our Bognor Regis Campus boasts the £35m Tech Park and brings together science, technology, engineering, arts, and mathematics courses on one state-of-the-art site.
300sqm film studio

80 square-metre green screen stage for motion capture and Chroma work

Motion capture equipment

Professional standard post-production facilities and recording studios

Idea Labs

Animation Labs
Film and Green Screen Studios
Post-production facilities and recording studios
Study Abroad
Explore the opportunity to study part of your course abroad
As a student at the University of Chichester, you can explore opportunities to study abroad during your studies as you enrich and broaden your educational experiences.
Students who have undertaken this in the past have found it to be an amazing experience to broaden their horizons, a great opportunity to meet new people, undertake further travelling and to immerse themselves within a new culture.
You will be fully supported throughout the process to help find the right destination institution for you and your course. We can take you through everything that you will need to consider, from visas to financial support, to help ensure that you can get the best out of your time studying abroad.
Careers
Prepare for a wide range of careers
This BA (Hons) Screen Acting and Film Production degree will prepare you for a range of careers, as you graduate ready to have an impact on the workplace.
This course could lead to a career in: 
Television and Film

Games

Animation

Radio

Advertising

Screenwriting

Producing

Directing

Teaching
Further Study
You could choose to continue your studies at postgraduate level.
Study options at the University of Chichester include:
MA Screen Acting

MA Composition for Film

MA Composition for Film, TV and Games

PGCE

PhD/MPhil
University of Chichester alumni who have completed a full undergraduate degree at the University will receive a 15% discount on their postgraduate fees.
Entry Requirements
Typical offers (individual offers may vary):
UCAS
tariff points from A levels or combination with AS / EPQ / BTEC/ Cambridge Technical.
IELTS
with no element lower than 5.5.
Auditions
You will need to demonstrate your ability in acting in a performance audition. If you are applying for a Music or Musical Theatre joint course you will also need to demonstrate your ability in dance and/or singing.
Interviews and Auditions
Auditions and interviews usually run from January until March/April.
We aim to offer you a genuine dialogue during your application process. This gives you a sense of worth and achievement from the audition process itself; a sense of ownership for you during the process and, ultimately, is an opportunity for us to get a clear understanding of who you are, what you need, and how we can best prepare you for your degree.
We judge you on your skills, your potential, and your personality, not your background.
If you are invited to audition you will receive an email asking you to book your audition date on ChiView. If you are unsuccessful we will email you to let you know.
You can usually choose between multiple days on ChiView at one time. If none of the current dates suit you please contact admissions@chi.ac.uk.
Once you have booked your audition, you will be able to access the audition guidance document on ChiView – just log into the ChiView portal, click on 'Events schedule' and then 'View details' to access the document, which will tell you how to prepare for your audition, what to expect on the day, etc.
If your situation changes and you can no longer attend your audition date, you should cancel your booking in ChiView by visiting your 'Event Schedule' and clicking 'Cancel Attendance'. You also need to inform the admissions team by emailing admissions@chi.ac.uk, so we can send you a new audition invitation.
Sometimes if you are viewing your ChiView portal on a phone you will not be able to see the page correctly. If this happens you should try again on another device.
You may need to clear your browser history. 
If you are still unable to see the 'View details' button, please check that you have successfully booked your audition by clicking 'respond to interview invitation'.
If all else fails please email admissions@chi.ac.uk with your query and applicant number.
Once you have booked your audition, please log into the ChiView portal, click on 'Events schedule' and then 'View details' to access the audition guidance document, which will tell you (amongst other things) what will happen at the audition itself, a basic itinerary of the whole day, parking information, etc.
In brief, there should be an introductory talk by the department, the chance to meet lecturers and other applicants, as well as your opportunity to perform for the audition panel.
After your audition, the panel will discuss your performance and pass our decision onto the admissions team, who will update UCAS and email you with the outcome, whatever it might be.
We make bespoke offers: Your offer is specifically for you. If we offer less than your predicted grades, this will reflect the potential and quality of your audition and we'd like to take a bit of pressure off of you heading into your exams.
We don't do unconditional offers: Unless you already have your grades (you are a mature student), we will always insist on certain grade achievements because we want you to succeed in all aspects of your academic life including your A levels, BTEC, etc.
If you do not get the grades you wanted: Don't panic. You received an offer because you were good enough for the department at audition. On Results Day, just ring us on the clearing hotline, so we can discuss things with you.
We may offer you a different course: We may offer you a place on an alternative, relevant course within the department, rather than offer you the course you applied for. If this is the case, we will state this in your offer letter/email and update your course on UCAS. We will explain our reasoning, which will revolve around placing you on the most appropriate course where we think you will thrive.
FAQs
Frequently asked questions
Click the 'Apply now' button to go to relevant UCAS page.
What are UCAS tariff points?
Many qualifications have a UCAS Tariff value. The score depends on the qualification, and the grade you achieved.
How do I know what my UCAS tariff points are?
Head to the UCAS Tariff Points web page where you can find a tariff points calculator that can tell you how much your qualification and grades are worth.