in the UK for student satisfaction for Law
Complete University Guide 2023
in the UK for overall average positivity for Law
National Students Survey 2023
National Students Survey 2022
Join us at our upcoming Open Afternoon!
Our next Open Afternoon is in:
Overview
Develop your knowledge of Law alongside your study of criminology after your foundation year
Law exists to regulate pretty much everything we do, which is why it remains such a relevant and fascinating subject to study.
Our LLB (Hons) Law with Criminology with Integrated Foundation Year course provides you with an introductory foundation year that provides you with the academic knowledge and confidence to progress onto a full degree.
Build your academic skills on an initial foundation year
This four-year course includes an integrated, introductory foundation year that develops your academic skills and confidence, as well as provides you with an overview of core aspects of law that you will build upon in your further years of study.
All our Law courses are suitable for those who have previously studied the subject, but previous study is not required.
Study criminal law in each year of your degree
The course provides debate, discussion and learning on the seven core areas of knowledge, as you develop your academic and practical skills to prepare for a career within the profession.
We also offer you the unique opportunity to study criminal law in each year of your degree.
Examine the psychology of criminals
In addition, you will explore Criminology as a real-world application of the law as you examine the psychology of criminals and the investigative element of understanding crime.
Feel the support of our expert teaching staff
Our intimate class sizes allow our team of experienced law experts to really get to know you and your needs, so they know how best to support you throughout your degree.
Innovative assessments
We use a variety of assessment methods beyond just traditional exams to fully prepare you for your professional career, including mock trials and client interviews.
Expand your experience and professional opportunities
There are many extra-curricular opportunities you can be involved in that could include: pro bono work, mediation, work experience in a law firm or mini pupillage, in addition to participating in mooting competitions, client interviewing competitions, or contributing to the University of Chichester Student Law Review.
Support for SQE 1
We also offer specific support put in place to help prepare you for the first Solicitors' Qualifying Examination.
The Course
Gain an in-depth understanding of the foundations of legal knowledge
Integrated Foundation Year
The initial foundation year develops the academic skills you will need to excel at degree level, as well as provides you with a broad overview of the English legal system, global law, public law, and the law of obligations.
Fundamentals of law
Our Law with Criminology degree develops your knowledge and understanding of real-world legal skills in preparation for your progression into the profession.
You will study many aspects of the law, including the foundation of legal knowledge subjects of:
Criminal law

Contract law

Tort law

EU law

Public law

Land law

Equity and trusts
Explore our optional modules
You will also have opportunities to study:
History of criminology

Understanding the criminal mind

Forensic psychology

Cyber crime and security

International environmental law

Sexual offending
The following list of modules for this course is indicative and subject to change.
Teaching and Assessment
Feel the support of experienced expert staff with our smaller class sizes
Smaller class sizes
You will learn in small groups to allow our experienced and expert staff to mould their teaching around you.
Teaching sessions are interactive and include case analysis, interpretation of statutes, debates and discussion on every core aspect of English law.
Meet our expert teaching team
Amy Elkington
Senior Lecturer in Law
Amy achieved an LLB (Hons) in Law from Brunel University and a Postgraduate Certificate in Education from the University of Portsmouth, before achieving a PhD in Law from the University of Surrey.  She has since gone on to further achieve a Postgraduate Certificate in Leadership and Management from the University of Chichester.
More than just exams
We use a wide range of assessment methods rather than relying just on exams.
As such, none of the modules are 100% exams, but rather a blend of coursework, mock trials, presentations, academic posters, mock client interviews, and negotiations.
Modules are assessed at every stage of the course, allowing you to clearly see your academic progress.
Experience
Develop strong professional links and seize vital networking opportunities
National Student Survey 2023
Overall average positivity
out of 110 institutions for Law.
Assessment and feedback
out of 110 institutions for Law.
'Teaching on my course'
out of 110 institutions for Law.
Gain practical advocacy experience in our new mooting room

Our new purpose-built mooting room gives you the space to develop the skills needed to argue logically, confidently, and persuasively.

It is the ideal location for students to practice advocacy and is the setting for our internal and inter-university mooting competitions, where teams of students argue a client's case before a judge.
Strong professional links
Subject specific librarians
Elisa
Law student and winner of the Scholar of the Year prize for 2020
"The University of Chichester has allowed me to continue further with my studies and I have been able to explore and fall in love with this multi-faceted subject. The lectures have ensured that I enjoy my time studying and have pushed me work as best I can. I have also been given incredible opportunities such as: meeting Lady Hale, being in contact with legal firms, and even being taught by solicitors. The experience I have had at Chichester has gone far further than my expectations. I am very glad I chose Chichester."
Ellie
Law student
"I chose to study Law full-time after taking an introductory class under another course at the University of Chichester - I was hooked! The topics are so interesting and the tutors are incredibly supportive. It's been a wonderful experience so far."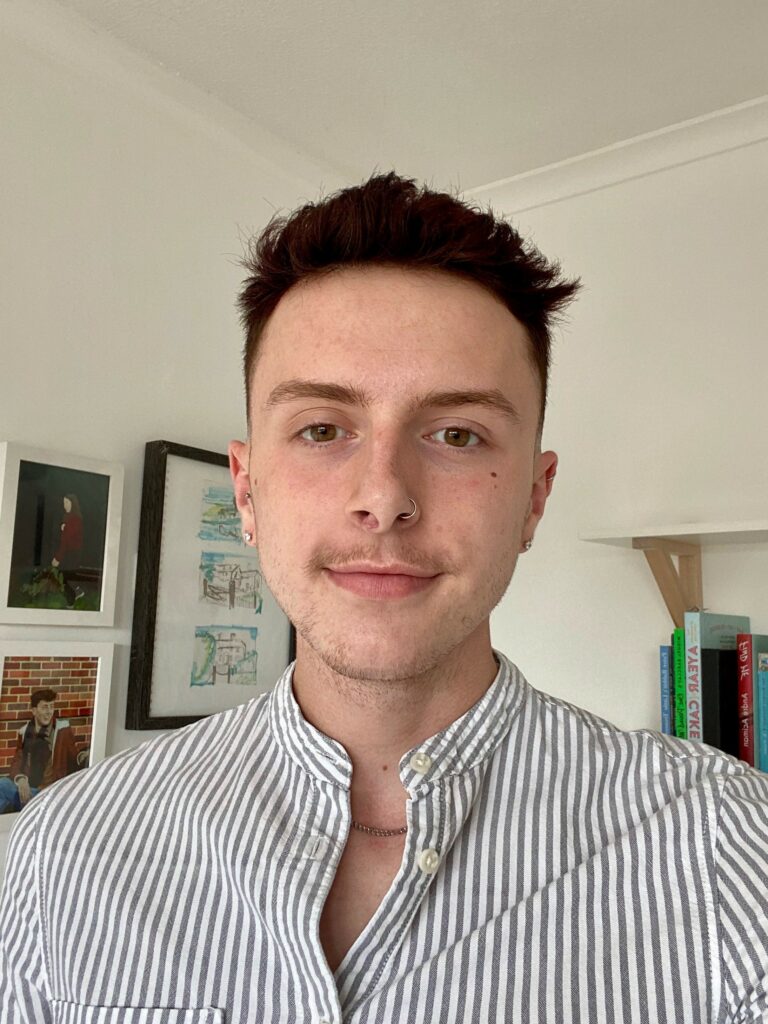 Morgan
Law student
"I chose Law because it's a diverse field of study I know will always give me opportunities to continue learning throughout and after my degree. I always want to be learning, to me a day I haven't learnt something new even if it is small, is a day wasted. That coupled with The University of Chichester has been a great fit for me, there are two beautiful campuses and plenty of facilities to make the most of your Degree! The teaching methods are personal and give opportunities to ask questions, discuss and understand subject material in every face to face session as well as outside of the classroom."
Preparation for SQE
Dedicated support for new postgraduate examinations for solicitors
The way to qualify as a solicitor in England and Wales has changed through the introduction of a new postgraduate examination process known as the Solicitors Qualifying Examinations, known as SQE 1 and SQE 2.
You will be supported in preparing for the first of the Solicitor's Qualifying Examinations, which you can sit after completing your degree.
This will include:
How to make a bail application

The role of a duty solicitor in a police station

How to bring a claim in the civil courts

The methods of resolving a dispute without resorting to court
Work Placements
Gain vital experience through our strong links with professional settings
During your second year, you will have the opportunity to undertake a work placement that will give you vital real-world experience of working within the law profession.
You will have the choice of taking this work placement at a local law firm (e.g. Irwin Mitchell), an in-house legal department of a large company, Citizen's Advice, or at a local authority.
These placements can lead to additional opportunities, with students having sealed coveted mini-pupillage positions in chambers to enhance their professional prospects.
Ellie
Law student
"I feel that we have been truly fortunate to have the opportunity to take part in the virtual sessions with Irwin Mitchell. The way in which the sessions were designed around mock scenarios really helped me to understand application of the law in practice. It has also been a wonderful networking experience."
Study Abroad
Explore the opportunity to study part of your course abroad
As a student at the University of Chichester, you can explore opportunities to study abroad during your studies as you enrich and broaden your educational experiences.
Students who have undertaken this in the past have found it to be an amazing experience to broaden their horizons, a great opportunity to meet new people, undertake further travelling and to immerse themselves within a new culture.
You will be fully supported throughout the process to help find the right destination institution for you and your course. We can take you through everything that you will need to consider, from visas to financial support, to help ensure that you can get the best out of your time studying abroad.
Careers
Open up your future career options
Our LLB (Hons) Law with Criminology with Integrated Foundation Year course allows you to work towards becoming a solicitor or barrister.
All Solicitors must pass the Solicitor Qualifying Exam (SQE Parts 1 & 2), with the University of Chichester offering specific support for our students to take the first part after they graduate.
Other career paths include:
Paralegal

Legal secretaries

In-house lawyers

Human resources

Local and national government

Civil services

Teaching
Careers within law enforcement
Criminologist

Police officer

Forensic science technician

Probation manager
Some Law students choose to pursue a career within teaching. At Chichester, we offer postgraduate options to allow you to qualify as teacher.
Postgraduate pathways
PGCE Primary (5-11)

PGCE Primary (5-11): Modern Languages

PGCE Secondary (with subject specification)
University of Chichester alumni who have completed a full undergraduate degree at the University will receive a 15% discount on their postgraduate fees.
Course Costs
For further details about fees, please see our Tuition Fees page.
For further details about international scholarships, please see our Scholarships page.
To find out about any additional costs on this course, please see our Additional Costs page.
The George Ide Law Bursary
The George Ide Law Bursary is a fund that has been set up in support of law students who otherwise would not have the financial means to engage in their legal studies to the best of their abilities.
Students who successfully apply for support could receive between £100 – £2000. The precise amount received will be dependent on the circumstances of each individual applicant.


To be eligible to apply for the George Ide Law Bursary you must be registered and actively studying on a LLB or LLM Law course at the University of Chichester and meet one of more of the following criteria:
Have taken a non-traditional route to university
Be the first in your family to go to university
Are currently, or have been, in care
Be an estranged student
Have a characteristic protected under the Equality Act 2010
Be from a minority group that is underrepresented within the legal profession
Be a Refugee / Asylum Seeker
Have a residual household income of £25,000 or less per year
This bursary is presently open to current students and to those starting their studies from the 2023-2024 academic year only. The availability of this bursary for students starting from 2024-2025 academic year and beyond will be confirmed at a later date.
Entry Requirements
Typical Offer (individual offers may vary)
T Level
in Legal Services.
IELTS
with a minimum of 5.5 in writing or equivalent if English is not your first language.
Non-standard Application Entry Routes
The University has an alternative entry route for applicants who have relevant skills and experience but who do not hold the formal minimum entry qualifications required. Applicants who demonstrate the necessary skills and experience to enter a course of higher education will be asked to complete an entry task involving the completion of specially set assignments.
FAQs
Frequently asked questions
Click the 'Apply now' button to go to relevant UCAS page.
What are UCAS tariff points?
Many qualifications have a UCAS Tariff value. The score depends on the qualification, and the grade you achieved.
How do I know what my UCAS tariff points are?
Head to the UCAS Tariff Points web page where you can find a tariff points calculator that can tell you how much your qualification and grades are worth.