in the UK university for Education
Guardian University Guide League Tables 2022
rating for inclusiveness, teaching, and facilities
QS Stars University Rating
Join us at one of our upcoming Open Days!
Saturday 1 July  |  Sunday 8 October  |  Saturday 28 October  |  Saturday 18 November
Overview
Qualify as a primary school teacher with the opportunity to personalise your journey by selecting from a range of exciting subject study choices
Our BA (Hons) Primary Teaching (QTS) course provides quality training to teach in the 5-11 age range (Key Stages 1 and 2) and enables you to graduate as a qualified teacher at the end of your three-year degree.
Learn the art of teaching
You will develop the knowledge, skills and attitudes required by the teaching profession, as you learn the fundamentals of the national curriculum to fully prepare you for working in primary schools.
As part of your studies, you will have the opportunity to pursue a subject study, where you will develop deeper knowledge in a subject area of your choice.
In addition, you will gain vital hands-on experience of working within the classroom through our school experience modules, which develop your confidence and competence to teach effectively.
Proud history of teacher training
The University of Chichester has been training teachers for over 180 years and we look to train employable professionals who will make a positive difference to children's education.
You will be taught by experienced primary education specialists and our dedication to small teaching groups allows you to develop strong professional relationships with the University teaching team.
On this course you will:
Gain Qualified Teacher Status that will allow you to teach in primary schools in England and Wales.
Develop your competence and confidence working within the classroom environment.
Gain the knowledge, skills, and attitudes required by the teaching profession.
Understand the cornerstone of the national curriculum for primary education, with the opportunity to pursue a subject study.
The Course
Learn how to teach the full range of primary subjects and develop children's holistic needs
As a Primary Teaching student, you will learn the national curriculum and how to deliver it to young children in exciting and engaging ways.
You will also learn about the key issues in primary teaching through our professional studies modules.
You will learn the fundamentals of teaching English, Maths and Science, as well as how to teach subjects that form the wider curriculum, including aspects of ICT/Computing, PE, Modern Foreign Languages, Music, Art, History, DT, Geography, RSHE and RE.
You will also learn the key theories of learning development to better understand how to ensure that all children can succeed and thrive in school.
Alongside these areas, you will have the opportunity to take modules that allow you to pursue a subject study within Primary Teaching that will be included on your final degree title.
Our suite of on campus modules is complemented by modules that will take you into school where you will practise as a student teacher.
Curriculum studies
As part of the programme, you will study curriculum modules that develop your pedagogic and subject knowledge within these areas.
Modules explore each subject within the core curriculum (English, Mathematics and Science), alongside modules that look at the wider curriculum (music, physical education, art etc.) to provide you with a thorough grounding in the full National Curriculum.
The course will equip you to take a critical and reflective view of each subject's curriculum and pedagogies. You will develop a detailed understanding of the distinctive features of each subject area and explore relevant research concerning children's learning in that subject.
By linking your learning to school experience, the module will promote the necessary understanding you need to plan, teach and assess the core curriculum effectively.
Professional studies
The professional studies modules will explore the teaching skills that are required for the classroom, including behaviour for learning, planning for progression and assessing pupils effectively.
You will explore effective inclusive practice and recognise how quality first teaching can support the progress of all children.
The final professional studies module explores your position as a teacher in the contemporary educational landscape. Through this, you will develop and articulate a personal philosophy of education that has built over the three years.
Please see below the list of compulsory modules for this course. This list is indicative and subject to change.
Select a year
Becoming A Teacher of English
On this module you will openly model effective teaching and learning strategies and techniques e.g. the substantive (what to teach) syntactical (how English is done) and pedagogical (how to teach it) aspects of English.
Students will be encouraged to develop their substantive knowledge of English throughout the module.
The content of this module may differ from above in order to reflect government policy or national priorities.
Becoming A Teacher of Mathematics
This module will support students to develop their understanding of how they can provide opportunities for all learners to access mathematical learning and engage with appropriate challenge.
The content of this module may differ from above in order to reflect government policy or national priorities.
Becoming A Teacher of Science
On this module you will openly model effective teaching and learning strategies and techniques e.g. the substantive (what to teach) syntactical (how science is done) and pedagogical (how to teach it) aspects of science.
The pedagogical aspects of science teaching will be made explicit in order to support the learning of science to students who are less science-orientated.
Children's Literature in the Classroom
This module will introduce you to key concepts and theories relating to children's literature and will provide opportunities for student teachers to explore and engage with a wide range of children's texts. Responses will be developed first through seminar group discussion, in support of the assessment task.
Exploring the Nature of Stem
This module will allow you to explore the nature of STEM in the modern classroom. You will be taught through a balance of tutor and student-led activity including seminars, group discussion, micro-teaching, independent learning and opportunities for collaborative work.
Foundations of Movement
Explore the teaching of games with a developmental focus as you learn to break down simple skills into key components to help children learn and understand.
Misrepresentations, Myths and Stereotypes
This module will explore particular moments in time, starting from early Roman history in Britain to the more recent era, to understand how evidence can be used to make historical claims, and discern how and why contrasting arguments and interpretations of the past have been constructed.
You will investigate misrepresentations, myths and stereotypes and consider the relevance of this to the present day and how this relates to concepts of Citizenship.
Professional Studies: Learners and Learning
This module will enable you to develop an understanding of how learning is influenced by a diverse range of factors.
You will focus on the implications of this on the role of a teacher in areas such as:
assessment
behaviour management and planning inclusive
adaptive teaching
as well as establishing a safe and stimulating learning environment.
School Experience 1: Becoming A Teacher
Preparation for this school experience will begin in University through student participation in all elements of the taught course. You will engage in practical work-based learning experiences and complete directed tasks, supported by a University-trained Mentor and Link Tutor who will guide and assess student progress.
The Early Years Curriculum in Its Professional Context
This module will consist of seminars, workshops and reflective, interactive discussion groups supported by appropriate reading and informed by reflection on previous work / school experience.
During the module, where possible, you will visit an early years setting to see both the statutory frameworks in practice. Seminar sessions will also enable you to receive feedback about your assignment plans and preparation.
Valuing Individual Differences in Children
This module is designed to develop student teachers who are considering the SEND pathway, or those who would like simply to experience more SEN study. You will develop knowledge of atypical child development with reference to current discourses in special educational needs and disability. You will also evaluate theories of child development to gain a deeper understanding of how individual differences can affect learning.
Year 1 Foundation Curriculum – Good Foundations
This module explores active and creative teaching and learning approaches in order that student teachers understand how to engender creative responses in children.
Core Curriculum English: the Effective Teacher of English
In this final year module, you will learn to become an effective teacher of the core curriculum subject of English.
Core Curriculum Mathematics: the Effective Teacher of Mathematics
This module allows you to understand what makes an effective teacher of the core curriculum subject of Mathematics.
Core Curriculum Science: the Effective Teacher of Science
This module focuses on how to become an effective teacher of the core curriculum subject of Science.
Independent Project
This module aims to provide a context in which you can broaden and deepen your knowledge and understanding of a chosen educational topic.
Areas of interest will be identified, developed, and refined into a research project.
During this process, you will be provided with guidance and support to raise awareness of different approaches to the investigation and presentation of your project.
Professional Studies – Developing As A Professional
In order to broaden your knowledge and understanding of education, you will undertake a 10-day placement experience in an education setting of your choice.
Working within financial and welfare/risk assessment constraints as determined by the University, you will be able to choose your placement setting from a list provided by the School Partnership Office.
Wider Curriculum – Making Change Happen
This module aims to provide contexts in which student teachers develop their skills and confidence in creative problem-solving in their professional world. To do so, it aims to engage student teachers in all stages of the development of an appropriate and novel end product, from conception to completion, and to enable them to select appropriate training and other resources that are required to reach their end points.
Subject Study
Pursue a subject study in depth to personalise your learning journey
Our innovative subject study modules enable you to pursue a subject discipline in depth. You may select to take all subject study modules in the same subject or may select a range of subject modules across the programme. The choice to explore one subject in depth or to generalise is yours.
If you select modules in the same subject you will be awarded, on successful completion, a degree award that reflects this (e.g. BA (Hons) Primary Teaching with English Education).
You can choose from the following subjects:
Early Years

English

Physical Education

Social Justice Education

Special Educational Needs and Disability

STEM Education
The advanced study of Early Years for those that want to explore early childhood practices in more depth
English for students that wish to explore the joys of language, literature and literacy in the classroom
Physical Education for those interested in children's physical and motor skills development through practical sessions
Social Justice Education for students interested in Sociology, History, Citizenship or Politics with a view of being agents of change
Special Educational Needs and Disability for students that want to develop further understanding of the range of needs in primary and specialist schools
STEM Education for students that wish to enhance their knowledge and understanding of Science, Technology, Computing and Mathematics
Read more
School Placements
Gain vital experience as you develop your confidence at the heart of the classroom
We strongly believe in giving you a range of school placement opportunities to provide distinctive and rewarding experiences to help develop your professional skills.
You will progress from planning, teaching and managing the learning of a group of children for the core curriculum (Year One) to meeting the needs of a class of pupils in all curriculum areas (Year Three). You'll get the opportunity to practise in a school early in the course.
You will receive substantial teaching experience in schools and other settings in the following pattern:
Year One – Four weeks for three days per week in Term One and a block of four weeks in Term Three
Year Two – Seven weeks plus two weeks special interest placement
Year Three – Ten weeks in Term Two
These placements will usually provide distinctive opportunities in which to develop your professional and teaching skills.
In particular, efforts will be made to place you in schools with different organisational characteristics and in contrasting socio-economic catchment areas.
The special interest placement will also provide you with the experience of an alternative educational setting.
It enables you to follow an educational area of interest and extend your learning about a particular area of education, for example: working with bilingual learners, teaching in an outdoor education setting, or working in a special school.
Read more
Classroom Resources
Over 20,000 classroom resources available to use on placement
As a Primary Teaching student, you will gain access to our dedicated library of teaching materials.
You can find thousands of classroom resources that you can borrow to use while on placement.
From posters to books, classroom kits to DVDs, our library of resources has options for all ages and needs.
You can take resources out for up to six weeks and can be taken on placement to aid with your teaching, or help you develop your skills and confidence within our classroom environments.
All ages
Find resources that fit a variety of age ranges whether you are teaching early years, primary, or secondary aged children
Kits
Our collection of visual resources includes everything from model skeletons, fluffy toys, dress up outfits and replica war artefacts.
Posters
A wide range of posters are available on a number of topics to enhance visual displays at your school or nursery
Dual language
Discover a large selection of French and Spanish books to aid students looking to teach modern foreign languages.
Big books
Borrow a large sized book to ensure that everyone in your class can see the pictures.
Picture books
Choose from our large variety of picture books to share with your class.
Short stories and fiction
Our selection of short stories for the end of the day, or to link to a major calendar event (e.g. Christmas, Halloween). We also have a large collection of longer fiction titles.
Experience
Discover dedicated facilities that help support your learning
University of Chichester Academy Trust
Subject specific librarians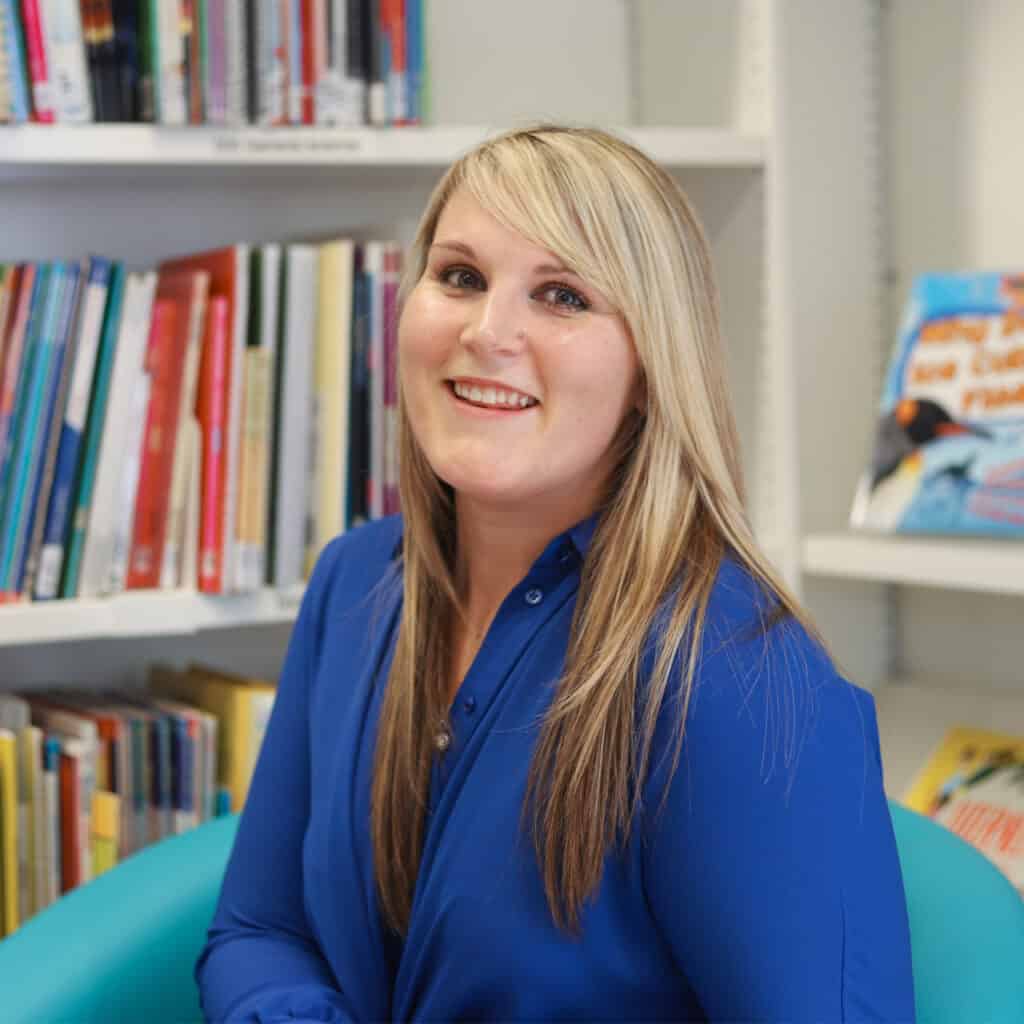 Kayleigh-Ann
Primary Teaching graduate
"The University of Chichester has an inspiring group of lecturers who support you through the course. They are interested in developing students' values and attitudes around education and they certainly allow you to develop your own philosophy for teaching. This helps prepare teachers for the profession, enabling them to think critically about the role and responsibility in shaping children's lives and futures. The course provided me with the skills and knowledge I needed to be successful in my career. I am now the head teacher of an Infants Department in a British International School overseas in Kuwait. It has been wonderful to keep in contact with the University and I have been in the fortunate position of being able to recruit Chichester graduates as new teachers to my school. I know that teachers training through the University of Chichester are high quality and appreciated my own training experiences."
Teaching and Assessment
Innovative teaching methods that develop your full potential as a future teacher
Teaching
We use strategies that are designed to enable you to effectively master a broad base of concepts, skills, knowledge and understanding that will inform your teaching practice.
You will join lectures and small seminars led by experienced tutors, in which discussion and debate are key to developing your knowledge and skills.
There are opportunities on campus for you to simulate real world classrooms, allowing you to become more familiar, confident and comfortable in teaching spaces ahead of your professional placements.
All of our staff have a strong background within education and use their experience to inform their teaching, as the help your development into a professional and capable teacher.
Assessment
Assessments include essays, presentations, 1:1 discussions, coursework, and the creation of creative stimuli.
Study Abroad
Explore the opportunity to study part of your course abroad
As a student at the University of Chichester, you can explore opportunities to study abroad during your studies as you enrich and broaden your educational experiences.
Students who have undertaken this in the past have found it to be an amazing experience to broaden their horizons, a great opportunity to meet new people, undertake further travelling and to immerse themselves within a new culture.
You will be fully supported throughout the process to help find the right destination institution for you and your course. We can take you through everything that you will need to consider, from visas to financial support, to help ensure that you can get the best out of your time studying abroad.
Careers
Take the first steps towards your career within primary education
We expect that our Primary Teaching graduates will have a desire to pursue a career within primary schools, with 98% of our graduates in employment or further study within fifteen months of completing the course (Discover Uni 2021).
This course aims to ensure that you will be well placed to further your career in education through leading year groups and subjects, as well as joining senior leadership team.
Alumni have also progressed into headship, consultancy roles, initial teacher training lecturing and more.
Postgraduate pathways
MA Education

MA in Inclusive Special Education

PGCiPP: Workplace Learning Development
University of Chichester alumni who have completed a full undergraduate degree at the University will receive a 15% discount on their postgraduate fees.
Course Costs
For further details about fees, please see our Tuition Fees page.
For further details about international scholarships, please see our Scholarships page.
To find out about any additional costs on this course, please see our Additional Costs page.
Course specific costs
You will be required to have a satisfactory enhanced Disclosure Barring Service (DBS) check costing £40 which needs to be paid for before the start of the course.
Entry Requirements
GCSEs
or better in English Language, Science and Maths.
T Levels
Merit (with C in the Core)
in Education and Childcare.
IB
(with Higher mathematics at 5 and Standard English and a science at 4).
Access to HE Diploma
with at least 15 credits worth of level 3 units at Merit level.
IELTS
including 7.0 in academic writing.
We will consider applicants who are taking the relevant GCSEs whilst applying.
We would normally expect applicants to have taken and passed the full GCSE course, however in some circumstances we do accept equivalent qualifications or equivalency tests. Please note, however, that we are unable to accept Level 2 Functional Skills courses that do not cover the full breadth of a GCSE. If you are unable to enrol for the full GCSE course, please contact Admissions to discuss which equivalent qualification we may accept.
Interview and DBS
Secondary Teacher training applicants are required to have an enhanced Disclosure Barring Service check which needs to be paid for before the start of the course.
This course also requires you to attend an interview as part of the application process.
This gives our staff a chance to meet you, as well as giving you the opportunity for a campus tour and ask any questions you might have.
The interview is designed to assess the applicant's suitability for the teaching profession, as well as academic ability.
All applicants will be expected to demonstrate an understanding of professional requirements and an awareness of current educational issues.
Cost incurred during placements
Over the duration of your course, you will spend 24 weeks on placement.
These school experiences are organised in our partnership schools which extend across East & West Sussex, Hampshire and Isle of Wight and into Surrey.
Travel to placements, which can be by car or public transport, varies but your commute will not usually exceed an hour from your term-time address to the placement school (assuming your term-time address is within our partnership area).
Students may receive a contribution towards travel costs depending upon the distance.
Whilst on School Experience appropriate professional dress will be required.
Students may wish to purchase a laptop/tablet to use whilst on school experience as schools are not required to provide these.
Occupational Health Assessment
A satisfactory occupational health assessment is required.
FAQs
Frequently asked questions
Click the 'Apply now' button to go to relevant UCAS page.
What are UCAS tariff points?
Many qualifications have a UCAS Tariff value. The score depends on the qualification, and the grade you achieved.
How do I know what my UCAS tariff points are?
Head to the UCAS Tariff Points web page where you can find a tariff points calculator that can tell you how much your qualification and grades are worth.