Join us at one of our upcoming Open Days!
Saturday 1 July  |  Sunday 8 October  |  Saturday 28 October  |  Saturday 18 November
Overview
This Business and Management (International Route) Top-up degree is a one-year, full time course designed for international students with a business or management-related HND or associate degree (or equivalent).
This course is for international students who wish to continue their studies at final year honours level in the UK and also develop their academic and vocational English skills.
You will adjust to studying in the UK as you earn your full honours degree and develop the skills and knowledge you need to continue to further postgraduate study.
This degree will prepare you for further study at masters level in the UK. If you achieve a 2nd class honours or higher you will be guaranteed entry to the University of Chichester MSc International Business programmes, with bursaries available for students achieving a 2:1 or above.
On this course you will:
Develop the academic and communication skills you need to perform at postgraduate level or in a business role which needs English

Gain business knowledge and cultural awareness

Learn to conduct independent research projects

Develop your English language development skills

Access language support to help you achieve the required English level for postgraduate studies or future employment in the UK

Work closely with your personal tutor throughout your degree

Benefit from quality teaching by skilled academics who are experts in their field with real industry experience

Make the most of small class sizes

Improve your English with workshop-based interactive activities

Be guaranteed admission to our postgraduate programmes if you achieve a 2:2 or above

Be eligible for postgraduate business programmes bursaries if you achieve a 2:1 or above
This course is accredited by: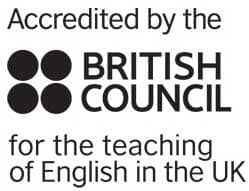 The Course
What you will study
You will study a selection of core and optional modules. Each module is worth a number of credits and is delivered differently depending on its content and focus of study.
This list is indicative and subject to change.
Academic English 1
The module looks to your improve speaking, listening, reading, and writing skills in academic contexts that are related to business and management.
In addition, you will develop learning and study skills that are relevant to understanding and producing appropriate academic discourse for business and management studies.
Academic English 2
This module extends and improves your speaking, listening and reading skills in academic contexts that are developed in Academic English 1, but with greater emphasis placed on the skills and discourse awareness for more extended pieces of academic writing. You will develop the skills needed to undertake a personal project or dissertation.
Business in Context
This module provides a system and scenario-focused overview of the world of business. It is a refresher course designed to prepare you with different business backgrounds to continue your studies with the same knowledge of the internal and external forces that determine the changing shape of all organisations.
Data Analysis and Business Modelling
This module covers the development, implementation, and utilisation of business models for managerial decision making. You will evaluate practical modelling techniques develop the knowledge and tools to develop your own plans, division models and problem solving approaches
English for International Business Communication
This module explores elements including:
company profiling
job profiling
job interviews
business communications
business decision meetings
financial predictions
advertising
product marketing.
These are explored in terms of cultural variation, and as a bilingual user of English, you will be encouraged to explore the themes across language cultures.
Research Project
This module focuses on preparing you to undertake your final research project. You will explore the process of research and to language-based research, the anatomy of a research paper, how to read research publications effectively, and ultimately produce a final piece of assessed work.
Teaching and Assessment
How you will learn
This course is delivered in small classes through workshop-based, interactive and developmental activities.
You will be assessed through a range of assignments including coursework, exams, presentations. groupwork and portfolios.
We specialise in offering individual and tailored support to international students.
In addition to International English classes which form part of your Programme you also receive:
Individual tutorial support (3 hours per semester), to help you plan, carry out and check your coursework
A special international orientation programme to welcome you to University
Dedicated international advisers to help you with issues such as visas, opening a bank account and generally settling in to life in the UK
Social events to help you integrate into the University community and University life
Facilities
Excellent learning facilities
Careers
After your degree
This course will help you develop the academic and communication skills you need to succeed at postgraduate level. You will develop your business knowledge, cultural awareness, language ability and your ability to conduct independent research projects.
This BA (Hons) Business and Management (International Route) degree can prepare you to apply for business postgraduate degrees in any UK university. If you meet certain conditions you will earn guaranteed admission to our MSc International Business and Finance course. If you achieve an upper second class degree (2:1) or higher then you will be guaranteed admission to one of our postgraduate programmes and qualify for a bursary.
Course Costs
For further details about fees, please see our Tuition Fees page.
For further details about international scholarships, please see our Scholarships page.
To find out about any additional costs on this course, please see our Additional Costs page.
Entry Requirements
Typical offers (individual offers may vary):
Associate Degree (or Junior College Diploma)
from a recognised institution.
IELTS
with no element lower than 5.5.