student satisfaction for BA Dance
National Student Survey 2022
The Guardian University Guide 2023
in the UK for teaching quality
The Times and Sunday Times Good University Guide 2022
Join us at our upcoming Open Afternoon!
Our next Open Afternoon is in:
Overview
Extend your creativity through choreography, research, performance, and contextual studies
Our BA (Hons) Dance course allows you to explore all aspects of the diverse and growing dance industry, pursue your love of dance in daily technique classes, and prepare for a variety of careers within the dance industry.
Explore a wide range of areas within dance
With an approximately even practice-to-theory ratio, this course introduces you to the breadth and depth of aspects of dance study, as you explore areas that extend beyond your technical development.
These aspects are designed to both inform your dance practice, but also allow to understand the power and reach of contemporary dance.
Build your course around your interests
From choreography to teaching dance, and applied dance practice to dance history, this course offers you a vibrant and broad range of optional modules that allow you to focus on the areas of dance that interest you the most.
Discover topics that include:
Dance technique

Choreography

Dance research and applied practice

Dance philosophy and theory

History of dance

Dance science and psychotherapy

Teaching
Develop your dance technique with daily classes
Daily technique classes keep your love of dancing at the heart of your experience, as you learn with students from across our dance department to help create an integrated dance community.
You will also engage in weekly choreography classes to develop your own creative 'voice' and help develop your performance skills, with opportunities to perform throughout your studies including at end of semester shows.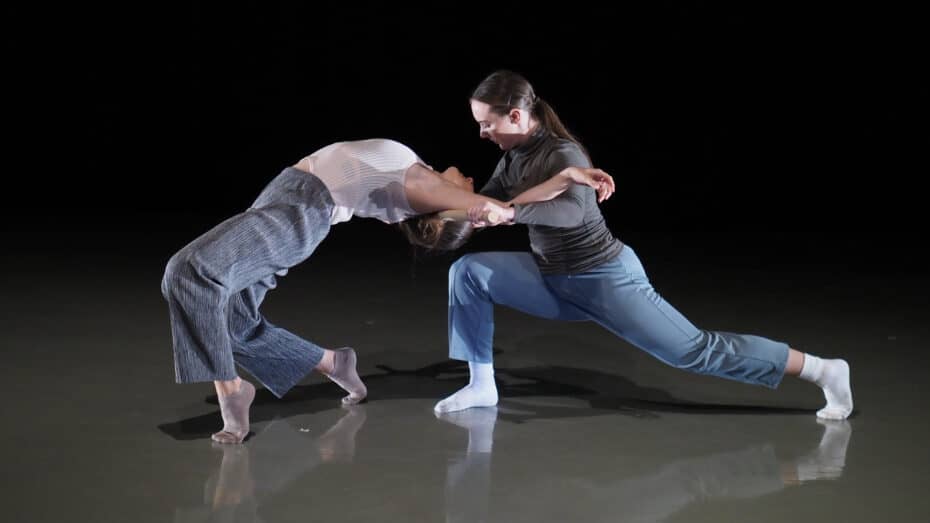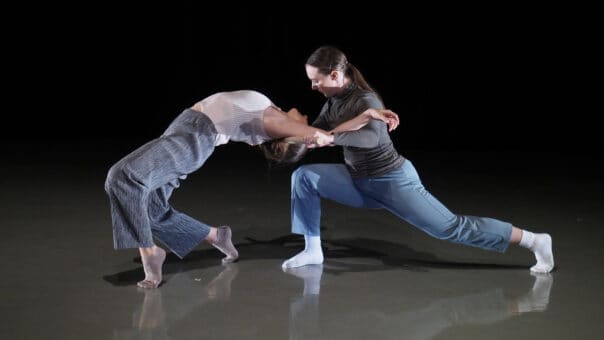 Experience a range of exciting contemporary dance classes informed by:
Cunningham

Limon

Ballet

Release

Technique

Partnership skills

Somatic practices
Learn from sector-active dance practitioners
Our lecturers and dance tutors are all experienced, professional, and practicing choreographers, technique tutors, dance artists, and dance science specialists.
Our tutors approach each class as an opportunity to share their expertise with you to nurture your talent and extend your creativity, as they get to know you and your aspirations.
Collaborative and supportive community
Studying and training at the University of Chichester means that you will join our close, collaborative community of dancers, choreographers, writers, and researchers.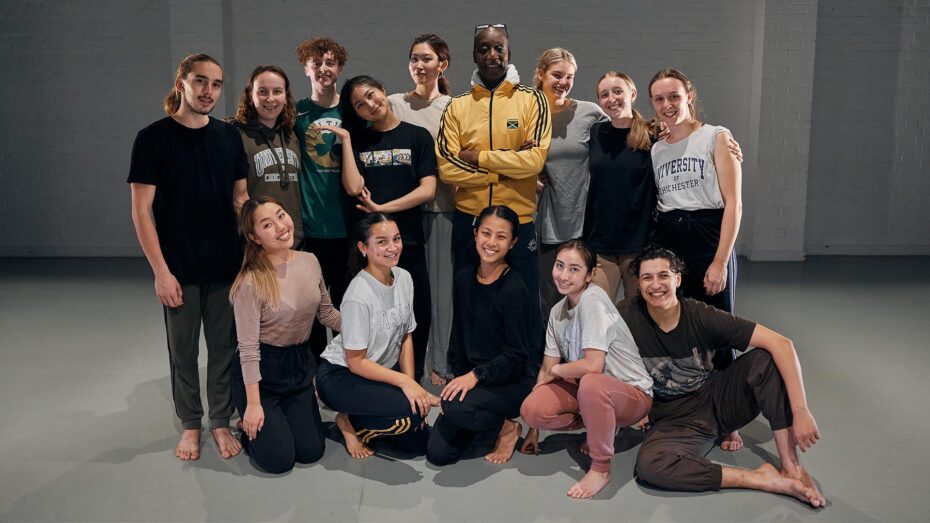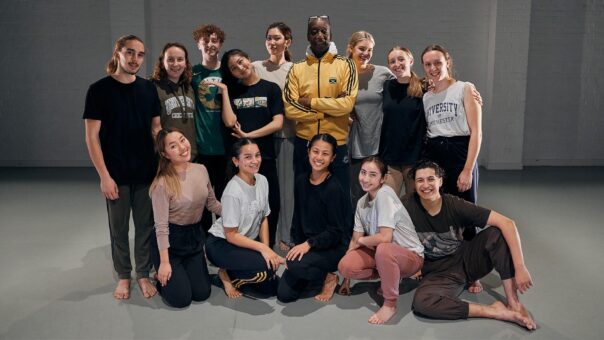 International exchange opportunities
As part of your dance course, you can take part in an international exchange programme during your second year, as you experience new cultures whilst you continue your dance training.
Prepare for your career
With work placement and study exchange opportunities, this course expands your network of professional contacts and provides you with vital experience within commercial dance spaces that help prepare you for your chosen career within the sector.
On this course you will:
Take daily dance technique classes in a range of contemporary styles, including ballet.

Discover a vibrant and broad range of modules relevant to a variety of careers paths withing dance.

Build your degree around your interests.

Learn from experienced and sector-active dance practitioners and researchers.

Join a close dance community and work with dance students from other courses.

Have the opportunity to complete an international exchange.
The Course
Create your pathway to success as you explore theory through practice
Year One
During your first year, you will gain a solid foundation in dance practice and theory with daily technique classes and weekly choreography sessions that explore composition and help you find your creative voice.
Year Two
In your second year, you will begin to specialise in practical areas such as repertory and improvisation or look to broaden your knowledge and application of dance theory and contexts.
You could focus on practical areas such as repertory, improvisation, physical theatre, and site-specific choreography, or explore wider aspects such as dance-specific anatomy, scenography, or popular dance.
Year Three
In your third year, you can specialise further by choosing modules on dance practice and performance that relate directly to careers in performance, choreography, teaching, dance movement psychotherapy, community dance, production, or administration.
You will also have the opportunity to undertake one of two work placement opportunities: with options including teaching, professional experience within a dance company, community work, and working within dance agencies.
In addition, you will complete your final year project which can be presented, submitted as a written assignment, or submitted as a combination of these options.
Indicative module list
This list is indicative and subject to change.
Select a year
Choreography and Devising
The module will introduce a range of choreographic techniques, structures and working methods to initiate developments of choreographic skill. You will complete a tutor-led group performance which, will enable you to engage creatively with current choreographic processes, strategies and direction in the development of a performance work through a collective process.
Choreography and Performance
You will explore the creative, compositional, devising and production approaches characteristics of contemporary performance practice through the development of student-led group performance work.
You are encouraged to consider theme, expression and communication through devices and strategies that extend and develop movement possibilities, theatrical modes of presentation and points of view.
You will engage in processes-led investigations that reflect performative contexts within the professional dance sector, leading to an explicit outcome.
Dance Techniques 1
You will complete daily technique classes to develop your performance and dance understanding. You will refine your technical skills through reflective practice. You will explore key elements of dance fitness.
Examining Dance History
You will be introduced to 'key figures' who are understood to have shaped Theatre Dance (Ballet and/or Modern and Contemporary Dance practice) in the USA, UK, and the rest of Europe.
Selection is made from a variety of dance practitioners and includes reference to wider artistic, cultural, and political contexts.
You will also be introduced to the notion of academic writing, which encourages a more balanced and objective interpretation of the evidence under investigation.
Re-Examining Dances
This module is an opportunity to consider ideas that have shaped the dance landscape and resulted in a range of dance performances.
You will explore dance examples from the UK or the widening global dance field.
You will complete a detailed exploration of one dance example (chosen by your tutor), which will involve both practical and theoretical underpinning, which you will explore the technique and style of the work and the historical, cultural, political and/or artistic contexts in which it resides.
Thinking Through Dance
Using a combination of practical workshops and lectures, the module will explore a range of questions and ideas that underpin contemporary dance.
This module is about doing and thinking. You will question different ways of thinking about dance performance, dance philosophy, and its' embodiment in practice and explore examples from different performance genres, considering their characteristics in relation to broader ideas and events.
Composing Dances
This module provides you with an opportunity to broaden your choreographic experience through the development of group pieces using a tutor identified research source. The module focuses on compositional processes, and structural devices.
In the module, you will explore the dynamic relationship between form and content, through a range of tutor led processes, into the development of a collaboratively directed, group piece (normally a trio), that will be assessed in performance.
The module provides you with a further opportunity to advance your
Compositional
Directing
Organisational
Performance
skills, honing your ability to reflect critically and offers you experience of working in collaboration, with your peers.
Dance Education: Culture and Community
This module will introduce you to the breadth of opportunities there are to teach dance.
Through the examination of key organisations and philosophies of teaching dance, you will explore the part that dance plays within our cultural society and the benefits to people of all ages.
You will be encouraged to undertake independent research and experiment practically with different methodologies to enhance your understanding of dance education in different settings.
Dance Journalism
This module introduces you to dance journalism. You will explore the demand for different styles of writing, ranging from specialist and academic journals to national and international newspapers.
You will examine the process of journal publishing from both sides of the fence – the writer's and the publisher's – looking at the work of an editor in formulating policy and commissioning work, and at the different skills involved in writing; subbing, copy editing and proof correcting.
In addition, you will learn how to design pages for publication – and as the finished journal is evolving you will be helped not only with your writing but also with your journal's design and layout.
Dance Techniques 2
In this module, your knowledge of dance technique will expand to incorporate the complexity in:
Development of movement memory
Use of timing and musicality
Use of space
Experiential learning through improvisational techniques.
More demanding movement sequences and improvisational work challenges you to work in greater depth, employing problem-solving and devising. You will continue to explore key elements of dance fitness and they relate to your newly developed skills and knowledge.
Improvisation & Performance
This module focuses on further development of performance skills and vocabulary from the solo to the group improvisation.
The use of spontaneous compositional practice within group situations, relationship possibilities and the development of:
Awareness
Kinaesthetic
Spatial
Aural
Will form the core of issues explored.
The course will build toward the setting of structures for performance through an understanding of scores.
Movement and Character
This module creatively and critically engages you with the skills and processes of working with character, relationships and intentionality in a physical theatre style.
It extends and builds on previous Dance choreography modules by exploring and contextualising the techniques used in physical theatre to devise, sustain, develop and deliver character through movement.
Performance & Place
This module explores site specific, non-theatre based dance and performance work. You will consider site as source for devising choreography alongside theoretical ideas of space and place, and explores how space or location informs the content of site-dance performance.
Repertory
Dancing in the construction or reconstruction of a work of repertory provides you with opportunities to extend creative practical skills in dance performance.
You will apply your choreographic knowledge and performance skills to devising and problem-solving within select frameworks linked to research processes (practical and contextual) underpinning the repertory.
You will be directed through a choreographic process mirrored in the profession.
Research Methodologies
You will develop a model for your future dissertation project by building on the study skills and knowledge of dance you have already gained on your course.
You will learn how to write a research project and explore what methodologies and source materials are most appropriate for your project.
You will consider and experiment with different methodologies including various theoretical frameworks (historical, cultural, aesthetic, ethnographic), Practice as Research, and quantitative/qualitative research to cultivate a creative approach to their research and writing.
You will use formal written presentation skills ranging from referencing to the use of appendices, a bibliography and general issues relating to how to structure and develop an argument.
Safe Dance Practice
This module addresses the five knowledge areas identified by Safe in Dance International (SiDI) and their 10 associated core principles of healthy dance practice. You will cover topics including health and safety in the dance environment, injury reduction and management, anatomical and biomechanical principles of alignment, and psychological aspects of dance practice. You will also explore the principles of integrated and supplemental fitness and conditioning for dancers, effective warm-up and cool-downs, dance science informed considerations for progression, sequencing and structure of dance activities, an overview of nutrition and hydration needs for the dancer and considerations for varying group-specific needs and risk factors (such as age and ability/disability of dance participants). You will have the option to complete the industry standard Safe in Dance International (SiDI) certification which credits safe dance practice knowledge and application and supports future employability.
Scenography for Dance
Scenography has had a close relationship with contemporary performance in its development through the twentieth and into the twenty-first century.
Key figures in dance as diverse as Loie Fuller, Wayne McGregor and Russell Maliphant have all made contributions to the recognition and progression of scenographic art.
This module introduces the role of lighting and projection as scenographic elements in dance. It addresses themes such as visual composition, the experience of light and the semiotics of performance.
Themes, Trends and Discourse in Performance
This module explores recent dance performances and/or 'events' as a starting point for working backwards/outwards to explore relevant theoretical ideas and concepts that have an impact on dance. You are, therefore, encouraged to explore and debate wider themes and trends that affect dances and dancing.
These perspectives will be explored in relation to the dance artists' identity and context and through an analysis and evaluation of the work that is produced.
You will be asked to consider these theoretical ideas in relation to a variety of artistic responses and a range of political agendas and will consider how they are relevant to you as a future dance artist; how you might apply the principles explored to your own practice.
Applied Dance: Community, Production & Administration (30 Credit)
In this module you will undertake a work placement in a dance related role. You could work in dance administration, technical production or work in the community dance sector. You will be required to apply your own decision- making skills and exercise your own initiative during your placement, and to reflect on and evaluate personal strengths and weaknesses.
Potential placement venues include:
Regional dance agencies
Small scale dance companies
Community dance venues
Educational institutions
Dance magazines.
Choreographic Projects
Clear dialogue between process and product allows you to research, direct and develop a work of choreography.
Communication of meaning and imagery
Development of personal style
Dance and music partnerships
Use of scenography to support thematic intent (costume, lighting, visual effects, objects and/or set)
Are explored in relation to imaginative, project-specific problem-solving.
You will consider and analyse the choreographic process through a critically reflective lens, supported by pre-assessments furthering self and peer-appraisal of works in progress.
Dance Criticism
The module considers the meaning and purpose of dance criticism, and how different styles and genres may demand particular approaches.
It focuses on the analysis of selected dance works, live and on video, and questions the relationship between criticism and judgement.
It introduces a range of analytical strategies, including description, interpretation, evaluation, and examines the suitability of these approaches in different contexts – particularly in the context of radical new work.
Understanding develops as you learn how to apply critical theory and analysis to dance in performance and learn more about appreciating and experiencing. You will be introduced to different kinds of critical responses; cultural and theoretical studies and the roles of professional writers/editors/ broadcasters.
Dance Movement Psychotherapy
In this module, you will examine the theory and practice of dance movement psychotherapy (DMP) and explore a range of theoretical bases which can underpin your practice.
The module covers psychodynamic, humanistic and transpersonal approaches, and explores integrative creative practice. You will draw upon the related models of Authentic Movement and movement-based expressive arts therapy (deriving from the Halprin/Tamalpa model).
Dance Techniques 3
This module allows you to explore how corporeal expressivity manifests the embodiment of breath, flow, weight, skeletal articulation, and use of timing, space and focus required for skilful dance performance. Phrasing is considered in relation to use of transitions, development, and elements of risk combined to extend use of physicality and technical range. Complex movement phrases and improvisational situations challenge you to work in greater depth, allowing for development of individual style. Contextual aspects dance styles and approaches to technique arise through practice and discussions, supported by self, peer and tutor appraisal. You are expected to apply and develop key elements of 'dance fitness' in your personal preparation and practice of this module.
Dissertation Project
This investigative project encourages you to demonstrate a systematic understanding of a key area of dance practice or research. You will use a combination of written and/or practical methodologies to explore a research area that is of personal interest to you and also informed by aspects of the discipline. You will also engage with more generic skills designed to extend your knowledge in relation to the demands of independent research. for instance, you will learn to select appropriate topics for research; use valid research methods including retrieval skills; engage with critical analysis and the evaluation of source material and structure a coherent argument or line of enquiry in relation to both written and practical elements of the dissertation.
Interdisciplinary Arts Project
This module allows you to develop a cohesive interdisciplinary production that can be shown within a variety of performance contexts including local and national festivals of the arts and in an international context through exchange between Universities.
The module allows you to develop stage management, design and production skills in preparation for the final showing of the work.
In the process of working towards a final performance and/or exhibition, you will be engaged in the planning, choreographing/making and directing/supporting of your work, replicating an environment of a professional setting, supported by daily practice, feedback and guidance.
Teaching Dance & Creative Practice
This module builds on the experience gained in Teaching Dance Technique to further hone the skills for the effective delivery of dance lesson content to different groups of participants.
Themes, Trends and Discourse in Performance
This module explores recent dance performances and/or 'events' as a starting point for working backwards/outwards to explore relevant theoretical ideas and concepts that have an impact on dance. You are, therefore, encouraged to explore and debate wider themes and trends that affect dances and dancing.
These perspectives will be explored in relation to the dance artists' identity and context and through an analysis and evaluation of the work that is produced.
You will be asked to consider these theoretical ideas in relation to a variety of artistic responses and a range of political agendas and will consider how they are relevant to you as a future dance artist; how you might apply the principles explored to your own practice.
Teaching Dance Technique
You will build on your experience from Teaching Dance Technique and further develop your teaching skills to effectively deliver dance lesson content to different groups of participants.
Where possible your group will observe, work with or teach groups outside of the university to experience real situations in preparation for their final practical teaching assessment.
You will use micro teaching and group experiential sessions to focus on exploring appropriate lesson content and teaching methods.
Allanah
BA (Hons) Dance
"I chose to study at the University of Chichester because of the practical focus. I wanted to feel challenged physically, as well as creatively and theoretically. I am now in my second year and am feeling yet more challenged and engaged. The theory-based modules feel relevant and interesting; allowing you to explore politics, philosophy, and other subjects that I have discovered link to dance. I would say that creativity and choreography is the departments strength. The teaching is very thought out and encourages students to think and create in a way they never have before."
Teaching and Assessment
Feel the support of our experienced and practicing teaching staff
Teaching
Our expert and experienced dance practitioners get to know you as individual so you can feel more confident to develop your technical skills and explore your creative ideas in a supportive environment.
Typical study weeks include:
Daily dance technique classes

Supplemental training practices

Choreography classes

Lectures

Seminars

Tutorials

Studio-based workshops
Assessment
Our BA (Hons) Dance course provides you with the option to complete your final year project in a variety of ways: 100% choreographic work, 100% written assignment, or a submission that is a combination of choreography, presentation, and a written paper.
Outside of scheduled classes you will complete independent study including researching texts, completing individual or group tasks and working on your assignments.
Facilities
Discover our dedicated dance rehearsal, studio, and performance spaces
Dance studios and rehearsal spaces
Exercise Laboratory Facilities
Gymnasium and sprung floor spaces
Subject-specific librarian
Jody
Dance student
"We're really lucky at Chichester to have the facilities that we do – the dance studios are amazing."
Work Placements
Reach out and gain vital experience in a range of professional settings
The Dance Department's strong links with dance companies and organisations across the country can help you secure successful work experience and placement opportunities.
You will have the opportunity to undertake a work placement with a high-profile dance company, arts organisation, or educational setting during your degree. This will help you gain workplace experience and prepare for a range of careers.
Previous students have worked at companies including: 
Motionhouse

Loop Dance

Stop Gap

Jasmin Vardimon

South East Dance

Sussex Dance Network

The Point

Yorke Dance Project

One Dance UK

Scottish Ballet

National Dance Company of Wales

Pavilion Dance South West

Far Flung Dance Theatre
International Exchange
See our opportunities for incoming and outgoing international study
Whether you are considering studying Dance here and want to take either a semester or year out to study abroad, or if you are currently studying at a University who has a partnership with the University of Chichester – engaging in an international exchange study programme enriches and broadens your educational experiences.
Outgoing students
As a Dance student at the University of Chichester, you will have the opportunity to study at one of our partner institutions in your second year of study.
Students who have undertaken this in the past have found it to be an amazing experience to broaden their dance horizons, a great opportunity to meet new people, undertake further travelling and to immerse themselves within a new culture.
See our Outgoing Exchanges page for more information.
Incoming students
Coming to study Dance at the University of Chichester, you will be welcomed into our community of dancers and will be surrounded by creativity and cultural exchange opportunities. The city of Chichester is a beautiful and historic place for you to get to know.
You are also close to the lively cities of Brighton, Portsmouth and Southampton as well as a train journey away from getting into London.
See our Incoming Exchanges page for more information.
Ellie and Tara
Dance graduates
"The exchange to Toronto was the best opportunity we both ever could have asked for. Toronto is an incredible and vibrant city and we are both grateful that we could call it home for a year. In summary, the exchange enabled us to meet amazing people that we can both call friends for life; as well as people that provide connections for future endeavours. As dance students, the exchange allowed us to try new techniques and classes that widened our understanding of contemporary dance, as well as giving us the chance to work with new Professors - that were extremely insightful and inspirational. In addition to exploring Toronto, we both chose to travel further around North America, mainly including the West of Canada and the USA, we found that this adventure was a perfect way to conclude our year abroad."
Graduate Success
Join our community of successful alumni
Graduates from our dance programmes have progressed into exciting, rewarding careers and taken up influential roles in all aspects of the dance sector.
Our students have performed with:
Richard Alston

Tavaziva

Shobena Jeysingh

Lila Dance

Protein Dance

BalletBoyz

Akram Khan

Flex and Sandiland
Past students have gone on to work at leading dance institutions such as:
Sadler's Wells

RAD

Trinity Laban

ISTD

The Point
Careers
Open up your future career options
Our BA (Hons) Dance degree has built-in career guidance and support to prepare you for a range of careers across the dance industry.
You could become a:
Choreographer

Community dance practitioner

Dance company education officer

Dance movement psychotherapist (with postgraduate study)

Dance or arts administrator

Dance journalist or critic

Independent dance artist (performer, choreographer)

Stage manager

Teacher in primary, secondary, further and higher education (with postgraduate study)

Postgraduate student and researcher
Further Study
You could choose to continue your studies at postgraduate level.
Study options at the University of Chichester include:
MA Performance: Dance

MA Dance Research

MA Choreography and Professional Practice

MA Dance, Somatics and Dance Science

MA Choreography (Independent Research)

MA Dance: Advanced Practice
University of Chichester alumni who have completed a full undergraduate degree at the University will receive a 15% discount on their postgraduate fees.
Entry Requirements
Typical offers (individual offers may vary):
UCAS
tariff points from A levels or combination with AS / EPQ / BTEC/ Cambridge Technical.
IELTS
with no element lower than 5.5.
Auditions
You will participate in a dance audition (two and half hour practical) which is designed to assess your potential to respond both technically and expressively. You will also complete an interview where you can showcase your interest and training or experience in dance. Find out more about this process below. 
Auditions and Interviews
Everything you need to know
Auditions and interviews usually run from November until March. Our dance auditions are designed to support you to showcase your skills and passion for dance in a friendly, and creative environment.
We promote an open and friendly environment so that you can enjoy your experience and feel a sense of worth and achievement from the audition process itself.
We aim to engage you in a genuine dialogue during your audition process. The audition is a chance for you to get to know us here at The University of Chichester dance department and for us to get a clear understanding of who you are, what you need, and how we can best prepare you for your degree.
We judge you on your skills, your potential, and your personality, not your background.
Audition cost
There is a £25 fee for the audition which can be paid via our online store.
You will dance alongside fellow applicants in a 90-minute high-energy contemporary dance class, designed to assess your potential to respond both technically and expressively. The practical audition is designed to mirror a first-year experience so you will also take part in a tutor-led contemporary technique class and a creative task exploration.
We are looking for your potential for contemporary dance study (technique and creative practice) and how you work with others on practical tasks. We understand that you may feel nervous about dancing in front of an audition panel and will do our best to put you at ease so that you can perform to the best of your ability.
Please wear dance clothes that you can easily move in. For example, tights, leggings, or dance trousers with a leotard or fitted top. You will dance in bare feet for your contemporary dance and creative session.
We like our students to be enthusiastic, excited about studying contemporary dance, and prepared to have a go even if something is challenging. Please don't worry about any aspect of the practical audition and remember that our students come from a range of dance backgrounds for all our courses. We do not expect perfection and are looking for your potential.
You will also attend an interview with a member of the University of Chichester dance team for where you can discuss your training or experience in dance and specific areas that interest you. 
You will be interviewed in pairs or threes. You will be asked to talk about your experience and interest in dance and why you wish to study dance. This interview format is like the tutorials and seminar-based activities you will experience at the University, so you are encouraged to discuss ideas with each other. We offer a range of courses, so we are likely to ask about why you have selected this specific course. 
We want to see a student who is genuinely interested in studying contemporary dance and is prepared to move beyond dance practice as a hobby. We like to hear about the professionals (choreographers, dancers, researchers) who interest and inspire you and your aspirations for the future. 
How to Book Your Audition
If you are invited to audition, you will receive an email asking you to book your audition date on ChiView. If you are unsuccessful, we will email you to let you know.
You can usually book two or three different days on ChiView at one time. Once these dates are close ChiView will refresh to show new options. If none of the current dates suit you then you should wait until the dates renew and check again. Dates are released two to three weeks in advance.
Once you have booked your audition or interview you will have access to the relevant documents on ChiView.
Log in to the ChiView portal, click on 'Events schedule' and then 'View details' to view, download, or print documents telling you how to prepare for your audition and what to expect on the day.
If your situation changes and you can no longer attend your interview date you should cancel your booking in ChiView by visiting your 'Event Schedule' and clicking 'Cancel Attendance'. You also need to inform the admissions team by emailing admissions@chi.ac.uk so we can send you a new audition invitation.
Sometimes if you are viewing your ChiView portal on a phone you will not be able to see the page correctly. If this happens you should try again on another device.
You may need to clear your browser history.
If you are still unable to see the 'View details' button, please check that you have successfully booked your audition/interview by clicking 'respond to interview invitation'.
If all else fails, please email admissions@chi.ac.uk with query and applicant number.
Auditioning for More Than One Course
Different courses have different requirements. If you are auditioning for:
BA (Hons) Dance and BA (Hons) Dance Performance: you should complete the written essay and upload a solo and complete the ballet class
BA (Hons) Dance Aerial and Physical Theatre and BA (Hons) Dance Performance: you should complete the written essay, upload a solo and complete the ballet class
BA (Hons) Dance Education and Teaching and BA (Hons) Dance Performance: you should complete the written essay, upload a solo and complete the ballet class
BSc (Hons) Dance Science and BA (Hons) Dance: you should complete the dance science essay
BSc (Hons) Dance Science and BA (Hons) Dance Performance: you should complete the dance science essay, upload a solo and complete the ballet class
BSc (Hons) Dance Science and BA (Hons) Dance Aerial and Physical Theatre: you should complete the dance science essay and upload a solo
BSc (Hons) Dance Science and BA (Hons) Dance Teaching and Education: you should complete the dance science essay
In your interview we will discuss which course you are most suited to.
What is the difference between the BA (Hons) Dance and BA (Hons) Dance Performance?
BA (Hons) Dance is a broad-based dance education offering a range of modules that lead to employment options in various dance careers. The course concludes with an extended project and there are opportunities for professional placement.
BA (Hons) Dance Performance offers an increased focus on technical training and performance practice in contemporary dance, resulting in a more directed modular menu across the three years. The course concludes with the students dancing as performers in 3Fall Dance Company
Can I change my application to a different course?
Yes. Email the Admissions Tutor for the course you want to change to; complete the preparation for that course. At your audition please highlight your change of course with a member of staff.
I am interested in Dance Science, but not sure whether I want to do the BSc or the MSci, do I need to decide now?
There are different entrance and progression criteria for the BSc and the MSci programmes. If you meet these criteria you can opt for either course. If you enrol on the MSci from the outset you will be more likely to have your funding guaranteed for the full four years. It is possible to transfer from one programme to the other after you begin your studies, up until commencing your third year.
What if I forget my written task or Health and Injury Questionnaire?
You can send it to us after the audition, although we won't be able to process your application until we have received everything.
Your Audition Day
Your audition day will include a practical audition, your interview, and any additional tasks you need for your course. You will have the option to attend a campus tour prior to your audition to see the student accommodation, dance and sports facilities and get a sense of the layout of the campus.
Whilst you complete your practical audition your guests can visit our campus canteen, coffee shops or take a wander into the nearby city centre for a coffee.
After the practical audition you will take part in a small-group interview session where you can discuss your passion for dance and ask any questions you may have about the course and university life.
If you have not already uploaded the following items, please bring with you on your audition day:
a passport-sized photograph of you to help us identify you
your completed Health and Injury Questionnaire (available on ChiView after you book your audition)
your written task(s)
On your audition day you will need:
a passport-sized photograph of you to help us identify you
your completed Health and Injury Questionnaire (available on ChiView after you book your audition)
your written task(s)
You can park on-site if you buy a pay-and-display ticket but please note that the demand for car park spaces exceeds the spaces available, particularly during term time. For this reason, there are specific parking controls and restrictions to ensure the efficient and effective operation of the University, equity of access and fairness.
There are clearly marked disabled parking bays available at both campuses.
After your audition we will discuss your application and our decision onto the admissions team who will update our decision on UCAS. We aim to let you know within a few working days of your audition.
We make bespoke offers: Your offer is specifically for you. If we offer less than your predicted grades, this is because we want you to join us and we want to take a bit of pressure off of you heading into your exams.
We only offer unconditional offers in exceptional circumstances. Unless you already have your grades (you are a mature student), we normally insist on certain grade achievements because we want you to succeed in all aspects of your academic life including your A levels, BTEC, etc.
If you do not get the grades you wanted, don't panic. You received an offer because you were good enough for the department at audition. Ring us on the clearing hotline so we can discuss things with you.
We may offer you a different course: We may offer you a place on a course within the department that is different to the one they applied for. If this is the case, we will speak to you about this at your audition or shortly afterwards. We will explain our reasoning, which will revolve around placing you on the most appropriate course where we think you will thrive.
FAQs
Frequently asked questions
Click the 'Apply now' button to go to relevant UCAS page.
What are UCAS tariff points?
Many qualifications have a UCAS Tariff value. The score depends on the qualification, and the grade you achieved.
How do I know what my UCAS tariff points are?
Head to the UCAS Tariff Points web page where you can find a tariff points calculator that can tell you how much your qualification and grades are worth.