The Guardian University Guide 2023
in the UK for teaching quality
The Times and Sunday Times Good University Guide 2022
Complete University Guide 2023
Join us at our upcoming Open Afternoon!
Our next Open Afternoon is in:
Overview
Understand the core concepts of management in the context of sport
Our three-year, Chartered Institute for the Management of Sport and Physical Activity (CIMSPA)-endorsed BA (Hons) Sport Management degree develops your knowledge and the understanding of some of the principal aspects of business and management in sport.
Chartered Institute for the Management of Sport and Physical Activity (CIMSPA) education partner

Explore business and management within sport
By designing strategies, leading projects and creating awareness, you will help to solve the most pressing challenges facing the sport industry and become unmissable to employers.
You will learn the core principles of business and management through a sport lens and apply this knowledge when experiencing real-world environments. A work placement, regular visits to employers and guest lectures by those working in industry complement the expertise of our staff. Graduates of the programme have successfully advanced within sport and mainstream business pathways, demonstrating the transferable skills of the degree.
Learn from people that breathe sport
Our passion is to positively change sport. Our staff have decades of industry experience, undertake globally-recognised research and engage with some of the most important sport organisations nationally and internationally. We breathe sport and have a genuine enthusiasm for sharing this understanding in discussion with our students.
Work with industry practitioners on real projects
As part of the course, you will undertake a work placement module of approximately six weeks. This typically takes place in a sport/leisure organisation, a sports management company, or a sport/community development organisation.
Professional body endorsement
The Chartered Institute for the Management of Sport and Physical Activity (CIMSPA) endorses our sport management degree, which means you will receive student membership of CIMSPA and have confidence that this degree is what employers are looking for.

The Course
Grow your curiosity for sport whilst benefitting from insights and expertise in business and management
A passion and curiosity for sport framed through an understanding of business mechanisms and management practice.
Year One
Delve into the core concepts and skills that will underpin your degree. We will introduce you to university life and support you to understand the key features of the sport industry, how and why some people are excluded from sport, how to manage an organisation and its central business systems, the key principles behind marketing, the fundamentals of law for managers, and why sustainability is so crucial.
Year Two
Advance your understanding with content focusing on leadership, finance, project and operations management, and the importance of data. These are woven to a focus on the commercialisation of sport and how we consume sport and physical activity. Afterward there is the opportunity to undertake a sandwich year with an employer or progress straight to year three.
Year Three
Apply your expertise to tackle real-world challenges. The most contemporary and pressing issues affecting sport globally are critiqued so that you know what to encounter and engage with after graduating. The culmination of your knowledge is showcased in a dissertation, whilst your professional skills are honed in a dedicated work placement.
Indicative modules
You will study a selection of core and optional modules during your degree. Each module is worth a particular number of credits and is delivered differently depending on the needs of the module.
This list is indicative and subject to future change.
Select a year
Questioning Sport, Exercise and Health
You will be introduced to study skills for higher education  and discover the philosophical underpinnings of research in the sport and health sciences. You will also be introduced to qualitative research methods.
Introduction to Sport and Society
This is a sociological module that will introduce you to some of the key classical sociology concepts that demonstrate how sport is shaped by social forces. Through a social and cultural analysis of selected themes and issues in sport, the module will also provide you with an awareness of key social identities and how these affect our participation in sport.
Introduction to Management Principles and Customer Care
You will explore definitions of customer care and quality in the service industries and specifically within organisations working in sport and physical activity. Management principles and skills will be outlined and how to apply them to the workplace.
Introduction to Sport, Health and Physical Activity
An introduction to the key debates and issues related definitions, concepts and components of health and physical fitness in the UK. It aims to provide an understanding of how lifestyle factors, social and environmental structures influence decisions to engage in sport and physical activity.
The Enquiring Practitioner
While learning the technical components involved in the teaching and coaching of specific skills, you will also be introduced to fundamental biomechanical principles which impact performance.
The module will apply research and enquiry to real-life lived experiences that are associated with your potential future career paths.
Introduction to Mega Sport Events
This module aims to introduce you to a variety of social issues in sport through case studies of mega sport events, as well as developing an understanding of sport in a sociological context through an investigation of the politics, commercialism, funding, and management of mega sport events.
Introduction to Sport Business and Management
The module will provide the background to current business and management practice in the sport and physical activity industry. It includes the emergence of sport and leisure management as a profession. You will then be able to see how the industry manifests itself through various case studies and study visits then integrate these into your own business plan.
Introduction to Sport Policy and Development
The module aims to cover the fundamental political ideologies that inform the foundations, objectives, and development processes for sport policy. You will engage with the most significant policies and strategies to have shaped sport development in the UK before applying this knowledge to localised or organisational sport policies.
The Enquiring Practitioner 2
This module seeks to develop your knowledge and understanding from the Enquiring Practitioner 1 and help prepare you for your final year dissertation. You will conceive of, plan and execute small-scale research.
The aim of this "dress rehearsal" is to develop your appreciation of the project management aspect of the research process.
Project Management
This module aims to equip you with the tools and skills necessary to manage sports projects effectively and to demonstrate the importance of following a prescribed project management methodology. You will explore the concepts of project management in a practical way including effective scoping, planning, resource allocation, risk and issue management, project monitoring, reporting and review.
Marketing and Sales in Sport
This module seeks to give you a knowledge and understanding of the marketing and sales process and specifically how to apply it to the sport and physical activity industry. This will be achieved through the study of key marketing principals, functions and other related topics including the importance of sales, branding and social media marketing.
Critical Issues in Sport Business and Commercialisation
This module allows you to examine the opportunities and constraints for sport as it develops according to business and commercial principles in the UK and globally. Concepts and terms from sport business and sport management are viewed through social science perspectives to challenge issues of control, exploitation and dominance.
Critical Issues in Sport Development, Management and Physical Activity
This module introduces you to the key debates and issues related to sport, health and physical activity in the UK. You will explore key definitions, concepts and components of health and physical fitness and their relationship to sport, physical activity and sedentary behaviour.
Planning for Work Placement
This module prepares you for a 210-hour (six week equivalent) Work Placement. It is designed to bridge the gap between academic study and vocational experience through taking a reflective approach to your learning experiences in relation to your proposed learning objectives. You will gain invaluable insight and experience into the work place, through your placement.
Sport Finance
This module aims to provide you with knowledge of the financial and economic environments in which sports organisations operate across the different sectors of the sport industry. It will develop key skills of financial good practice, the planning and management of budgets, and their impact on decision making.
Critical Issues in Health Promotion, Lifestyle and Exercise
The module aims to provide you with a critical appreciation of the principles, theory and practice of health promotion in the UK. This will involve the application of the knowledge of sport, health and physical activity in the context of the wider social, cultural and environmental issues facing agents of health promotion.
Dissertation Project
The research project provides an opportunity to apply appropriate knowledge, concepts, and techniques to an in-depth study of a particular question or problem relating to sport,  exercise or healthcare.
This module aims to foster a greater understanding of the processes to undertake a small-scale research project and marks the culmination of the student's learning experience over their undergraduate programme of study
Entrepreneurial (Business Setup)
This modules focuses on the environmental factors that are directly relevant to a small business context, to allow you to develop a critical understanding of the entrepreneurial process. You will concentrate upon the planning that needs to be undertaken prior to the start-up of a small business.
Delivering Your Career Progression
This module enables you to reflect on your work placement experience. It allows you through your reflections to formulate ideas of your professional strengths and weaknesses and potential career progression. It encourages you to plan for the transition from university to work or other related goals.
Managing People in Sport Business
The module will investigate why people are critically important in the leisure industry. This includes all aspects of human resources from how management set the tone of an organisation's culture to how an organisation's objectives are achieved. It will explain how the staff are important in achieving this vision by ensuring that the right staff are employed and then effectively developed and motivated.
Strategic Planning for Sport
The module is divided into key overarching themes: the philosophy of strategy; the process of strategy; the drivers of strategy and whether the crucial determinants of a strategy are the organisation of the environment. the module concludes with a discussion on the interrelationship between strategies and effective planning, theory and practice, and what this means for those that manage sport organisations.
Group Dynamics in Sport
This module aims to examine and evaluate current knowledge of sport group productivity and functioning and evaluates current practice in developing and increasing the effectiveness of group functioning. It is important to have an understanding of group dynamics due to the potential impact that groups can have on an individual's performance, life satisfaction and psychological well-being.
Delivering and Consuming Fitness and Lifestyle
You will explore the ways in which physical activity, health and fitness are consumed in contemporary society. The module examines the fitness industry and the associated commercialisation of fitness products and services and plots social media's role in portraying notions of the 'ideal' body for men and women and the implications this has for children.
Experience
Discover a wide range of excellent sporting facilities that support your learning
Tudor Hale Centre for Sport
Specialist outdoor sports pitches
Subject specific librarians
Teaching and Assessment
Innovative teaching methods that focus on practice
Smaller class sizes for better learning
You will build your subject knowledge and practical experience through lectures, workshops, and tutorials in small classes, which means our expert teaching staff really get to know you and what support you need.
Study modules that prepare you for your professional career
You will learn to write for a real-life organisation (e.g. a club or business), as well as to work closely with schools, residential care homes, district county councils, sport and health and fitness clubs.
In final year, you are encouraged to undertake a 'real life' research project for an organisation in the Sport and Physical Activity sector (e.g. competitor analysis for a business), rather than write a traditional dissertation.
Find supportive staff ready to help you reach your goals
Modules are assessed at every stage of the course, offering cumulative assessment of your progress, which means you can monitor your own progress throughout your degree and look to discuss and plan your development with your lecturers throughout the course.
Where appropriate, special arrangements can be made for students with an identified need/needs.
Assessment
Our course includes a mix of assessments to help you develop a wide range of transferable skills.
You will be assessed by a variety of methods, including:
Essays

Reports

Presentations

Business pitches

Poster presentations

Video blogs

Reflective pieces
Placement Opportunities
Utilise our extensive professional networks to support your learning
You will undertake a work placement module of approximately six weeks. This typically takes place in a sport/leisure organisation, a sports management company, or a sport/community development organisation.
Students have undertaken placements at local businesses and found possibilities to continue after they have graduated. In some instances, they have progressed to become managers and leaders at the head offices of these companies. We pride ourselves on ensuring our students are unmissable to employers and are able and ready to join the workforce upon graduating.
Apply your learning to professional contexts
Through your work placement, you will develop skills that allow you to apply theory and knowledge in an operational sport or business setting. Work placements opportunities will provide you with a strong vocational focus.
Former placements have included:
A student completed a placement at Goodwood and saw a gap in recruitment and retention of event volunteers. They did some work on this and proposed a way to increase this.
Another student worked at Everyone Active, the local leisure centre, and evaluated outputs to help the organisation get partnership funding.
Dedicated placement coordinator
We have a dedicated placement coordinator who is available to assist students and has a network of contacts in local clubs and schools.
Where do students find placements?
Our students are from all over the UK, with the majority from the South and South East of England, with a few students from overseas. Many students find work placements in their hometowns, as well as local opportunities in Sussex.
We are flexible in encouraging you to approach any leisure or business-related organisation that is relevant to your needs and career aspirations.
Will I need to complete any additional documentation for my placements?
You will need to ensure you have all the necessary documentation in place before you start your placement. Some courses will insist that you complete a DBS check on entry to the course and others will require you to complete a check once you have started. Please check that you have completed all necessary documentation before commencing your placement.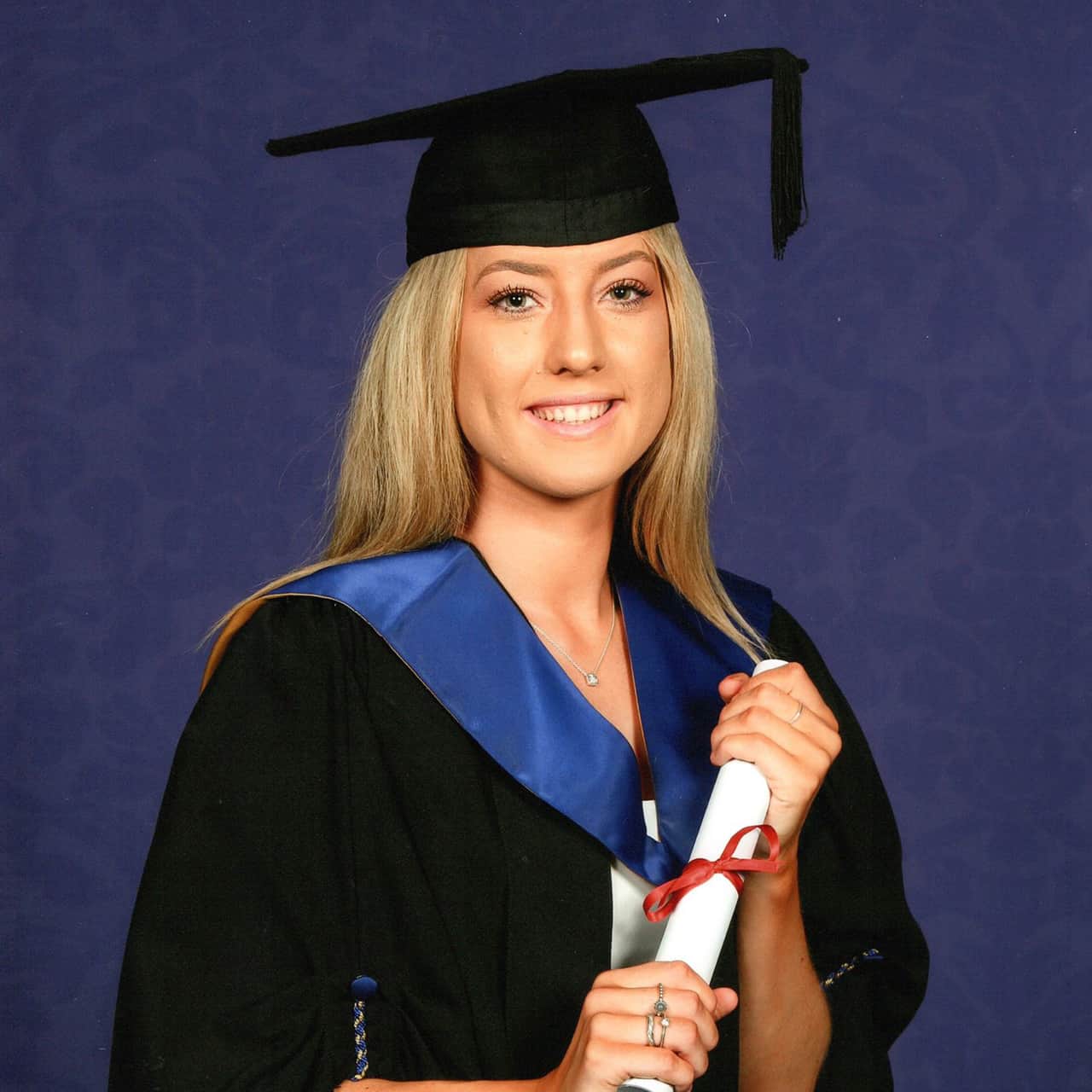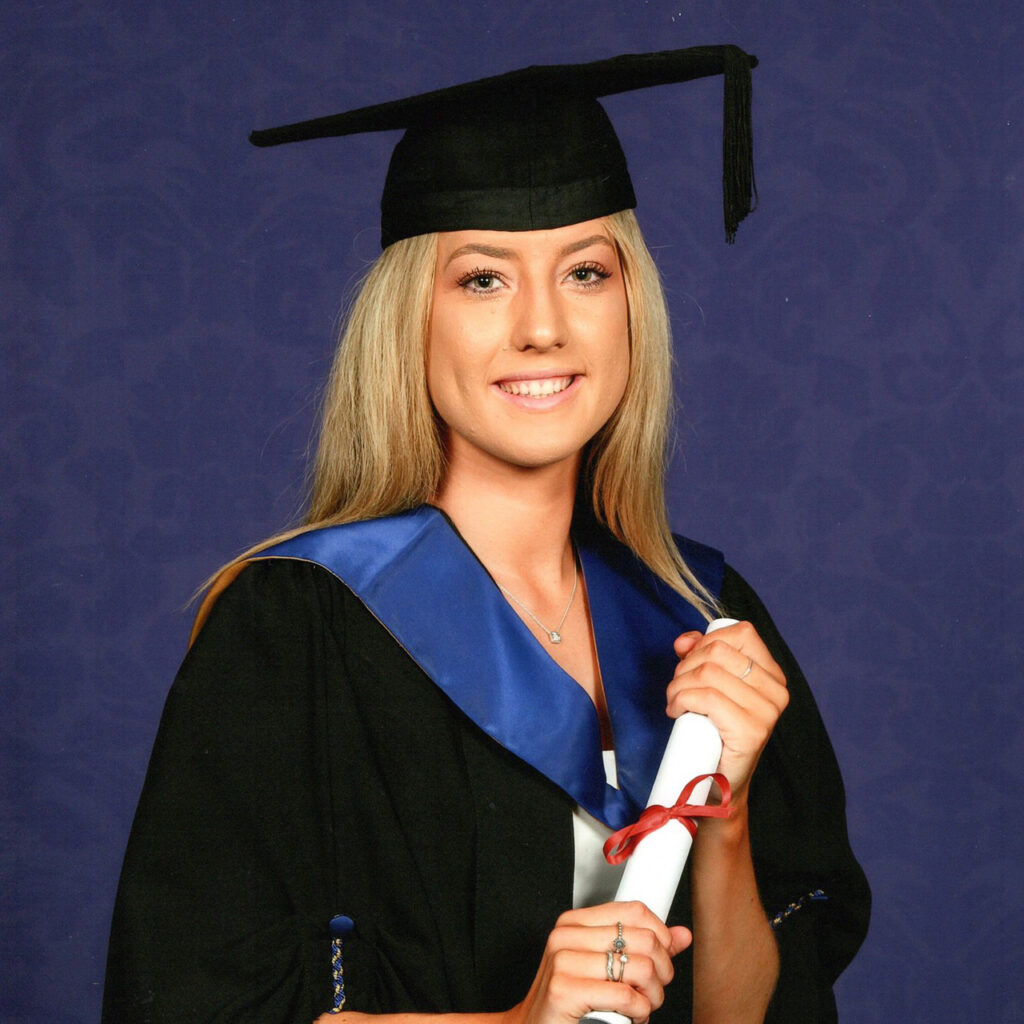 Abi
BA (Hons) Sport Management graduate
'As part of the course, I conducted a 210-hour work placement at Westgate Leisure Centre in their Sports Development Team. This was a great opportunity for me to use the skills learnt on the course and apply them to an external organisation. For example, the skills enabled me to plan, organise and deliver many events such as the Chichester Half Marathon and Chichester Triathlon Series. The option of a work placement that the course provides is very beneficial as you gain experience as well as learn new skills which can be utilised within not only the course but post-graduation too.'
Study Abroad
Explore the opportunity to study part of your course abroad
As a student at the University of Chichester, you can explore opportunities to study abroad during your studies as you enrich and broaden your educational experiences.
Students who have undertaken this in the past have found it to be an amazing experience to broaden their horizons, a great opportunity to meet new people, undertake further travelling and immerse themselves within a new culture.
You will be fully supported throughout the process to help find the right destination institution for you and your course. We can take you through everything that you will need to consider, from visas to financial support, to help ensure that you can get the best out of your time studying abroad.
For their study abroad experience, one student went to the University of New Brunswick, Canada and was so influenced by the local culture they focused their dissertation on the marketing of ice hockey in North America.
For further information please email exchange@chi.ac.uk or visit our Study Abroad page.
Careers
Acquire the skills and knowledge required to gain employment within sports industry
Our BA (Hons) Sport Management graduates continue onto a variety of career paths, both within and outside of the world of sport.
We have graduates that have progressed into working in PR in Monaco for an ex-F1 World Champion, working for a national cricket association, working with National Governing Bodies, and working at district and council level in sport management.
Career progression options include:
Sports facility management

Sales and marketing

Sports coaching

Business management

Teaching

Sport development

Sports management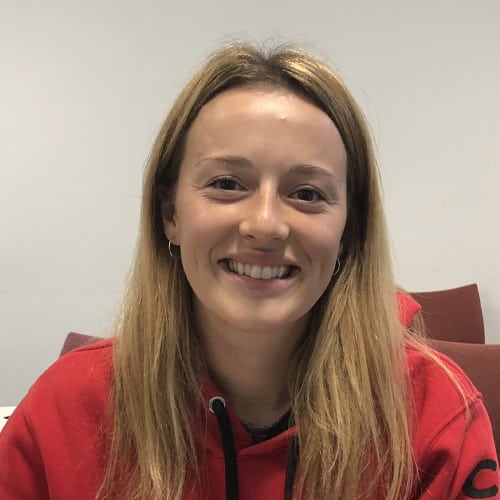 Rebecca
BA (Hons) Sport Management graduate
"The Sport Management degree has allowed me to gain a huge range of opportunities in regards to work placements, networking, and interesting subjects. I feel that I have gained valuable skills during the degree that will benefit me throughout my life. It has enabled me to gain stronger opinions and beliefs by opening my mind to a wide range of theories and subjects. I would have never experienced any of these without coming to university."
Further study
You can also progress to other postgraduate level study to continue the development of your knowledge and skills and increase your employability.
University of Chichester alumni who have completed a full undergraduate degree at the University will receive a 15% discount on their postgraduate fees.
Gifted Athlete Support Programme
Supporting athletes with their studies and sporting ambitions
The University's Gifted Athlete Support Programme (GASP) helps students combine academic study with sport by offering support to compete at the highest level.
Our student athletes will have access to our experts in sport coaching, exercise physiology, biomechanics, strength and conditioning, performance analysis, sport nutrition, sport psychology, sport therapy or physiotherapy and receive:
Financial Support*

Fitness Suite at the Tudor Hale Centre for Sport

Administrative support from SU Sport

GASP branded kit
* Level of financial support dependent upon level of achievement in sport
Course Costs
For further details about fees, please see our Tuition Fees page.
For further details about international scholarships, please see our Scholarships page.
To find out about any additional costs on this course, please see our Additional Costs page.
Entry Requirements
GCSEs
or better in both English Language and Maths.
IELTS
with no element lower than 5.5
FAQs
Frequently asked questions
Click the 'Apply now' button to go to relevant UCAS page.
What are UCAS tariff points?
Many qualifications have a UCAS Tariff value. The score depends on the qualification, and the grade you achieved.
How do I know what my UCAS tariff points are?
Head to the UCAS Tariff Points web page where you can find a tariff points calculator that can tell you how much your qualification and grades are worth.