1. Guardian University Guide 2022
2. Times and Sunday Times Good University Guide 2021
3. National Student Survey 2021
Overview
Study the role of psychology within sport performance and exercise
We offer one of the few British Psychological Society (BPS) accredited courses in the UK, taught by expert staff who have excellent national and international research and consultancy profiles.
As a BSc (Hons) Sport and Exercise Psychology student, you will explore how sport performance, physical activity, and wellbeing are influenced by psychological factors.
You will learn how to work with a range of people in sport and exercise settings to enhance confidence, maintain motivation, achieve their goals, and improve their psychological wellbeing.
With access to range of facilities such as our world-class Tudor Hale Centre for Sport, and four dedicated psychology labs including a virtual reality reader; brain imaging unit and observation suite, you'll gain the skills and experience that a range of employers are looking for.

On this course you will:
Gain knowledge and skills in how to maintain and enhance performance and participation to a range of populations.
Understand the psychological effects of physical activity in both professional and recreational sporting contexts.
Discover how to enhance sports performance and exercise participation from a psychological perspective.
Work with a range of leading sport and exercise psychology practitioners and researchers.
The Course
Gain a degree accredited by the British Psychological Society
This course is the first step towards becoming a sport and exercise psychologist. It also provides the stepping-stone for you to specialise in any area of psychology including sport and exercise.
This list is indicative and subject to change.
Select a year
Interpersonal Skills
The module will begin by considering the nature of interpersonal skills and the elements that constitute effective communication. This will provide an opportunity to explore models of communication and effective verbal and non-verbal communication. You will also consider how interpersonal skills may be evaluated and improved.
Introduction to Skill Acquisition
This module explores the psychological factors that affect the learning and performance of skills in sport. You are introduced to selected theories of performance and learning and the strengths and weaknesses of these theories are examined. Research findings will be used to help you make the connections to your responsibilities as sports coaches.
Introduction to Sport and Exercise Psychology
Sport and exercise contexts provide a fascinating and complex opportunity to investigate the psychology of human affect, cognition and behaviour. This module aims to introduce you to diverse areas of psychology in the context of sport performance, exercise, and well-being.
Perspectives On Psychology
This module seeks to enable you to understand the contribution of key thinkers to the development of modern psychology and to appreciate their biographical backgrounds. The lives and work of key thinkers will be introduced and contextualised with reference to contemporary ideas and mores.
Principles of Psychology
This module examines the origins and development of modern psychology. You will focus on the main approaches to studying and describing human behaviour, for example, behaviourism, the psychodynamic approach, the humanistic approach, the cognitive approach, and the biological basis of behaviour.
Questioning Sport, Exercise and Health
You will be introduced to study skills for higher education  and discover the philosophical underpinnings of research in the sport and health sciences. You will also be introduced to qualitative research methods.
The Study of Human Interaction
This module explores the functions of understanding relationships, as you study the selected experiences of relationships.
You will examine the processes related to forming an impression of someone, feeling attracted or not to them, wanting to be their friend or partner, getting to know them, and forming a relationship with them through a variety of behaviours.
Certain psychological theories and empirical findings from investigations into impression formation, attraction, prejudice, and stereotyping and relationship formation will be introduced and a range of methodologies and analyses, such as interviewing, content analysis and observational approaches will be explored.
Biological Psychology
This module explores the ways biological processes have been studied, for example through brain lesions and cell stimulation methodologies. the areas of behavioural genetics, neuro-imaging, neuropsychology, socio-biology and evolutionary psychology will be investigated in terms of underlying theory and empirical research.
Cognitive Psychology for Sports Performance
Within the sporting domain, knowledge of cognitive psychology can promote efficient acquisition and effective performance of skill among athletes at all stages of skill development. This module critically examines the strengths and weaknesses of theory and research concerning the cognitive processes that underpin the acquisition and performance of skill.
Developmental Psychology
This module explores the study of development and maturation in cognitive, personality, and social processes, as well as introduce you to basic theory, research findings, and methods of investigation in childhood, adolescence, and lifespan development.
You will consider the ways in which behaviour is influenced by developmental factors, the nature of developmental processes, and the ways in which empirical research can help us to understand how developmental processes influence what we do.
Performance Psychology
This module will introduce you to the key theories and concepts in performance psychology, examining theory and research into a range of factors (e.g., confidence, motivation, emotional regulation) that have been proposed to contribute to performance in sport and other achievement domains. the module content will seek to develop understanding of the importance of these concepts for performance, their determinants and how to change them.
Psychology of Physical Activity and Health
The course will examine contemporary theories relating to the adoption and maintenance of a healthy lifestyle. It will also examine the relationship between activity involvement and individual affective responses, cognitions of self and health-related behaviour. Specifically, theories of behaviour change and self-concept will be explored alongside an emphasis on the positive and negative consequences of exercise involvement.
Researching Sport, Exercise & Health
You will further develop your skills in research methods and data analysis, with a broad focus on analysis procedures including the qualitative method of interviewing, and quantitative methods of analysis of variance, correlation and linear regression. These methods are commonly used procedures in the sport, exercise and health sciences, and understanding of these will also provide a solid foundation for understanding more advanced research methods that you may learn in your future work including research projects or postgraduate study.
Social Psychology
This module acts as an introduction to social psychology and social cognition. the module will cover topics such as person perception, social influence, stereotyping and prejudice, attitudes, attributions, group processes, and attraction and close relationships.
Stress, Coping and Emotions
This module aims to examine the demands (i.e. stressors) of sport and how these are experienced by athletes, the appraisals and coping strategies employed by athletes when experiencing these stressors, and the subsequent emotional responses.
Advanced Research in Sport and Exercise
This module accesses sections of the provision for MSc students and so begins to move you towards postgraduate level thinking. You will work alongside MSc students to access sections of work at the appropriate level. Assignments will reflect that the module is in Year Three but will take an applied approach to promote independent use and evaluation of research methods and statistics.
Applied Sport Psychology: Delivering Mental Strategies
Traditionally, sport psychologists have advocated the use of numerous mental training strategies that are purported to enhance the cognitive, affective, and behavioural states of the performers that they work with. This module provides you with an understanding of the efficacy of these strategies, to provide opportunities to deliver these mental strategies and to reflect on the delivery of these strategies.
Applied Sport Psychology: Professional Practice
The 'soft' skills required by a sport and exercise psychologist are imperative to effectiveness as a practitioner. the aim of the module is to examine the nature of applied sport psychology practice and discuss and critique how sport psychologists work with clients in relation to initial assessment, case formulation, intervention planning, and delivery, monitoring, and evaluation.
Classroom Pedagogy
This module will use a series of lectures and workshops to explore curricula employed in classroom teaching such as the National Curriculum, GCSE PE, BTEC Sport, and A-level PE to consider how schemes of work and lesson plans are developed for delivery in school and college classrooms.
Contemporary Issues in Sport, Exercise and Health
This module will explore a selection of contemporary issues that may have ethical and moral considerations, in relation to sport, exercise and health.
Entrepreneurial (Business Setup)
This modules focuses on the environmental factors that are directly relevant to a small business context, to allow you to develop a critical understanding of the entrepreneurial process. You will concentrate upon the planning that needs to be undertaken prior to the start-up of a small business.
Exercise and Physical Activity Interventions
This module applies health behaviour change theory and research to the promotion of physical activity in specialised populations, such as those with chronic health conditions or physical disabilities. It looks at different types of interventions, such as those targeting individuals, groups, and national campaigns.
Group Dynamics in Sport
This module aims to examine and evaluate current knowledge of sport group productivity and functioning and evaluates current practice in developing and increasing the effectiveness of group functioning. It is important to have an understanding of group dynamics due to the potential impact that groups can have on an individual's performance, life satisfaction and psychological well-being.
Practical Applications in Coaching and Teaching
This module aims to provide you with blended learning opportunities via university-based work that develops and enhances depth of knowledge when working practically with performers. It is aimed to run concurrently with the Practical Pedagogy (Placement) module so that you can apply theory to the practical coaching and teaching environments within your micro sessions and placement context.
Psychology in Context: Work and Organisations
You will consider a range of relationships between working conditions, jobs and organisational processes, psychological outcomes, and their impact on job and organisational performance. Psychological reactions including job satisfaction, job stress, motivation, work engagement, and organisational commitment are investigated, and organisational functions such as job design, health and safety at work, and organisational team-working, are considered.
Psychology of Injury and Rehabilitation
This module enables you to critically evaluate the psychological, social, and cultural factors in injury risk, theories of psychological responses to injury, recovery, and adherence to rehabilitation programmes. It will critically evaluate theory and research, and consider practical approaches to working with injured athletes to assist them with their response to and rehabilitation from injury experiences.
Research Project
'The research project provides an opportunity to apply appropriate knowledge, concepts, and techniques to an in-depth study of a particular question or problem relating to sport,  exercise or healthcare. This module aims to foster a greater understanding of the processes to undertake a small-scale research project and marks the culmination of the student's learning experience over their undergraduate programme of study
Work Placement in Sport and Exercise
This module offers an opportunity to complete a unit of directed study incorporating a work placement of 105 hours (3-weeks) in a sport and exercise environment. This placement can take place in a wide range of environments including sports clubs, schools, colleges, private companies, clinical settings, or within the community. the focus of the work placement should be relevant to your needs, the programme of study you are taking and career aspirations.
Experience
Discover a wide range of excellent sporting facilities that support your learning
Tudor Hale Centre for Sport
Specialist outdoor sports pitches
Subject specific librarians
Teaching and Assessment
Innovative teaching methods that focus on practice
Teaching
Our team of lecturers combine innovation, enthusiasm and expertise to deliver the excellent standards that give our institution its high reputation.
When you come to Chichester, you will join a community of students and lecturers working in partnership to ensure that your learning experience reflects best practice and embraces the opportunities presented by new, interactive technologies.
The delivery method of each module is tailored to the topic and focus.
In most modules you can expect lead lectures to introduce core content, but the majority of your time will be spent working in small groups with tutor support in seminars, workshops or laboratory sessions.
Many sessions will require you to have completed some preparatory work and you will also be given structured follow-up work after a session to further progress your learning, often reading or an individual/group task. As you progress through your degree you will be expected to take more and more ownership over your learning and development, directing your study into areas of most interest to you.
Read more
Assessment
You will be assessed by a variety of methods, including essays, examinations, practical assessments, lab reports, and oral presentations.
Our course includes a mix of assessments, so that you may develop a wide range of transferable skills. Modules are assessed at every stage of the course, offering cumulative assessment of your progress.
You can monitor your own progress, allowing you the opportunity to discuss and plan your development with your lecturers throughout the course. Where appropriate special arrangements can be made for students with an identified need.
Placement Opportunities
Utilise our extensive professional networks to support your learning
In the final year there is the option to complete a placement which will allow you to apply theory and knowledge in a sport, exercise or health setting of your choice.
This placement will give you the opportunity to further develop transferable skills which will make you more employable for a career in Sport and Exercise Psychology.
You will also have the opportunity to pursue your own placement option. Students are ultimately responsible for finding their own placement, however we have a dedicated placement coordinator who is available to assist students and has a network of contacts within the sector.
Study Abroad
Explore the opportunity to study part of your course abroad
As a student at the University of Chichester, you can explore opportunities to study abroad during your studies as you enrich and broaden your educational experiences.
Students who have undertaken this in the past have found it to be an amazing experience to broaden their horizons, a great opportunity to meet new people, undertake further travelling and to immerse themselves within a new culture.
You will be fully supported throughout the process to help find the right destination institution for you and your course. We can take you through everything that you will need to consider, from visas to financial support, to help ensure that you can get the best out of your time studying abroad.
Careers
Acquire the skills and knowledge required to gain employment with the sports industry
The work of sport and exercise psychologists can be wide ranging. From working with high level athletes to help them reach their potential, to supporting the general population to optimise their exercise participation.
We are one of the only places in the country to offer training through undergraduate, postgraduate, and supervised work, meaning you can study here all the way through to a qualification as a BPS fully-accredited sport and exercise psychologist.
Typical careers include:
Sports and exercise psychologist

Assistant psychologist

Sports performance consultant

Mental health and wellbeing practitioner

Teacher

Researcher/Scientist

Public health project manager

Health promotion practitioner
Paige
BSc (Hons) Sport and Exercise Psychology
"All my lecturers have been supportive, and they are easy to contact due to being a smaller uni. I like how it is a campus university as everything I need is on site. It feels more inclusive than larger universities and the area the campus is based in is lovely."
Charlotte
BSc (Hons) Sport and Exercise Psychology
"There are many positives to studying Sport and Exercise Psychology at Chichester. You get to experience a wide range of modules all taught by enthusiastic tutors. The tutors have experience in both applied and research backgrounds and I couldn't credit the support they provide enough. The course is inspiring and I would highly recommend it to anyone. For me these experiences motivated me to pursue a career in sport and exercise psychology and I am now a PhD researcher exploring performance anxiety in sport."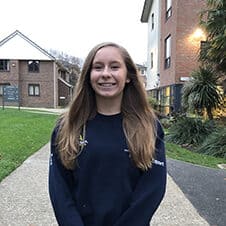 Emily
BSc (Hons) Sport and Exercise Psychology
"I really enjoyed my first year. At first I thought it would be quite nerve-wracking, but the fact that it was such a small group and the lecturers were really approachable made it so much easier to integrate into university life."
Further study
We offer postgraduate research programmes (MPhil/PhD) across the field of sport disciplines.
Supervision is offered by a strong, research-active team with a range of expertise. Our research interests stem from applied experience to deliver 'real world' meaningful results.
University of Chichester alumni who have completed a full undergraduate degree at the University will receive a 15% discount on their postgraduate fees.
Course Costs
For further details about fees, please see our Tuition Fees page.
For further details about international scholarships, please see our Scholarships page.
To find out about any additional costs on this course, please see our Additional Costs page.
Entry Requirements
A Levels
including a science - PE accepted at grade C or above.
BTEC
including Sports Science, Applied Psychology or Health and Social Care.
GCSEs
or better in both English Language, Science and Maths.
IELTS
with no element lower than 5.5
Access to HE Diploma
with at least 12 credits worth of science units at Merit.
FAQs
Frequently asked questions
Click the 'Apply now' button to go to relevant UCAS page.
What are UCAS tariff points?
Many qualifications have a UCAS Tariff value. The score depends on the qualification, and the grade you achieved.
How do I know what my UCAS tariff points are?
Head to the UCAS Tariff Points web page where you can find a tariff points calculator that can tell you how much your qualification and grades are worth.