The Chichester Centre for Fairy Tales, Fantasy and Speculative Fiction
The heart of this project is a focus on the fantastic imagination as a creative force both in literature and culture.
The Centre provides a forum where writers, scholars, performers, artists and aficionados can explore world folk narratives, fairy tales, fantasy and speculative fiction in various forms including print, film, and the visual and performing arts.
Postgraduate research projects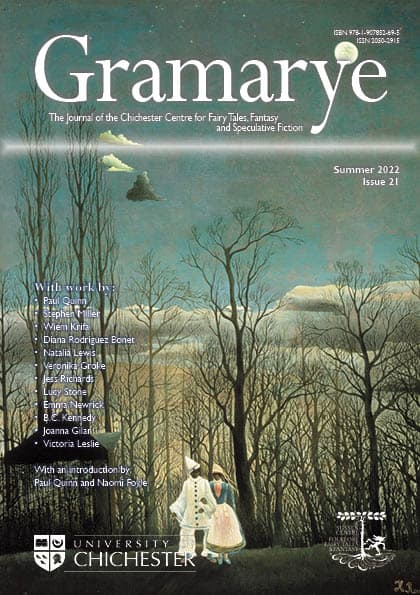 Gramarye, the Centre's journal, publishes academic articles, creative writing, book reviews and contemporary art.
Gramarye issue 21 is now available to pre-order from our online store.
The printed edition of Gramarye is only available to pre-ordering customers and subscribers. To guarantee your printed copy of future issues, please subscribe.
Limited numbers of back issues are
available here.
Gramarye may also be ordered from:
Scrivener Offer
Gramarye readers are entitled to 20% off Scrivener software, the project management tool for writers. Just visit their website and enter the coupon code 'SUSSEXCENTRE'.
Current events and Call for Papers
Explore folklore in Sussex
Download a free interactive map (pdf) of folklore in Sussex and the South Downs, created by The Chichester Centre for Fairy Tales, Fantasy and Speculative Fiction in collaboration with the South Downs National Park. The map is based on Jacqueline Simpson's 'Folklore of Sussex' and illustrated by Abi Daker.
Please download the maps and open in Acrobat to ensure the document works properly on your machine.
Folklore Map Interactive (A3 printable/searchable version): Zoom in and click on the map icons to be taken to the relevant stories, or click on stories to be taken to their place on the map.
Join the Folktales mailing list
This list is used to facilitate interdisciplinary discussion of fairy tales, fantasy fiction and speculative fiction. Contributions may include:
News about conference, events and relevant publications
Calls for papers or submissions
Research enquiries
Other announcements