Canucks, Limeys and Yanks: The Military 'Occupation' of the Witterings, 1940-45
Items Collected by Alan Redman of WSRO Relating to D-Day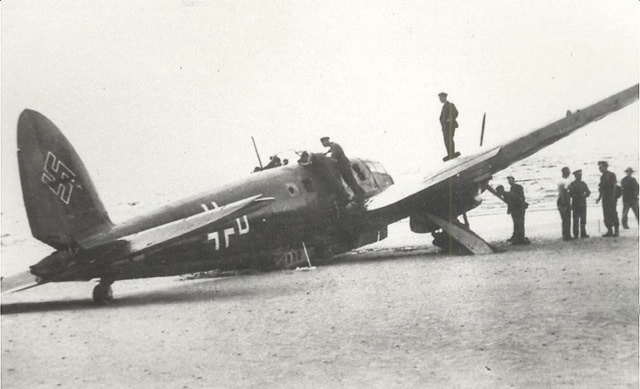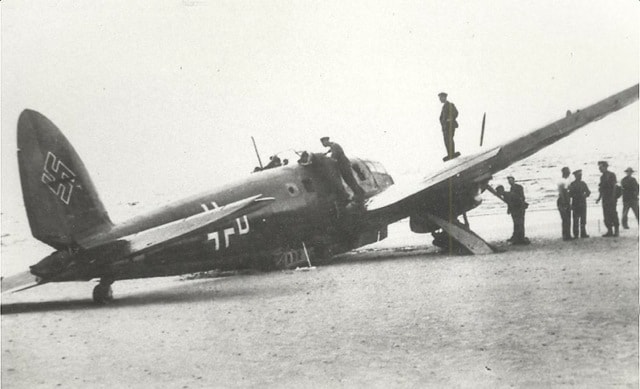 Recollections – Mr. Neil Theobald's childhood in East Wittering, Feb 1994.
Our parents were told by their employers to be at work very early in the morning, so we were able to sneak out of the house and see what was going on! I remember seeing soldiers streaming up from the beaches soaking wet and making the ground look as if it had been raining. The look of relief on their faces when they realised that we were English I will never forget. They truly believed it was the real thing and that they were in France. They had been taken to sea in landing craft so that they were disorientated and did not know where they were landing. I, with a friend, remember leaning over the fence and seeing a bren gun carrier roar up Coney Road and turn left into Stocks Lane without stopping. As it made that turn the vehicle slid across the road and ripped up the footpath with its tracks, only feet from us!
Our mother was at work in the dairy at Culimore Farm, working for Mr. Ray Balchin, and she told us that they were watching the tanks and bren gun carriers coming up from the beach, and saw his hedges being ripped to pieces by the tanks. Eventually, he could stand it no longer and ran outside to give them a piece of his mind, and again the soldiers were relieved to hear an English voice! The reply was "Thank Christ you're English, mate!"
When the invasion was over and it was "safe" to venture out, you could see the damage that had been done, a seafront house at the end of Shingle Walk had been ripped a part by a tank and remained in that state for some time after the war ended.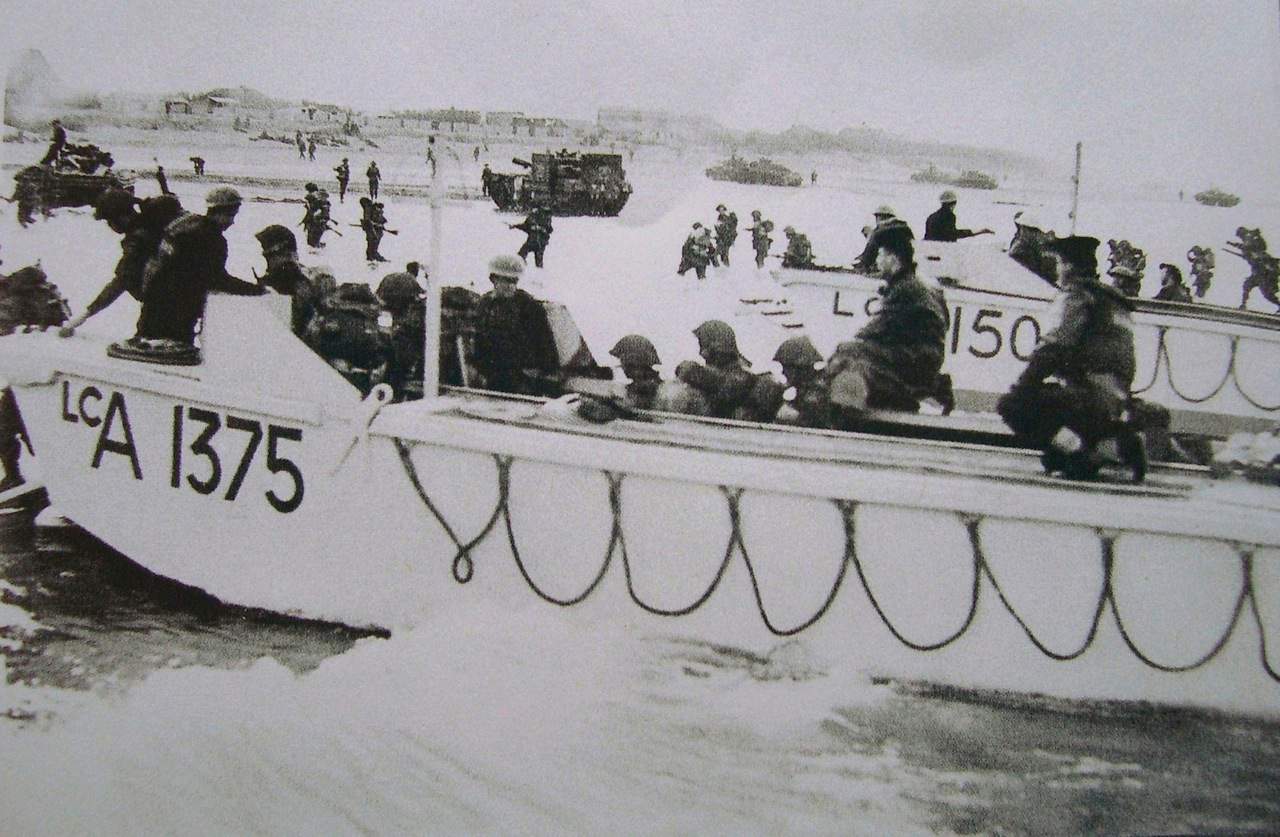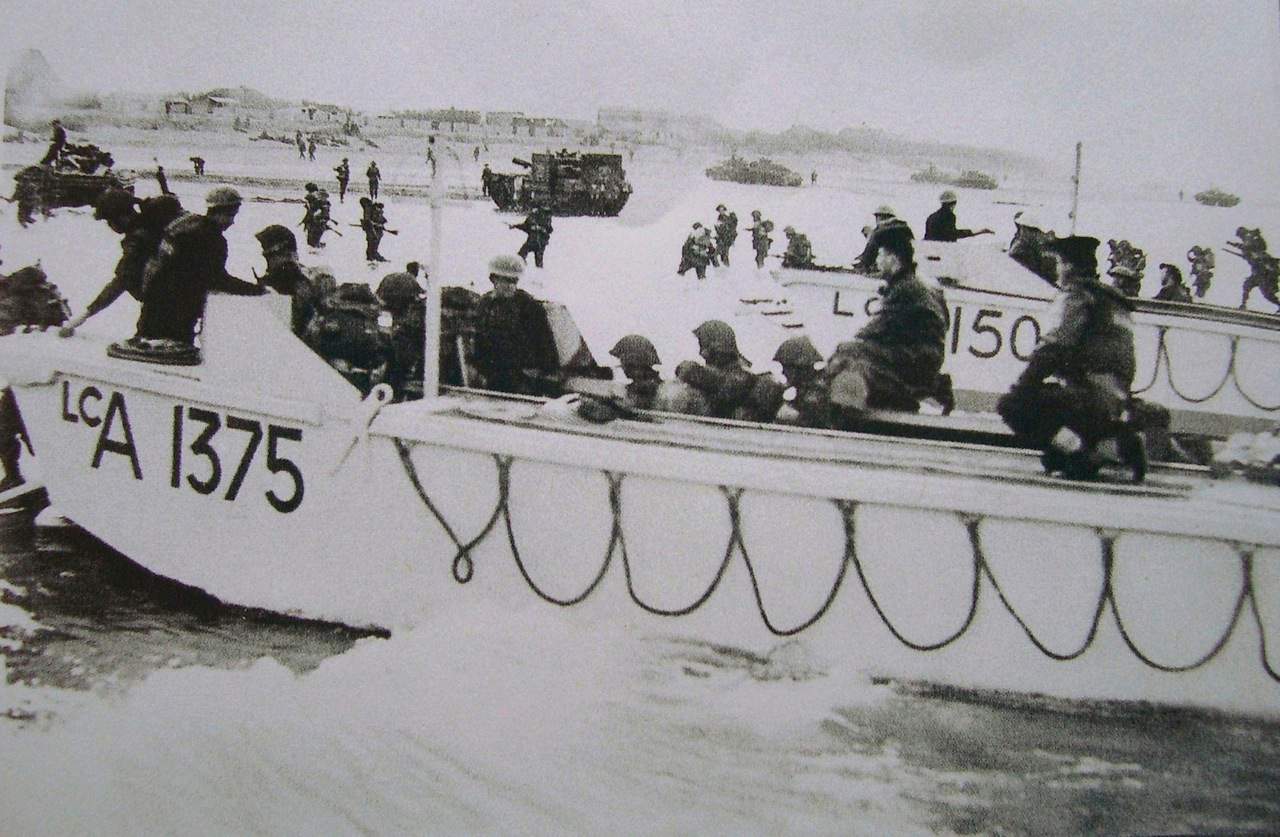 Recollections of landing practice at Wittering – letters and interview with Mr Maurice Henly, Dec 1993.
This was a full-scale operation by the Combined Forces. It commenced as 5:30 am. A large number of the troops were French Canadians who had been stationed on the hills near Liphook and Petersfield. They were taken to embark at Portsmouth and Hayling Island and came around via Chichester Harbour – possibly 3,000 men – preceded by heavy armoured tanks.
The landing area was about two miles wide extending from Shore Road to the other end of East Bracklesham Drive. Heavy tanks landed first to drag the concrete blocks aside – followed by mine flails, causing much havoc.
There were seven or more bungalows demolished. They went straight ahead and everything in their path was destroyed.
Some soldiers were labelled 'casualties' and had to lie around to be collected and return to the hospital ship laying off-shore. As the invasion was going on, two German planes came in and attacked the ship which has badly damaged and out of action, so the casualties could not be collected. Two were in our front garden – where they had to remain all that day, and part of the night.
Spitfire and Hurricane planes quickly arrived from Tangmere, chased the bombers and I understand that both were destroyed going back to France.
The Flamethrower Tank landed at the end of East Bracklesham Drive near Earnley Marshes, destroying huts, and everything in its path within 100 yards. I remember going to see it practising again the next day on the Marshland at Earnley beach.
There were a number of real casualties on the day when landing. Two barges collided – the sea was so deep; some were drowned and others killed on undetected land mines. About 30 (casualties) altogether.
The whole operation was over by about 12:00pm and the soldiers spent the rest of the day clearing up and sabotaging the vehicles and equipment stranded on the beach. The sea defences were not replaced!
Accounts from East Wittering Residents

Source II: Accounts from East Wittering residents amassed from several public exhibitions, talks, columns, and Janet Smith (ed.), Wittering's War: Reminiscences of village life during World War Two (West Sussex: Mill Press, 2004).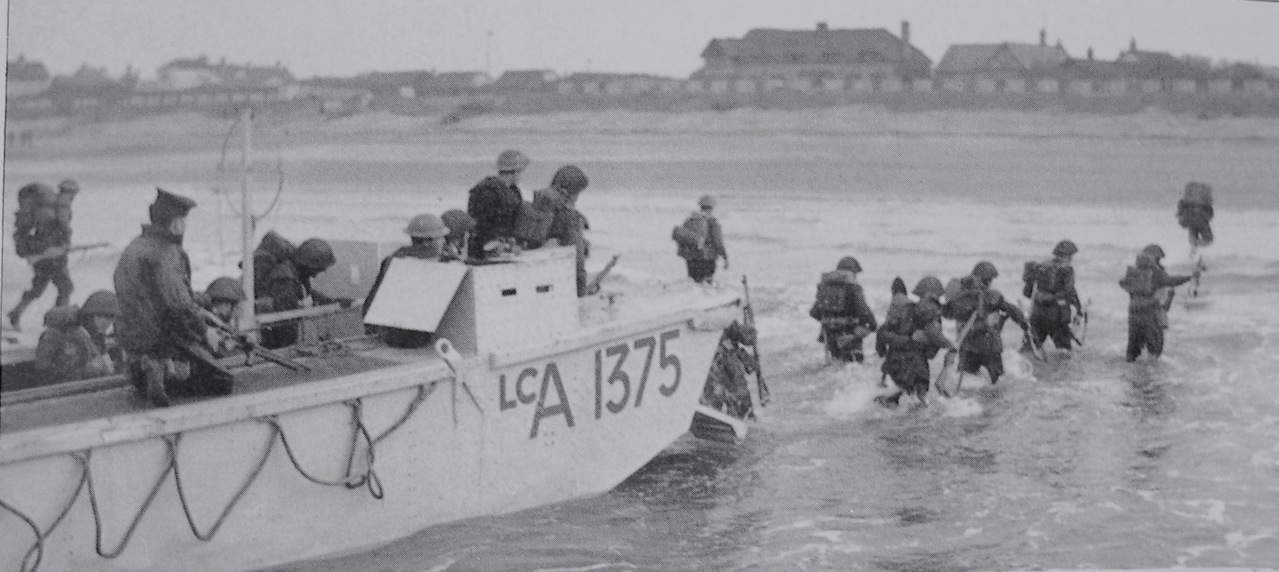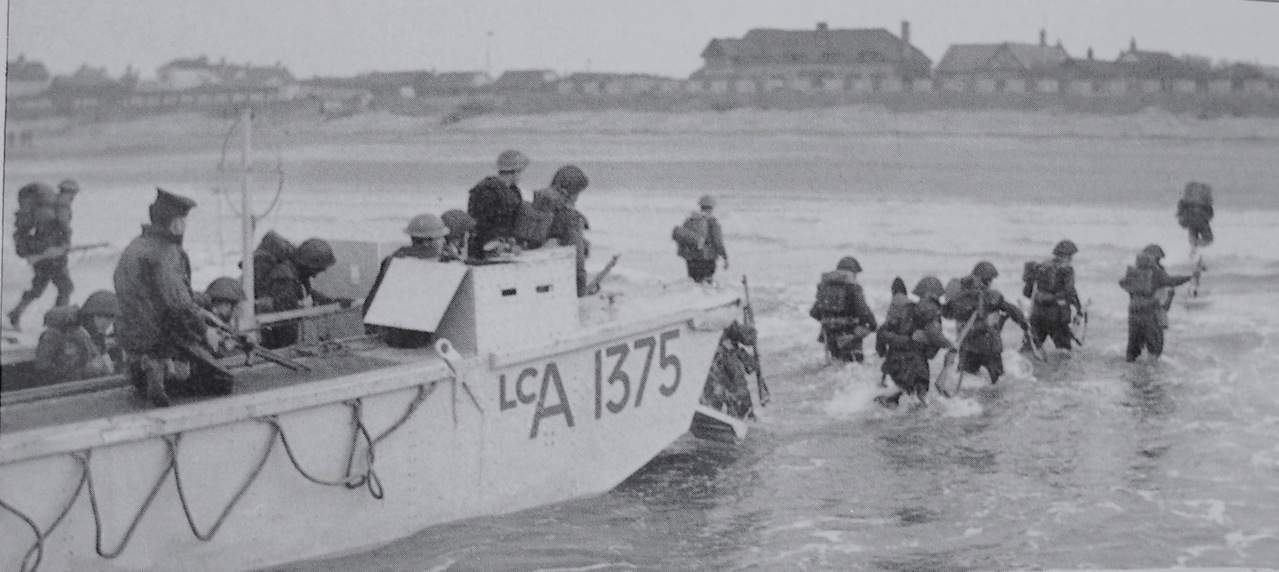 Laurie Crisp: The military strategists for Operation Overlord must have, at a very early stage in their planning, chosen the beaches of Bracklesham Bay as the ideal stage on which to rehearse the landings on the French shores of Normandy. With their gently shelving sands and low flat coastal strip, closely mimicked the French coastline. Of course, all this was very hush hush, and we as inhabitants were not privy to the secret. However, the early signs were there – the formation of naval stations at Bracklesham and Birdham Pool and the peculiar floating edifices that sometimes could be seen at Selsey Bill. When the barbed wire and some of the steel tubular defences were removed from the Wittering beaches and a temporary airfield was built at Appledram, then we all knew that something was afoot!
Before Exercise Fabius, several practice landings took place on a smaller scale in Bracklesham Bay in the very early months of 1944. There were three, according to the late Maurice Henly, who was the proprietor of a grocery shop and a volunteer ARP man during the war years. The landings took place in a two-mile strip of Bracklesham Bay between Shore Road and East Bracklesham Drive. This spot proved to be the ideal landing spot as the water was only knee-deep and troops could disembark without getting both themselves and their equipment in too wet a state. Mr Henly reported that the crews of the crab tanks were pretty determined. "One went via Shingle Walk while the other went by way of Legion Way and in the process, they demolished several sea front houses before driving inland to Stubcroft Farm". Meanwhile, at the Earnley Marsh end of East Drive a flamethrower tank demolished several huts. There were approximately fifty craft involved; little did we know that in the weeks to come a larger fleet would fill the whole Bay from Hayling Island to Selsey Bill.
The weekend before the final exercise took place, I noticed that a platoon of soldiers set up camp behind Admiralty Row and proceeded to dig three oblong trenches. When I asked what this was for, I was told: "Buzz off, sonny, and don't be nosy!"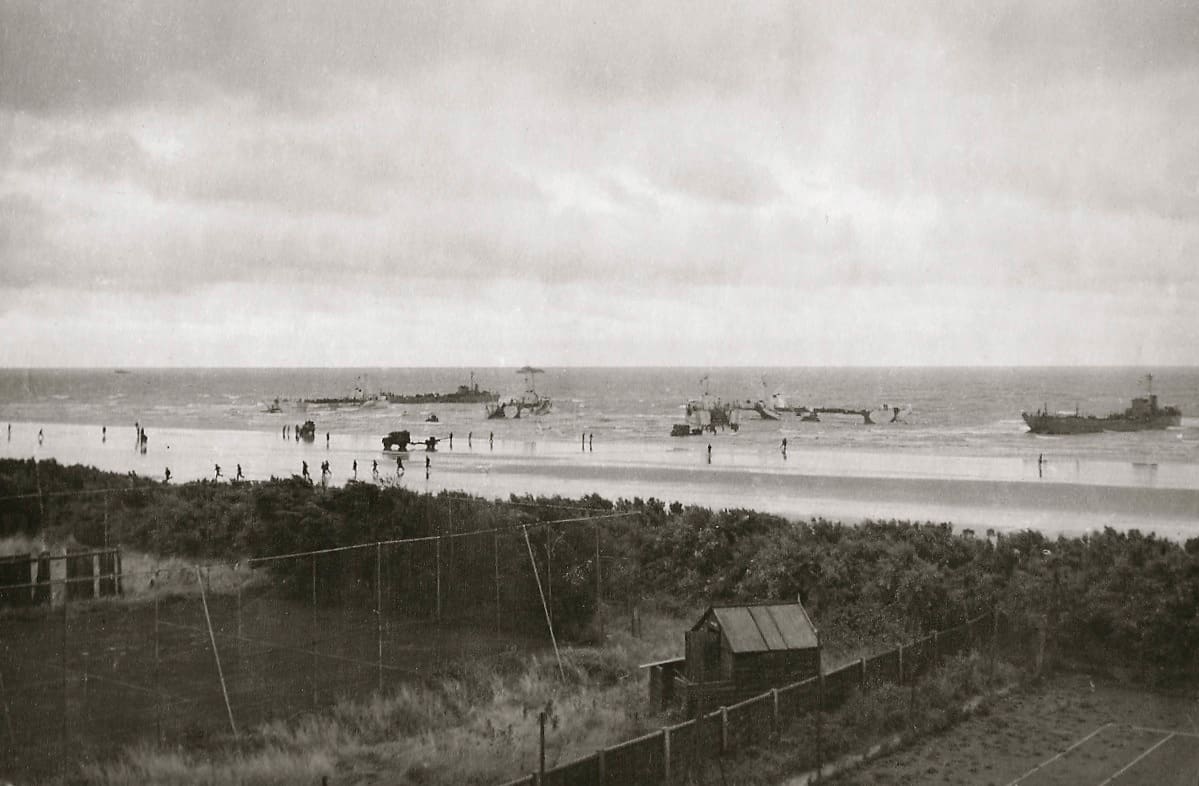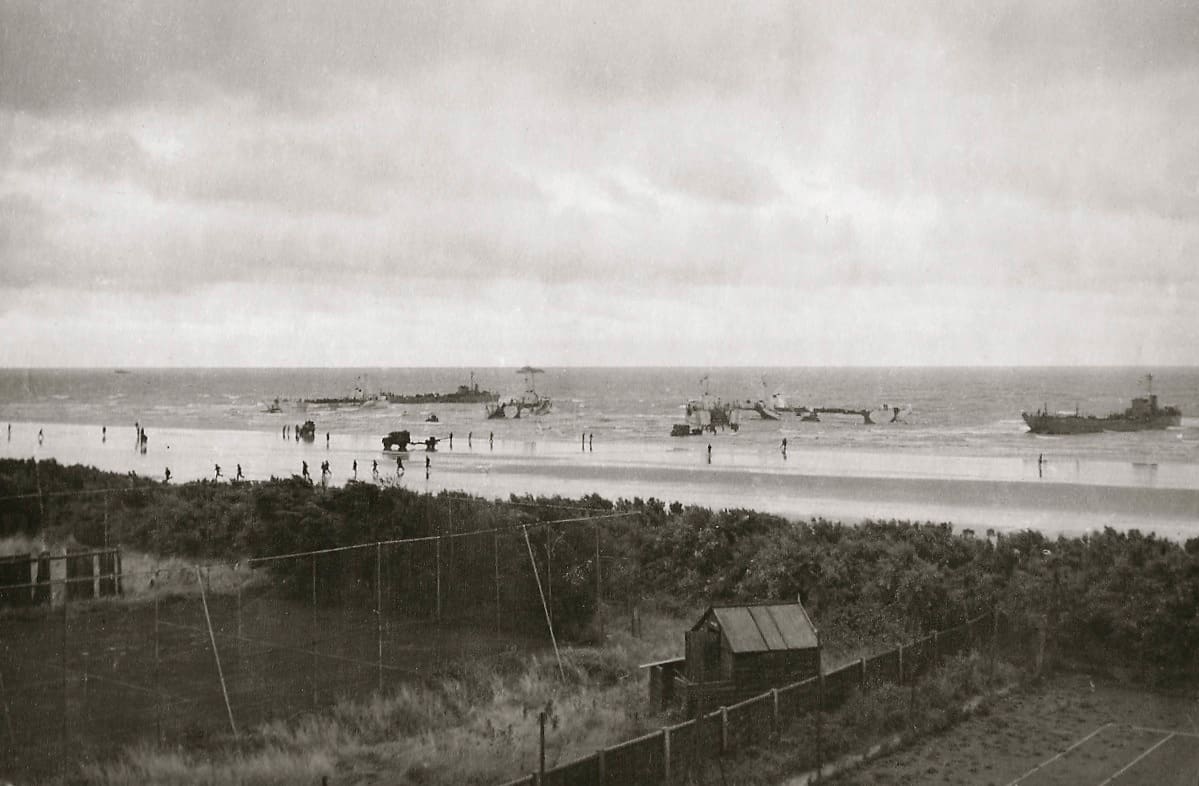 Shirley Salter: One day at West Wittering school, we were called together by our Head Teacher, Miss Ely, who told us that there was to be no school for the next three days. We were to stay at home, indoors, and if we lived within a quarter mile of the beach and seafront, the curtains were to remain drawn. There would be no buses, only military movement on the roads.
Already there were huge encampments of soldiers in all the fields surrounding the village, with all their military equipment, tanks, armoured vehicles, jeeps, DUKWs and lorries. There were guns searchlights barrage balloons besides huge canvas tents in which the men were living. Trenches had been dug also, and from the windows of our home in Admiralty Row we could see the canvas town which had appeared overnight. We could watch the soldiers cooking in their field kitchens, cleaning equipment, checking their guns, even carrying out their ablutions.
On the morning of the first of the three days, we were woken by the tremendous noise of the Army on the move. Peeping out, we could see swarms of infantrymen running across our garden. Mum was distressed to see a field wireless station on her best rhubarb bed!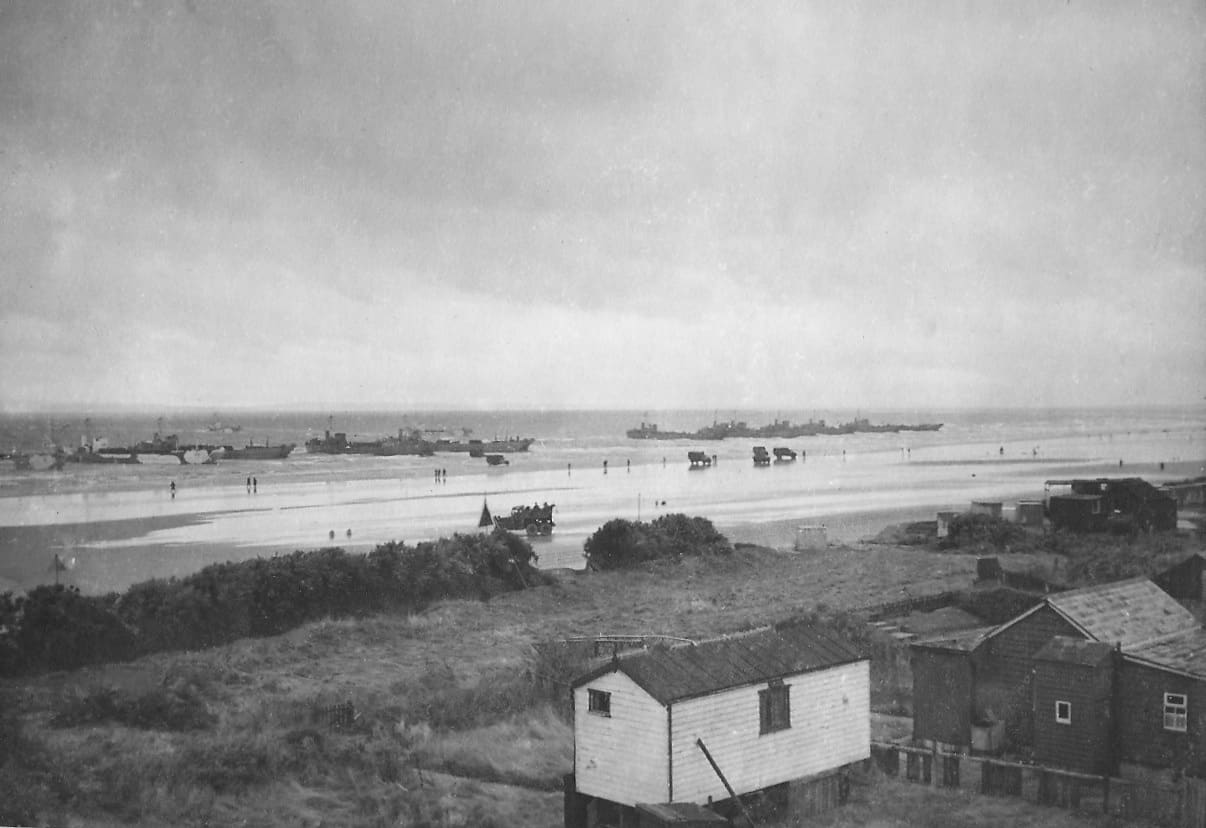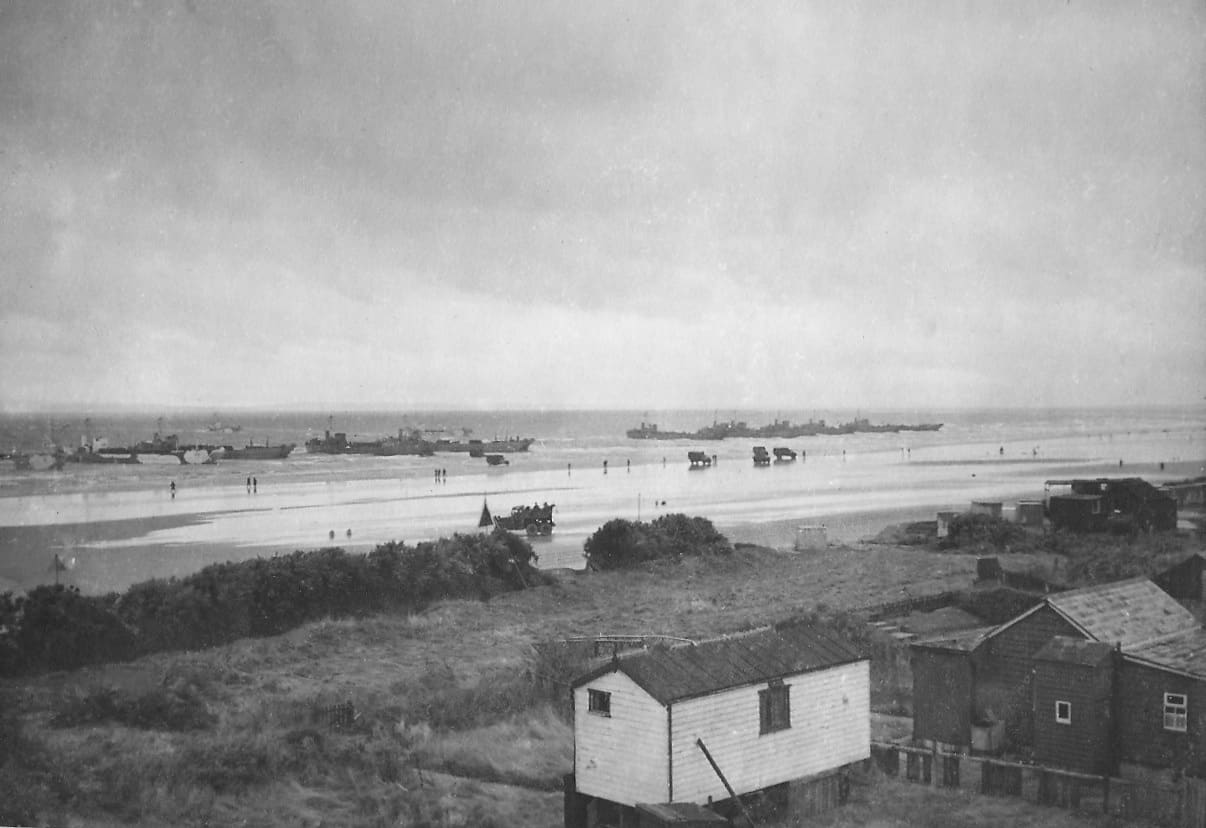 Jeanne Cory: In the early summer of 1944 when the rehearsals for D-Day took place and my family were living in Mill House, Church Road, my sister and I saw some soldiers going into the field next door. We climbed up on the wall and found a platoon of the Royal Berkshire Regiment making camp after landing on the beach. My mother loved entertaining and one evening the whole platoon came over. Bowls of hot water and soap were set up in the kitchen and they all took the opportunity of cleaning up before tucking in to poached eggs on toast. The rest of the evening was spent chatting and singing round the piano.
Another time a platoon came to the field. They were invited to our house too, their battledresses bulging with boiled sweets for us. They also had cans of soup with a wick down the middle, which they lit to heat the contents. The Berkshires were not happy at having to share their field and the Canadians finally decided to move on.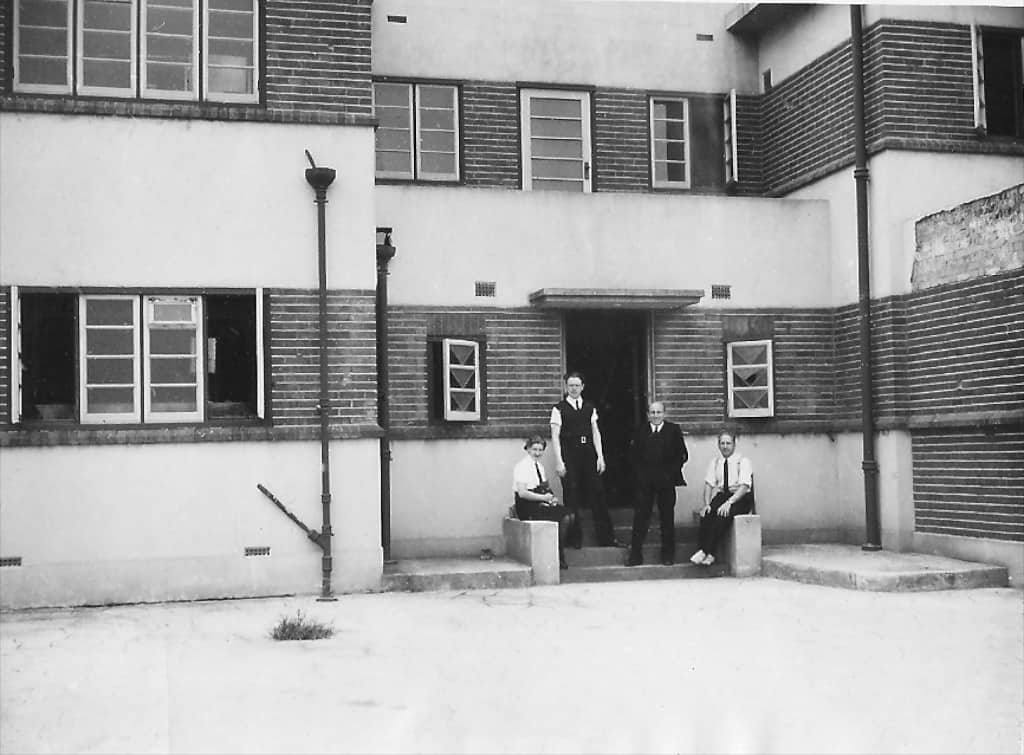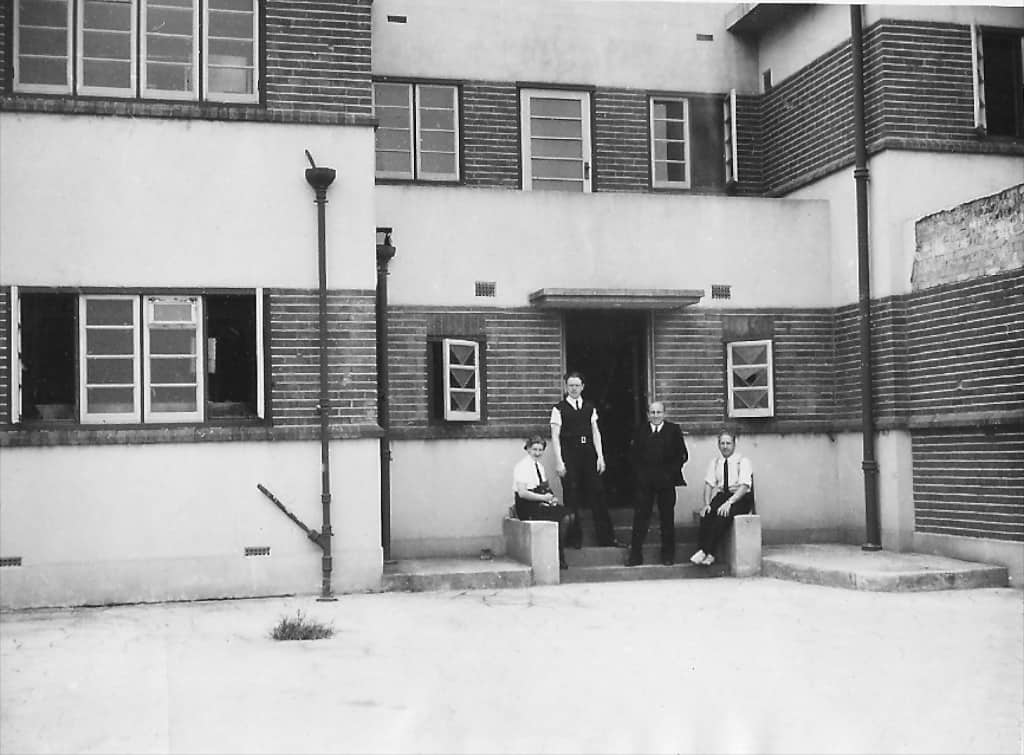 Jim Steel: We were allowed outdoors today. Most of the "invading" troops had moved on, but there were slit trenches dug in to people's lawns and exciting bits and pieces of military "debris" lying around everywhere. In the days and weeks to follow, we were to discover tanks and lorries that had broken down and been abandoned.
The build-up to D-Day was heralded by the increase in the number of soldiers and vehicles arriving in the village. There were tanks, Bren gun carriers, Lorries, jeeps and DUKWs everywhere. Field kitchens sprang up all over the place.
One DUKW crew seemed to adopt us and we had some happy times with them, with us sitting in the driving seat and having the full run of it. I often wonder what happened to these men when the raid on France took place. I just hope they made it.
And then one morning we went out to see them and they had gone. In fact, everything had vanished overnight and we never saw these brave men again.
Source III: "Swallowing Like Hogs", Chichester and Southdown Observer (Chichester, 11 April 1942). Print. ​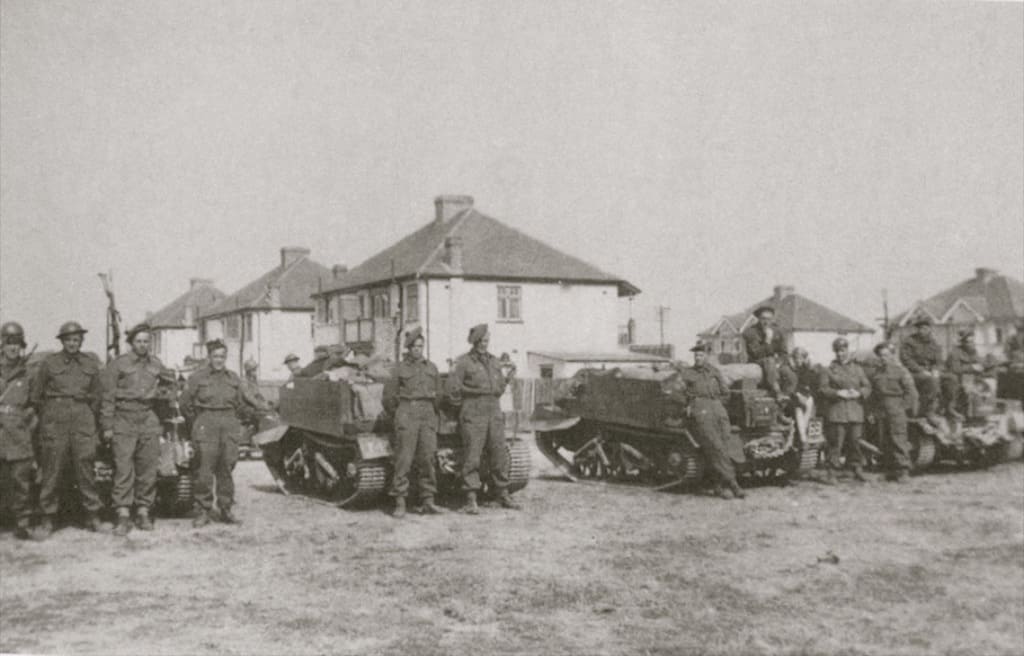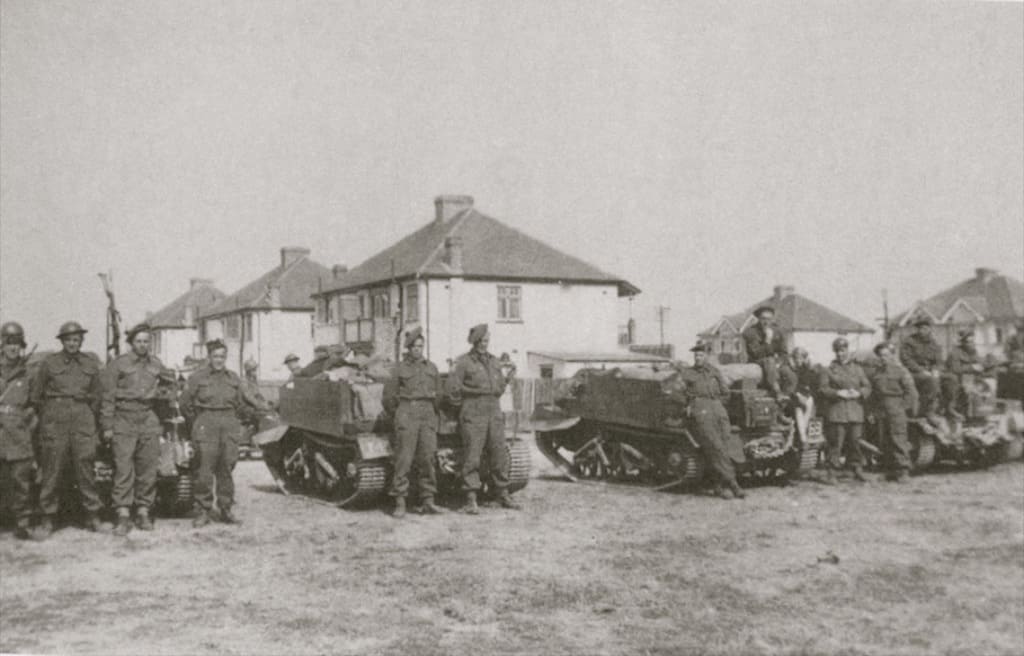 Image: "Wittering Drinking Orgy"
Attributing their conduct to the fact that they were all more or less drunk at the time, four Canadian soldiers pleaded guilty before the West Sussex Quarter Sessions, on Thursday, to having broken into a store at the Bracklesham Bay Hotel, on or about January 1st, and stolen an 18-gall. Barrel of beer, valued at £5 15s.
They obtained a military truck and drove to the Bracklesham Bay hotel, secured the barrel of beer and drove with it to "Scottie's" house, where they broached the barrel with a nail and, in the words of Lefebune (one of the soldiers) "drank till we couldn't drink any more". This man also said that he did not remember leaving, and knew nothing till he awoke the next morning, still sitting in the truck.
The chairman said that in other courts there had been a good deal of complaint about these drinking habits and inquired whether anything was done by the military authorities to stop it.
The chairman said these men had disgraced themselves, their uniform, and their country, for the sake of the gratification of swallowing like hogs a large quantity of beer.
RG-24-C-3, "War Diaries" Series, vol. 90
Source IV: RG-24-C-3, "War Diaries" Series, Vol. 90, File: "1st Battalion, Black Watch (Royal Highland Regiment) of Canada, 1942/07-1943/06", entry for 3 Sep 1942. Microfilm Reel 17514. LAC.